Located in the Uttara Kannada district of Karnataka, Gokarna is a small holy town that is famous for its peaceful pristine beaches, ancient Mahabaleshwar temple, adventurous trekking trails and spectacular views. Every year number of tourists visit Gokarna for a relaxing and peaceful vacation.
Gokarna is one of the kindest and affordable places to visit with full of palm trees, blue sears and golden sands. The beaches are here not too fancy and crowded, it's meant to be slow and relaxing.
Location: It is located in Karnataka just a few hours away from Goa (134 KM).
Best time to visit Gokarna: October to March is the best time to visit Gokarna when the weather becomes pleasant and the temperature lies around 30 deg celsius. April, May are hot months when the temperature easily touches 40 deg celsius.
How to reach: Gokarna doesn't have an airport but it is well connected by roads to the major cities of the country like Goa, Bangalore, Mumbai, Delhi etc. Ankola is the nearest railway station situated 20 KM from Gokarna. If you want to travel by road then KSRTC buses are regularly run from Bangalore, Goa, Hubli and major cities of India. For flight travelers Goa is the nearest airport about 140KM away from Gokarna, from there you need to hire a bus or taxi.
Famous for: Gokarna is famous for its relaxing & peaceful beaches and historic temple. The beaches here are perfect for adventure lovers while temples give you religious vibes. If you're looking to travel somewhere in a budget for a relaxing vacation then you should travel to Gokarna.
Best Places To Visit in Gokarna:
1. Om Beach: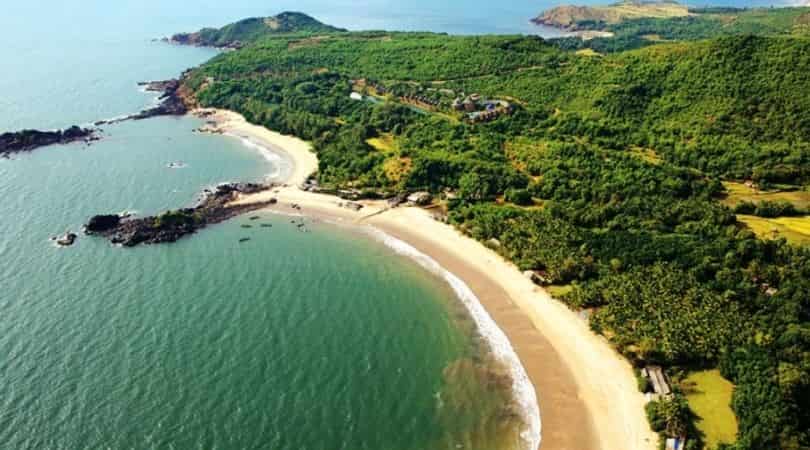 Om beach is rated as one of the most wonderful beach in India. The shape of the beach makes it more beautiful. It shapes like the religious Hindu symbol Om therefore it is known as Om beach. The surrounding of the beach makes it more attractive including mountains, lush greenery, a long stretch of white sand and an infinite Arabian sea.
Apart from the natural beauty, the beach is famous for its adventurous activities such as banana boat rides, bumper rides, kayaking, jet-skiing, parasailing, and surfing. Watching the sunset in the Arabian sea is always a marvelous experience.
How to reach: The om beach is located 6 Km from the Gokarna City center. So its not a big deal to get there.
2. Nirvana Beach: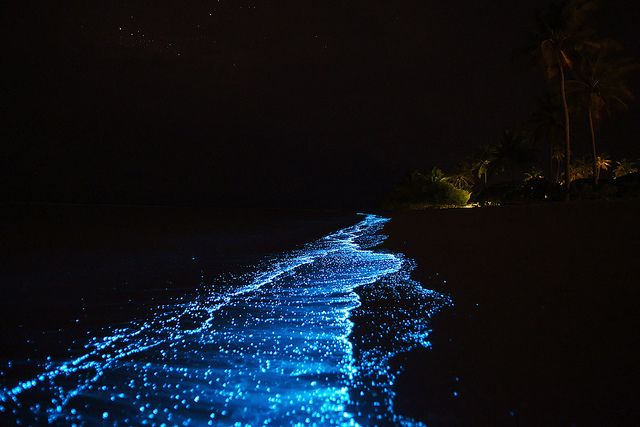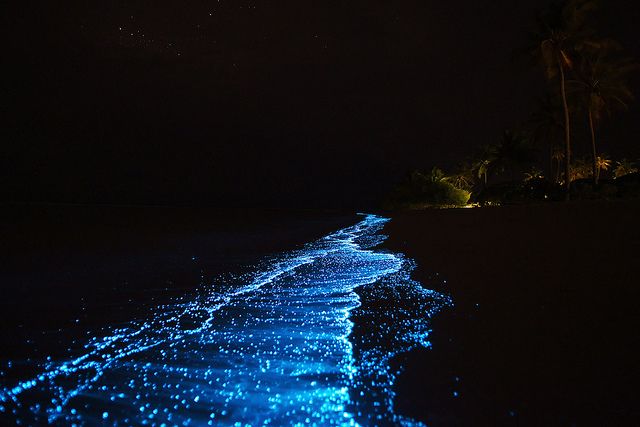 Looking for a peaceful atmosphere with blue water and white sand then you should add Nirvana beach to your bucket list of Gokarna. It is quite an isolated place where you can spend quality time with friends and family.
At Nirvana beach, you can witness the most beautiful sunset and sunrise of your life. Here you can have a lifetime experience of a bonfire on cool sand with the spectacular sight of lightning phytoplanktons. With all these features it ranks higher in the list of best places to visit in Gokarna.
Where: Nirvana Beach Road Hubbanageri/Kagal, village, Kumta, Karnataka
Entry Fee: No
3. Half Moon Beach:
Half-moon beach is another beautiful place to visit in Gokarna for a peaceful vacation. It is a small beach located on the coastline of Gokarna and separated from Om beach by a cliff where you can witness the amazing view of the Arabian Sea.
The beach got its name Half moon because of the striking resemblance that it exhibits with a half-moon.
Away from the people into the lap of nature surrounded by the infinite sea and lush green & thick jungle making you feel like you're the last person on the planet. It the best place to spend some quality time while looking at peaceful waves and a sky full of stars.
Here one can enjoy swimming, camping, paddle boats, canoeing and cabins. As of now there is not water sports is available.
4. Gokarna Beach: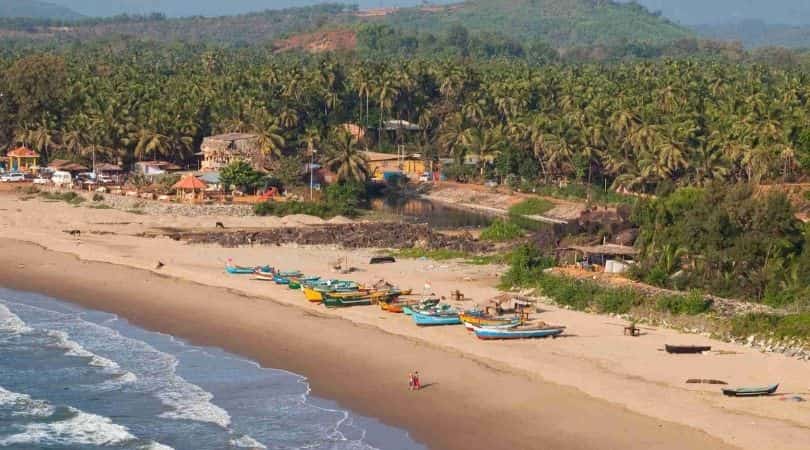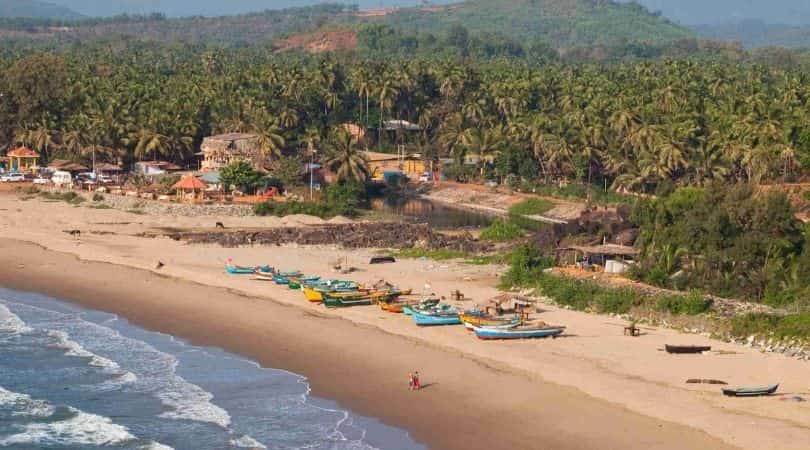 Located on the Belehittal Rd in Dandebagh Village of Gokarna, Gokarna beach is one of the best places to visit in Gokarna and go to beach destinations especially for pilgrims who come here to seek the blessing of Lord Shiva.
Surrounded by the muddy uphill roads and forest is another reason that makes it best place for a family picnic or hike. Walking along the several kilometers coastlines is a unique experience as you will come across resorts and cafes. Apart from all of these here you can enjoy bird watching, surfing, sunbathing, swimming, hiking and trekking.
5. Mirjan Fort: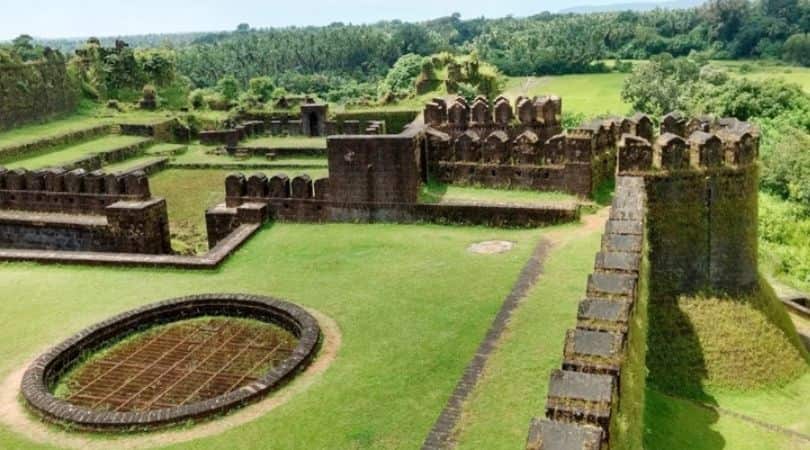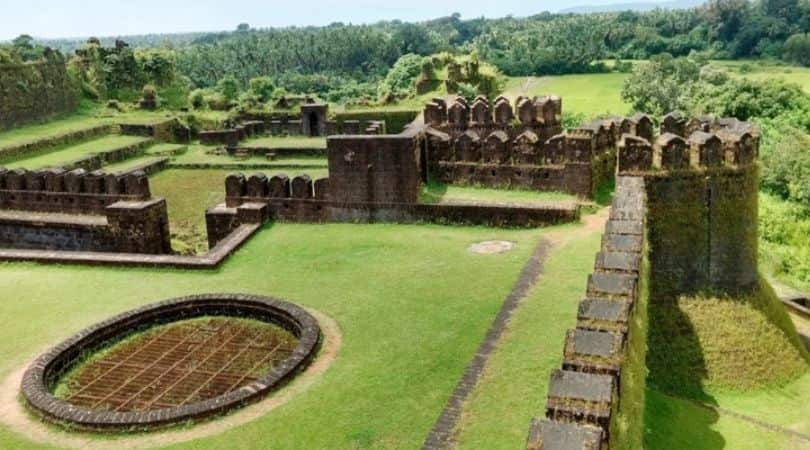 One of the best places to see near Gokarna, Mirjan Fort is historical monuments embrace with lush greenery even on the walls. Built in 16th century, the Mirjan fort is famous for its architectural elegance and cultural marvels.
Located on the banks of the Agnanishi river, Mirjan fort is filled with high bastions and ceilings. The fort is spread over 10 acres and approached through the number of steps that leads to you the interior of the fort.
Timing: 6 Am to 6 Pm
Location: Talluk, Mirjan Fort Road, Mirjan, 11 KM away from Gokarna.
6. Mahabaleshwara Temple: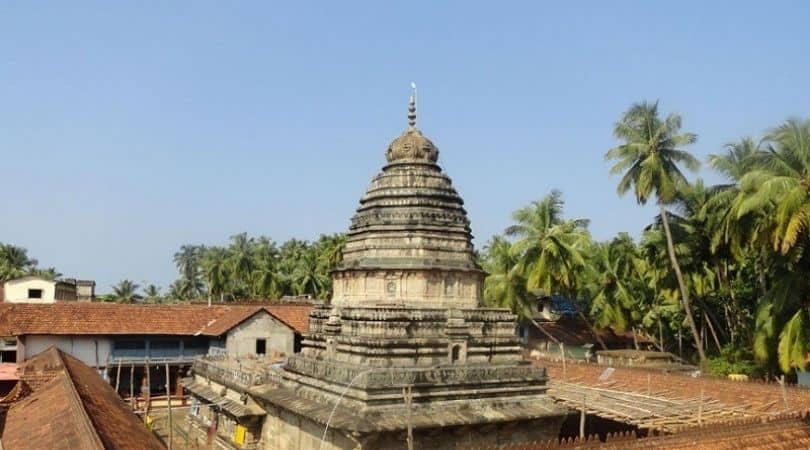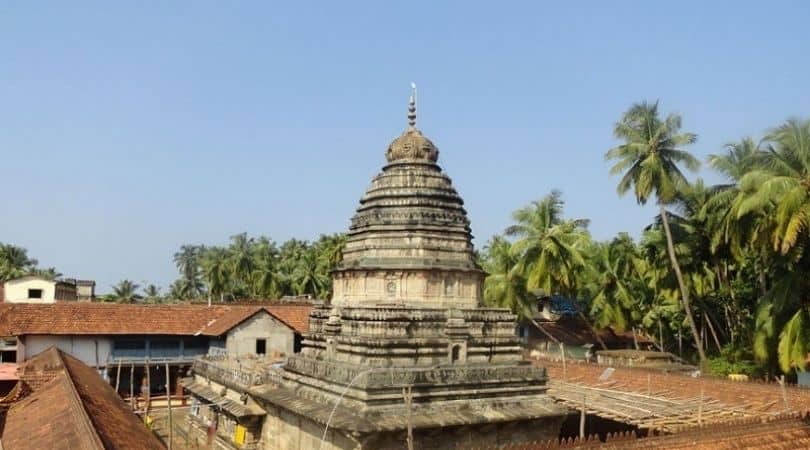 The Mahabaleshwara temple is one of the most visited temples in Gokarna. This religious site is dedicated to Lord Mahabaleshwara, an incarnation of Lord Shiva. This shrine also finds mention in the Hindu epic Ramayana and Mahabharta. It is one of the most important places to visit in Gokarna.
The main attraction of this shrine is 6 Feet tall Shiva Atmalinga which is also the main deity of this temple. The Mahabaleshwara temple is an amazing example of the beauty of famous Dravidian architecture. The devotees allow seeing only the top of the linga until the day of Ashta Bandana Kumbhahishekam, a festival that happens once every 40 years.
7. Paradies Beach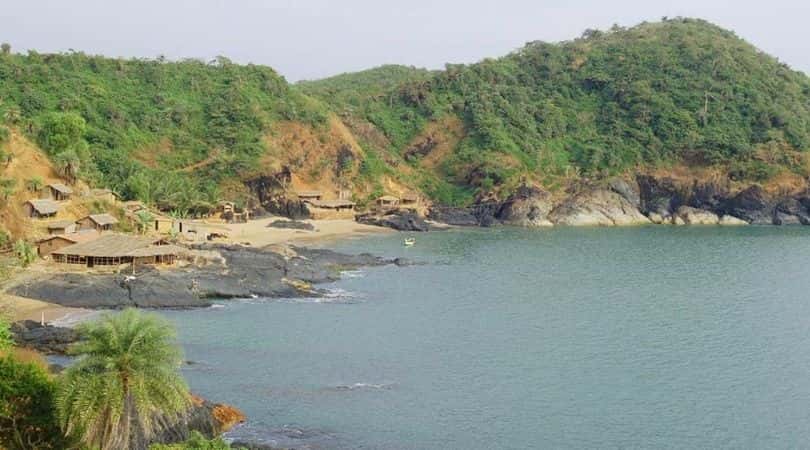 There is another beach laying across the coast of Gokarna Town, which is another beautiful place to visit in Gokarna. Paradise beach is also known as full moon beach. It is a 150 meters long beach and its 70% part is covered by the rocks and the remaining part is covered by white sand.
It is the best place for camping, cooking and spend the night while looking at the star and moon because of the availability of freshwater. The current of the water is powerful so it's not an advisable beach for swimming. Hiking back to the half-moon beach during the night is not advisable due to the presence of rough rocks.
8. Murudeshwar Temple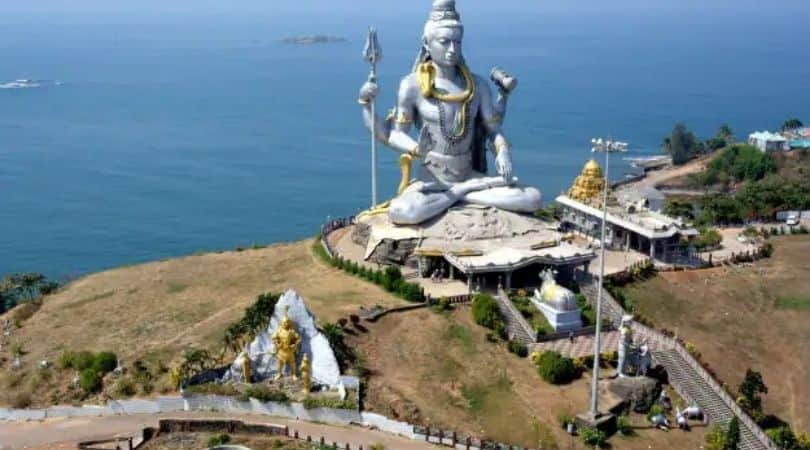 Murudeshwar temple is one of the most famous Shiva temples in the world that is located on the Kanduka hill, in the town of Murudeshwar, Karnataka. The 123 feet tall statue of Lord Shiva in Murudeshwar temple is the second tallest Shiva statue in the world. The temple is surrounded by the Arabian sea from all three sides that makes it more attractive.
There is a 20 storey gopura built next to the statue that allows you to get an amazing view of the statue. Apart from it you can also enjoy jet skiing at Murudeshwar beach and explore Murudeshwar fort.
Distance from Gokarna: 77 KM
How to reach: There are number of buses run between Gokarna to Kumta. And from Kumta you can take a bus to Bhatkal that will drop you at Murudeshwar railway station. From there you can easily walk to the temple.
9. Koti Tirtha – The Holy Pond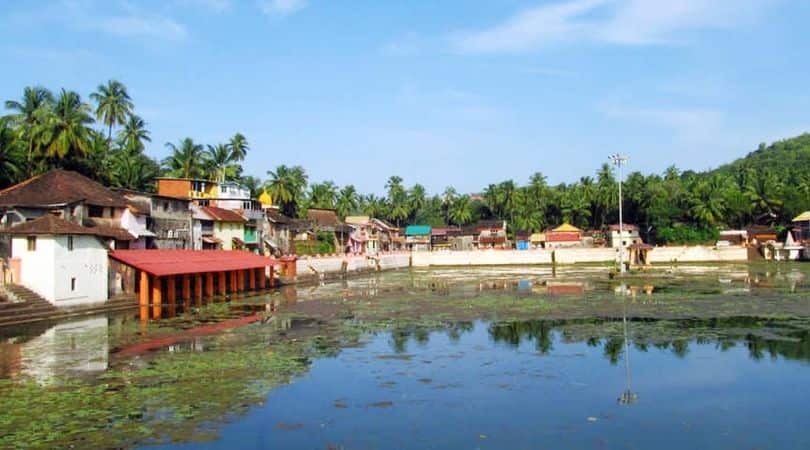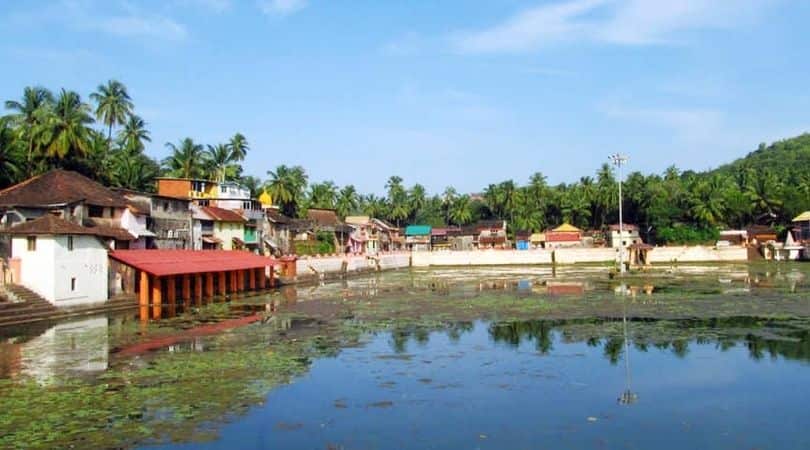 Koti Tirtha is one of the best religious places to see in Gokarna. It is a man-made pond surrounded by temples that hold great religious faith among locals. If you're looking for a spiritual place in Gokarna then you should visit Koti Tirtha. It is located within walking distance from Mahabaleshwar temple.
Actually, Koti Tirtha is believed to be the origin of a thousand springs that's the reason it is famous as a thousand springs. People come here to take a dip in the lake with a belief that it washes away their all sins.
10. Yana Caves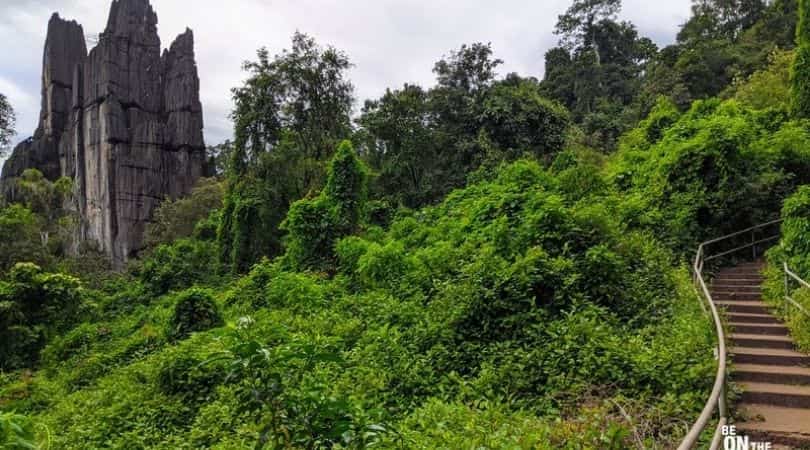 Located around 52 KM from Gokarna, Yana is a small hill station with immense beauty that attracts any soul. Yana cave is famous for its adventurous sights, diverse wildlife and religious significance hence its perfect holiday destination.
It is a great place for trek and bird watch with eye-catching greenery and freshness of the Sahyadri Hills. Yana is famous for two natural limestones and Bhairaveshwara Peak & Mohini Peak which said to be representing Lord Shiva and Goddess Parvati. Along with trekkers and adventure loves Yana attracts pilgrims in thousands every year.
11. Kudle Beach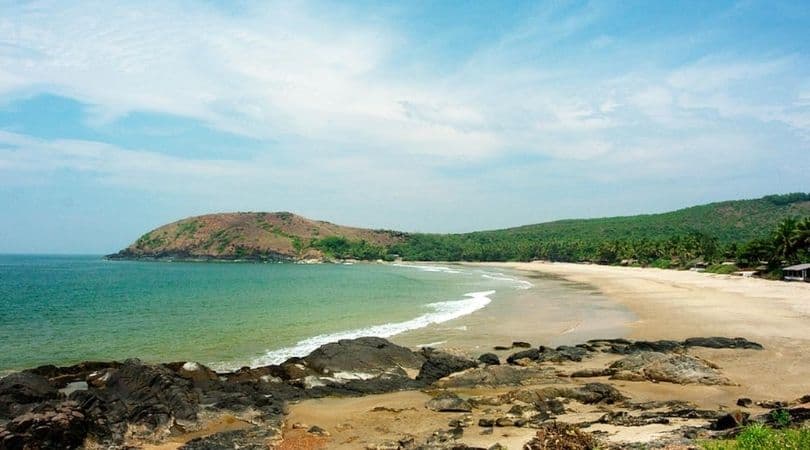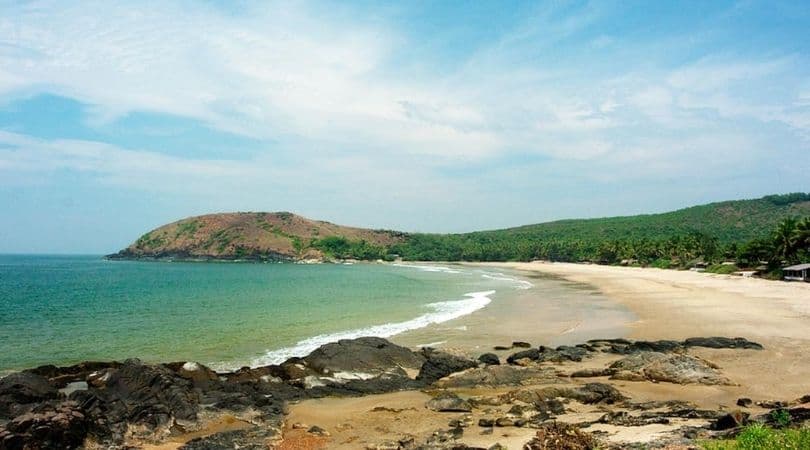 Kudle Beach is another top-rated tourist attraction in Gokarna. Situated within walking distance from Om beach Kudle beach is gives you a silent atmosphere and a never-ending sea to enjoy a pleasant sunset. Either you can sit here and take a long walk along the shore and enjoy the beauty of never-ceasing tides. If you want to spend some time in peace then Kudle beach is a perfect destination for you with less crowd and quite serene.
12. Gokarna Beach Trek: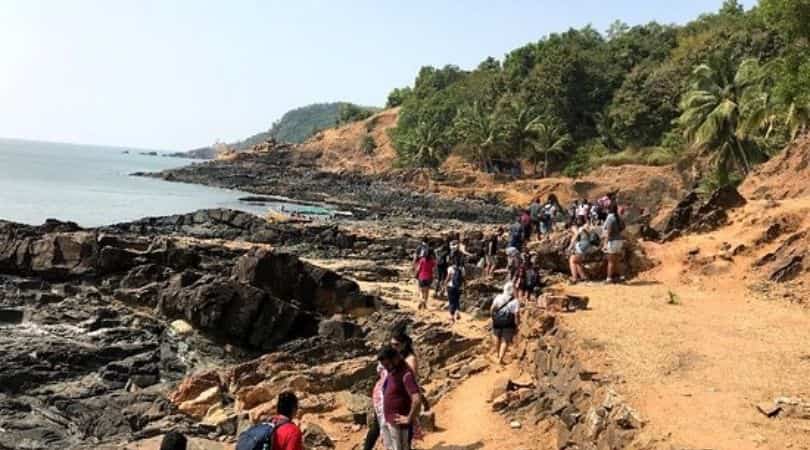 Gokarna beach trek is the best way to enjoy beach hopping in Gokarna. This 10 KM long trek covers 5 major beaches of Gokarna; Paradise beach, Gokarna main beach, om beach, half-moon beach and kundle beach. You can start trek either from Kundle beach or Paradise beach. This amazing journey would include one side ferry ride and one side trek. The whole trek can be done around 5 to 6 hours depending on the time you spent on the beach.
The best thing about this trek is that it covers all of the major beaches of Gokarna on foot by passing the lush green hills standing in between the beaches. These majestic hills allow you to take an amazing view of the horizon of the Arabian Sea. Most of the trek including hiking and crossing the hill to reach the next beach.
Gokarna beach is not a very hard trek, you can do it with basic fitness. But during summer it can be very harsh because Gokarna is a hot place during the summer months. Therefore October to February is the best time to do this trek. Keep sunscreen and enough water for a good day.
Trek Level: Easy
Trek Length: 10 KM
Time: 5 to 6 hour
13. Maha Ganapati Temple: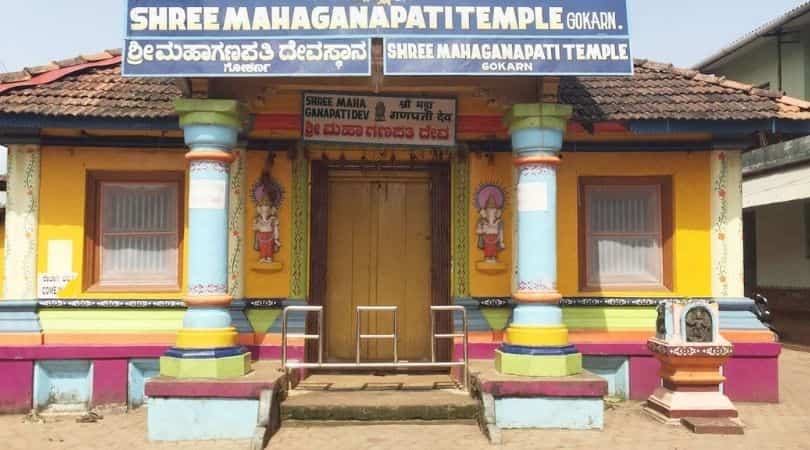 Located next to the famous Mahabaleshwar Temple, Maha Ganpati temple is one of the bedazzling places to visit in Gokarna. The temple is dedicated to Hindu God Lord Ganesha. Every year lakhs of pilgrims come here to take the blessing of Lord Ganesha especially on the occasion of Maha Shivratri that is celebrated with lots of joy. According to the Legends, to seek the blessing of Lord Shiva you've to seek the blessing to Lord Ganesha at Maha Ganpati temple before visiting the Mahabaleshwar temple.
The temple is built on the basis of the Dravidian Style of Architecture. Therefore, it is an interesting place to visit for history and art lovers where you'll see beautiful sculptures on the wall of the temple. If you're looking calm and serene in Gokarna then Maha Ganapti temple would be the perfect place for you.
14. Enjoy Water Sports:
Apart from the famous temple, Gokarna is also famous for its clean & pristine beaches where you can try various adventurous water sports. Gokarna is popular among tourists who looking for a calm vacation and want a break from the daily life chaos. It is a less commercialized version of Goa where you can do lots of adventurous water activities at cheaper price as compared to Goa. Om beach and Kundle beach are the best places for water activities in Gokarna. There you can do jet skiing, surfing, snorkeling, banana boat ride, surfing, speed boating, parasailing, rafting, bumper ride, and swimming.
15. Bhadrakali Temple: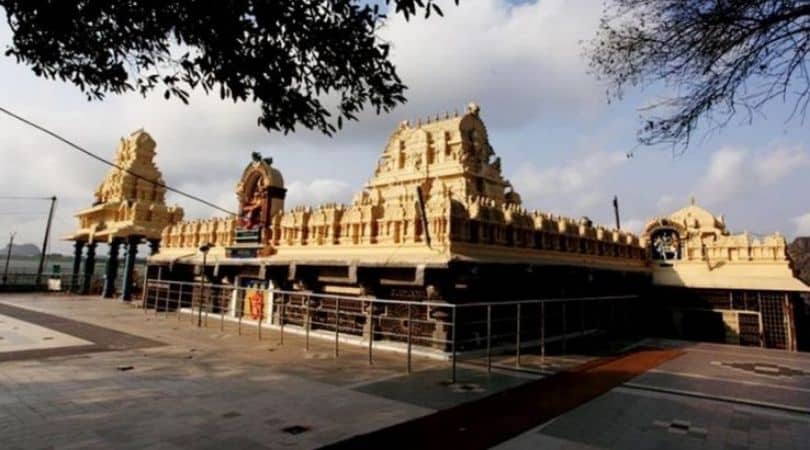 Standing at the entrance of Gokarna, Bhadrakali temple was built in the honor of Goddess Uma who is considered as the form of Goddess Kali. The main deity of the temple, Goddess Uma is believed to be the protector of Gokarna. This temple is the part of Mahabaleshwar complex and is situated within the vicinity of many popular temples like Shree Narayana Temple.
Bhadrakali temple has a humble built-in architecture and its two ferocious lions and 2 warriors on either side of the main gate of the temple. The main statue of Goddess Uma describes Kali in her ferocious form from with big eyes staring out in anger, teeth and four hands holding weapons.
Over the last few years, the temple gain popularity therefore devotees from different places come here to pray, offer flowers and Parsad. Friday, the day of Goddess is believed to be the best day for the devotee of shakti, hence Friday is very crowded for Bharakali temple as many people doing puja for their well-being.
16. City Shopping:
A trip to Gokarna can't be complete without city shopping. Gokarna has lots to offer to the tourist and still it is a hidden gem where you can explore so much things such as beaches, temples, and its local street markets. The shopping in Gokarna is not that glamorous with huge malls and international brands but still, this city has its own charm that attracts shopaholic tourists. It is a divine place with many popular temples therefore you'll find lots of options to buy related to spirituality. Apart from it there you can buy brass lamps, kallu sakkare, books, handicrafts, and musical instruments.
Best places to do shopping in Gokarna: Gokarna temple market, car street, and Sri Radhakrishna bookstore.
17. Belekan Beach: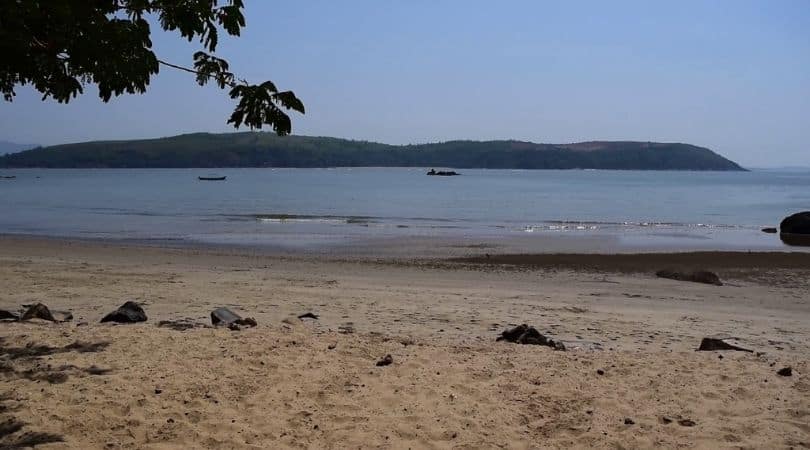 Belekan beach is a small rocky beach located in Gokarna Road, Tadari port, Karnataka. The beach is situated very close to paradise beach. If you want to start the Gokarna beach trek from Paradise beach then belekan beach is the last spot where you can bring your vehicle. There is nothing much to do at this beach as it is mostly rocky with little sand. But there are few shacks and accommodation on the beach where you can have food.
If you're looking for a place where you can spend a peaceful time with nature then Belekan is the place where you need to go. It is a perfect place for nature lovers and peace seekers. Also in the evening here you can spot amazing sunset. Therefore evening is the best time to visit this beach.
How to reach: To reach up there is not a big deal as the route and trails are perfectly marked on the Google map.
18. Kumta
Located 30 KM away from the Gokarna, Kumata is a beautiful town set on the coastline of the Arabian sea. Being a coastal region Kumta is famous for its beautiful sandy beaches, historical temples, and divine greenery. Kumta is a perfect getaway for those who are looking for an unwinding and relaxing holiday in the lap of nature. The pleasant weather throughout the year makes it a crowd favorite spot around Gokarna. There are lots of beautiful beaches like Baada beach, Kumta beach and Dhareshwar beach. Trekking, boating and rock climbing are some of the activities you can try out in Kumta.
How to reach: Kumta is located 30 KM driving distance from Gokarna. Taxi or bus is the best way to reach Kumta to Gokarna that takes around 30 minutes.
19. Shiva Cave: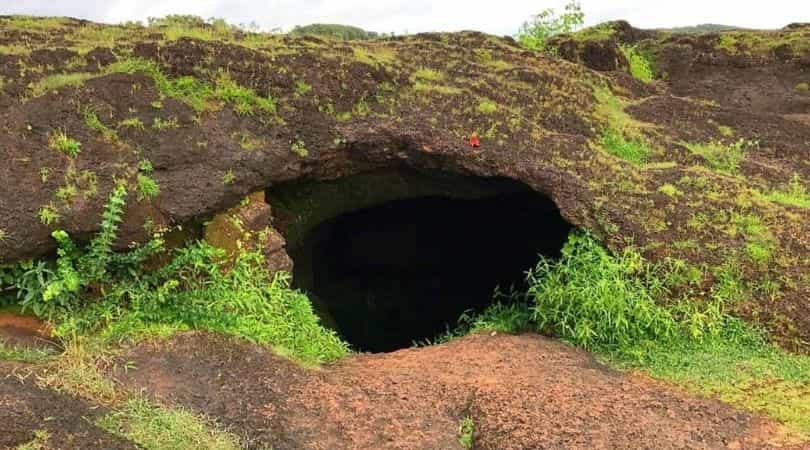 The Shiva cave is situated just 500 meters from Kundle beach, diagonally opposite the rickshaw stand of Kundle beach. The cave is not that big, there is a small Shiva Linga inside the cave where you can do meditation. The cave is inhabited by small bats so it's advisable to bring a torch inside the cave. A little above the entrance you can spot a small hole where the sunlight comes through inside the cave over the Shiva Linga. The cave is still unexplored but worth visiting. During the Shivratri, you can spot some Shiva Devotees inside the cave.
20. Lalguli waterfalls: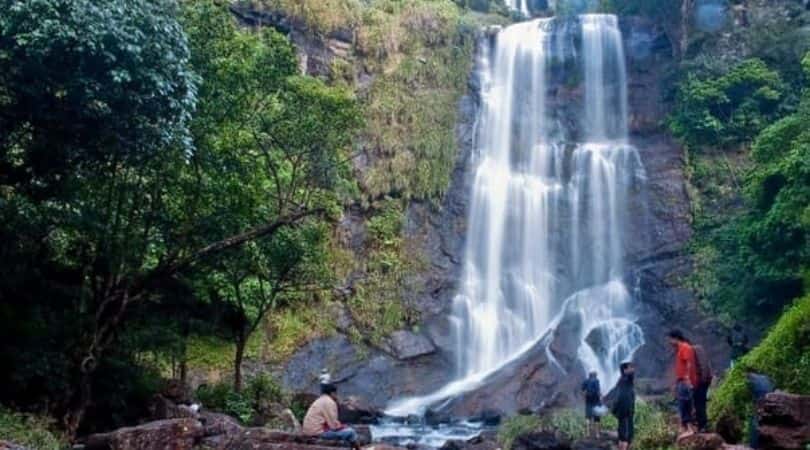 Located just 90 KM away from the Gokarna, Lalguli waterfall is one of the prime attractions of Uttara Kannada district of Karnataka. It is cascading waterfall with the Kali River drops down from different heights between 61 to 91 meters. The waterfall is blessed with natural beauty like the magical surroundings greenery and chirping of birds. There you can also indulge yourself in various activities like trekking, bird watching, rafting and other water sports at Kali River. Therefore, every year thousands of tourists visit this beautiful creation of nature. Apart from fall one can also visit the Hanuman temple that is located near the hill.
21. Mahalasa Temple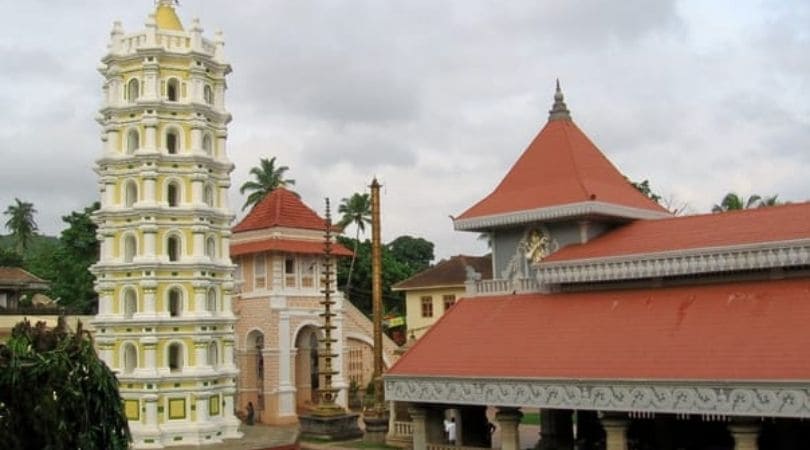 Built over 150 years ago, the Shri Mahalasa temple is one of the most sacred places to visit in Gokarna. It is also known as Shri Mahalasa Siddhivinayaka temple. The main deity of the temple is Lord Siddhivinayak (another name of Lord Ganesha). The temple is located near Gokarna's main bus stand so you can easily get there.
The festive season is the best time to visit especially at the time of Ganesha Chaturthi and Ashwin Shashti when the temple is fully decorated in a style and celebrated with all the grandeur.
FAQ's of Gokarna:
Q1: How many days are enough for Gokarna?
2 to 3 days are enough to explore all the main attractions of Gokarna. If you want to explore other nearby attractions like Murudeshwar Temple, Yana Caves and Kumta then you should have minimum of 4 days.
Q2: Is Gokarna Worth Visiting?
Yes, you should visit Gokarna once in your life. This place is an amazing combination of religious temples and beautiful beaches. If you love beaches but looking for a peaceful and modest place as compared to Goa then Gokarna is the place where you should go. There you can easily spend 3 to 4 days while exploring beaches and historic temples.
Q3: Which is better Goa or Gokarna?
Both places are known for their beach beauty. But Goa is more crowded and expensive as compared to Gokarna. And Gokarna is still not known by many people. So, if you're looking for the lesser crowd then Gokarna is the best place to visit.
Q4: What are the best places to visit near Gokarna within 100 KM?
Murudeshwar temple (76 KM) known for historical temple and scuba diving.
Yana Caves (52 KM) a small hill station.
Kumta Town (32 KM) famous for ancient temple and beaches.
Lalguli Waterfall (90 KM)
Yellapur (82 KM) is a collection of adventurous treks and beautiful falls.
Sirsi (84 KM) is a small town surrounded by evergreen forest, majestic falls and historical buildings.
Q5: What are the best places to visit in Gokarna at night?
Mantra Cafe: Located near Zostel, Mantra cafe is an amazing place to enjoy the nightlife in Gokarna. There are seating arrangements facing towards Kundle beach. Therefore, here you can enjoy the cool breeze of Kundle beach with a bonfire. There is DJ as well so you can enjoy the music while having the delicious food.
Kundle Beach: Kundle beach is the best place to enjoy the nightlife of Gokarna. There you'll see huts and restaurants near the beach where you can enjoy delicious food and soothing music. Also, you can camp around the beach with bonfire.
Nirvana Beach: The beach is famous for the lighting phytoplanktons that glow during the night and give you an amazing view.