Kasauli is situated in the Solan district of Himachal Pradesh, just 77 KM away from Shimla. This beautiful hill town is famous among honeymoon couples for its natural beauty, stunning viewpoints, Gothic-style historic churches and year-round pleasant climate. Nestled amidst dense forests of pine & cedar trees, Kasauli is home to rich varieties of flora and fauna those add further to the beauty of this place like Cherry on top. The surrounding lush greenery is treat to the eyes and the viewpoints are just perfect to get a glimpse of the wide Himalayan range.
Situated at an elevation of 1800m, Kasauli's weather stays pleasant throughout the year while the best time to visit Kasauli depends on the purpose to visit. So let's discuss the best time to visit and year-round temperature of Kasauli:
Best time to visit Kasauli:
Kasauli is blessed with pleasant weather throughout the year. Therefore, any time of the year would be the best time to visit Kasauli. If you love to take nature walks then summer would be the best season when the days are pleasant and the skies clear. Monsoon is perfect for those who love adventure and trekking. This is the time when you can enjoy the raw beauty of Kasauli. And for snow lovers winter would be the best season visit when the town receives snow and temperature varies from 4 deg Celsius to 14 deg Celsius.
Kasauli in Summer (March To June):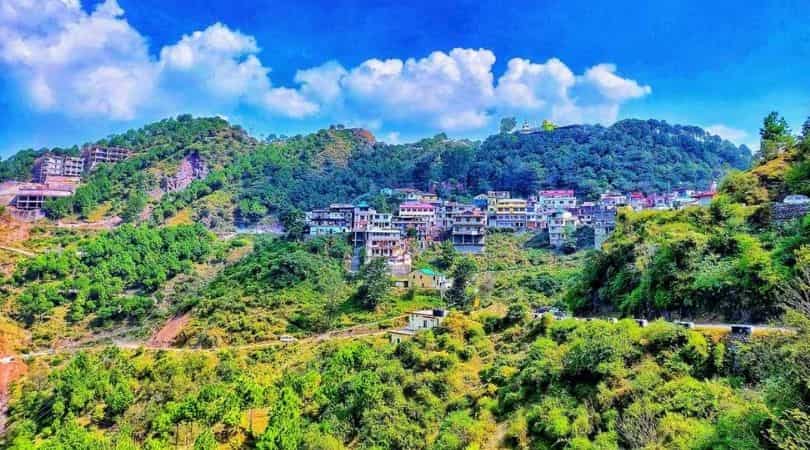 The summer season in Kasauli starts in March and continues till the end of June. During these months the weather stays pleasant and the temperature varies between 14 deg Celsius to 27 deg Celsius. The day in summer stays pleasant and the night becomes cooler. Summer is the best season to enjoy the various nature activities in Kasauli like bird watching, nature walks, and trekking.
Apart from nature activities, you can also take part in two main festivals of Kasauli those held in summer – Kasauli Rhythm and Blue festival. The Kasauli Rhythm and Blue festival is an annual music festival organized in the beautiful Baikunth resort of Kasauli. Every year, India's most renowned music artists, bands, independent singers and musicians visit Kasauli to perform at the festival. So if you visit Kasauli in summer then don't forget to enjoy these two major festivals of Kasauli.
You can also take part in the Solan fair that is celebrated annually in the moth of June. During this festival, locals get together to worship the Goddess Soloni devi and perform various cultural activities.
Kasauli in Monsoon (July to September):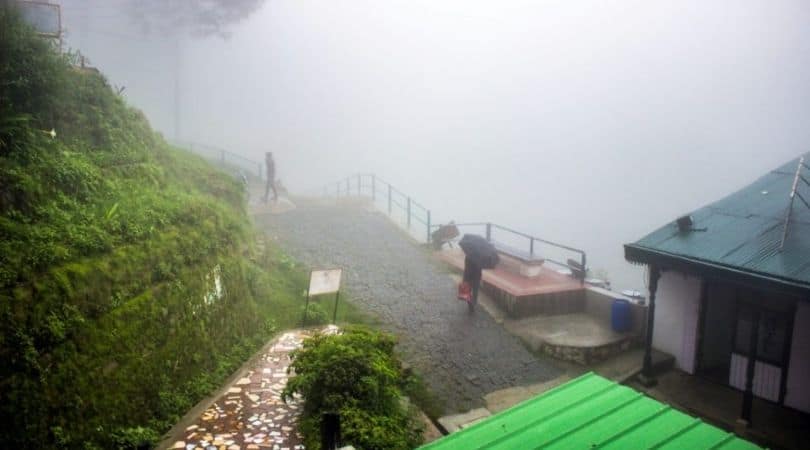 The monsoon is pleasing with low rainfall in Kasauli that starts in July and ends in September. Most travelers visit Kasauli in monsoon to enjoy the raw beauty and adventurous activities of Kasauli. This is the time when you can enjoy the long nature walks in Gilbert Nature Trail, adventurous treks, and camping. The floating clouds on the hilltop create a magical surrounding that feels like a scene of a fantasy movie. Apart from natural beauty, you should take part in the Sari annual festival that is held in July. At this festival, you can witness interesting buffalo fighting. Apart from tourists, people from nearby towns come here to enjoy this festival. Overall, the monsoon is the best season to explore the tradition and culture of Kasauli.
Kasauli in Winter (October to February):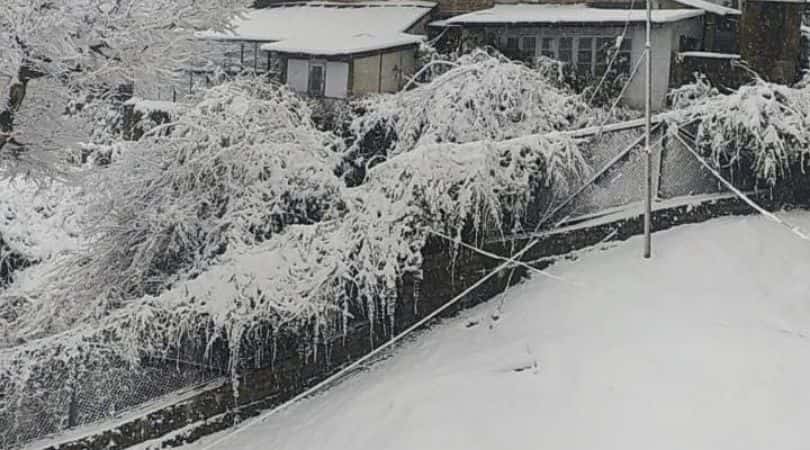 The winter in Kasauli starts from the month of October and lasts till the end of February. The snowfall in winter attracts a large number of tourists towards Kasauli when the white layer of snow makes this place more bewitching. Kasauli doesn't get snow every year so it's good to check the weather before heading towards it. Apart from snow, you can also take part in the Celebration of Lohri in January. Lohri is the festival when the locals get together and perform various rituals around bonfires with folk dance and music. Due to the closeness of Punjab, Lohri celebrates here with lots of energy.
Kasauli Weather:
| | |
| --- | --- |
| Month  | Avg. Temperature |
| January | 8 Deg Celsius |
| February | 11 Deg Celsius |
| March | 14 Deg Celsius |
| April | 20 Deg Celsius |
| May | 25 Deg Celsius |
| June | 26 Deg Celsius |
| July | 24 Deg Celsius |
| August | 22 Deg Celsius |
| September | 23 Deg Celsius |
| October | 18 Deg Celsius |
| November | 15 Deg Celsius |
| December | 10 Deg Celsius |
Hotels in Kasuali:
From luxurious resorts to budget home-stays there is a wide range of hotels available in Kasauli. For honeymoon couples, there are lots of option for staying in Kasauli that offers you amazing views of the Himalayan range in the middle of the pine forest. The average per night cost for a good hotel could be 1400 to 1800 INR while a budget hotel can cost you around 800 INR per night. For cheaper deals, you can go for homestays that charge you around 500 INR per night.
Kasauli FAQ's
Q1: Does Kasauli get snowfall?
Yes, Kasauli gets snowfall during the peak of the winter season from Nov to Feb. In winter you can expect the temperature from 2 deg Celsius to 15 deg Celsius. But keep in mind that Kasauli doesn't get snowfall every year but in the last few years, the snowfall get frequent in this region due to rapid changes in the climate. So if you're coming here especially for snow then check the weather before leaving.
Q2: Which is better Kasol or Kasauli?
Both places are different and have unique features. Kasol is more like an adventurous destination that is famous among young tourists with lots of famous treks like Kheerganga trek, Chalal Trek and villages like Tosh, Malana Kalga & Pulga. And Kasauli is more like a scenic place that is famous among honeymoon couples and families with lots of viewpoints, historic buildings and snowfall in winter.
Q3: How to reach Kasauli from Delhi?
Either you can drive your own car or take a cab from Delhi to Kasauli. The average time to reach Kasauli from Delhi by road is around 6 hours. The road is good and the surroundings are just beautiful. You can also take a train from Delhi to Kalka that is just 22 KM away from Kasauli. From there you can hire a taxi or take a local bus to reach Kasauli.
Q4: Is December a good time to visit Kasauli?
Yes, December is the best time to visit Kasauli. If you're lucky enough then you can see the fresh snowfall during this time. This is the perfect time for romantic couples.
Looking For More Popular Destinations? Check Out –