Dhosi is an extinct volcano. There are 7 volcanoes in India and Dhosi hill is one of them.
Located just 10 KM away from Narnaul, Dhosi hill is situated at the border of Haryana and Rajasthan. It is a part of the Aravali Range that is situated at the height of 800 feet above sea level. It is one of the best-sacred places to visit near Gurugram, Haryana.
Dhosi hill is managed by the panchayat of three villages – Doshi Village, Jhunjhunu, Rajasthan and Kultajpur & Thana Village, Mahendergarh, Haryana. These villages are located on each side of the hill.
History of Dhosi Hill:
Chyawanprash was first made at Dhosi Hill
In ancient times Dhosi hill was an Ayurvedic center due to its unique ecosystem that is suitable for the growth of Ayurvedic plants.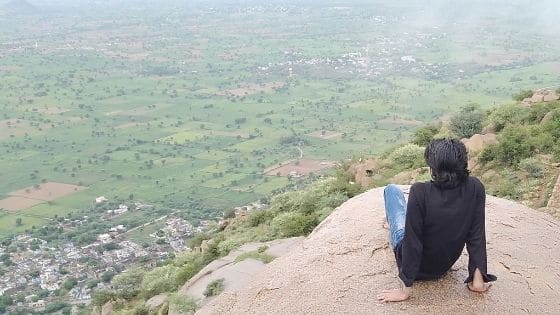 The name of Dhosi hill is mentioned in various Hindu scriptures such as Mahabharta, Brahamanas and Puranas. According to legend, Dhosi is the place where Ashwini Kumar (Hindu twin god of medicine) brother first made Chyanwanprash for Chyawan Rishi. Therefore this medicine is famous as Chayawanprash. Chyawan Rishi used to live at Dhosi and do yoga under natural caves.
Mentioned in Mahabharata
Apart from it, Dhosi is the place where Pandavas came during the time of exile. There are various strange shapes on the rock that are considered as the footprints of Pandavas.
500 Year Old Fort
There are ruins of 500-year-old fort atop Dhosi Hill built by Hemu. The fort was made to protect the hill and Chyawan rishi ashram from the regular attacks of Muslim invaders. You can see the ruins after reaching the top of hill.
During the 1890s, to replace the old ashram of Chyawan Rishi there was a new temple built at the crater of the hill.
Sacred Parikarma
According to the legend, those who complete the one Parikarma (circulation) of Dhosi hill get an accomplishment from God. The 8 to 9 KM parikarma trek includes various caves which can be used as shelter. But nowadays most of the parikarma trek is damaged due to the landslides.
How to reach
Dhosi is located at the border of Rajasthan & Haryana in Dhosi Village. To reach up there first you need to reach Narnaul city that is located in district Mahendragarh. From there Dhosi is located just 30 minutes (10 KM) away.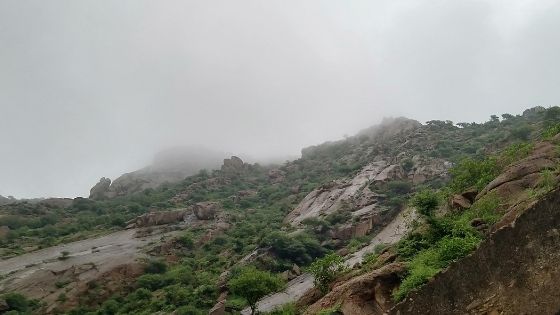 By Road: Narnaul is located just 160 KM away from Delhi. You'll get lots of direct buses or taxi from Delhi to Narnaul that take around 4 hours to reach Narnaul. From Narnaul bus stand you can hire an auto-rickshaw or taxi to Dhosi that charges you around 100 INR (do bargaining if you're new in Narnaul).
Note: If you come here by public transport then try to leave around 4 to 4:30 PM in the evening because after that you'll hardly get any taxi or bus to Narnaul. Also, you'll not get any hotels or guesthouses for the night stay in Dhosi so you've to come to Narnaul for night stay.
By Train: There are few direct trains from Delhi to Narnaul but there are trains every hour from Delhi to Rewari (55 KM from Narnaul). And From Rewari, you'll easily get a train, bus or taxi to Narnaul that takes around 1 hour.  
By Air: Delhi has the nearest airport to Dhosi that is just 160 KM away from Narnaul. From there you can easily bus, taxi or train to Narnaul.
Best time to Visit
August to February is the best time to visit Dhosi hill when the weather becomes pleasant for trekking and sightseeing.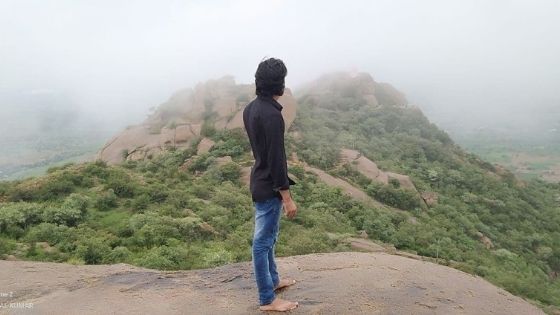 In monsoon season (July to September) Dhosi hills turn into a hill station, every day hundreds of tourists come here to enjoy the beautiful surroundings of the Aravali ranges. During this time Dhosi becomes the heaven for nature lovers when the entire region is covered by clouds even at low height, with lots of waterfalls and lush greenery on each side.
In the winter season the temperature varies around 3 deg to 20 deg celsius and becomes perfect to trek at the top of hill.
Places to Visit and Things to do at Dhosi Hill
1. Trekking: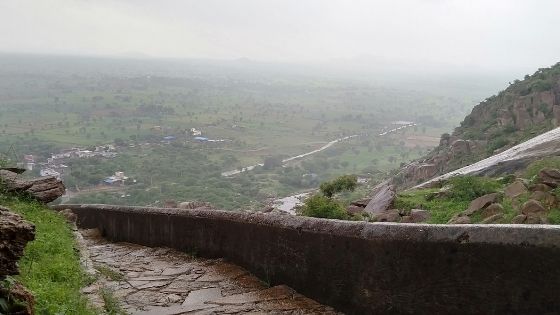 Trekking is one of the best things to do at Dhosi hill. To reach the top of the hill you need to take approx 1 KM uphill trek. It is a full stairs trek that means if you get tired then you can take a rest on the stairs while enjoying the amazing views. After reaching the top you need to take a short downhill trek to reach the crater of the hill.
It will take around 1 and half hours to complete the one side trek of Dhosi hill.
2. Take bath in the holy Kund (pond):
There are 2 holy Kunds at Dhosi where you can take bath. During the rainy season both of the kunds are full of rainwater and you can spot various people taking baths inside the Kund. One is located at the start of the trek and another is located on the crater of the hill. If you don't know swimming then you can also take bath on the stairs as well.
Note: If you can swim properly then only go inside these ponds because the water inside the kund is heavy due to rainwater and the depth of kund is unknown.
3. Visit Ancient Temples and Caves: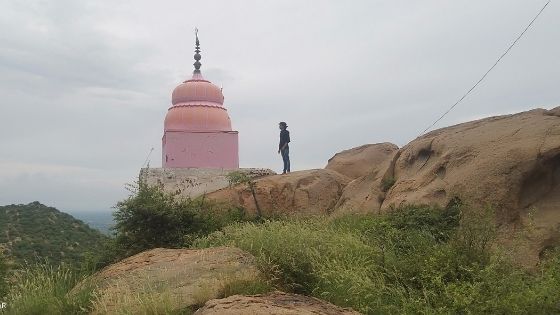 There are various temples on Dhosi hill including Mansa Devi temple at the top of the hill, Shiv temple and Chyawana temple on the crater. There are various paintings and sculpture in the Chyawana temple that represents the history of the hill.
Apart from temples there are various caves where sages of old times used to do meditation and Yagya. One of the cave is located at the crater of hill where Chyawana Rishi used to do meditation.
4. Enjoy the amazing surroundings: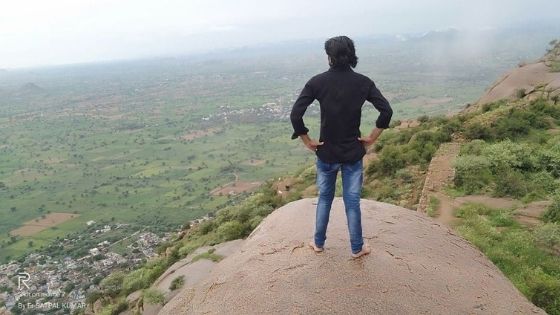 In the monsoon season when the entire hill is covered by fog & clouds then you can touch the clouds even at a low height. During the rainy season, Dhosi becomes heaven for nature lovers with cascading waterfalls, lush greenery and spectacular view. The surrounding after reaching at the top of the hill will amaze you with its beauty.
Tips to know before traveling to Dhosi Hill:
You'll not find any water source or food shop at top of the hill so make sure to carry enough food and water while going at the top of the hill. You can find some shops at bottom of the hill where you can have water and snacks.
Don't throw plastic bottle and packets of food on the hill. Make sure to keep nature clean and green.
For night stay you've to go Narnaul city where you'll get range of good hotels and restaurants.
You can face network issue at some parts of the hill.