Fagu is a small serene hamlet located 18 KM from Shimla on Hindustan-Tibet road. This hilly resort is almost covered in fog for 9 months a year hence Britisher named it Fagu. It is famous for its sun-kissed mountains, pleasant english weather, lush green surroundings, apple orchards, potato farming and serene natural beauty. You'll be surprised by its splendor, charm and serenity.
Situated at a height of 2500 meters, Fagu is a paradise for honeymooners and serves as a base camp for trekkers and nature lovers.
The proximity to Shimla (18 KM) and Kufri (6 KM) makes it a perfect getaway. During winter this place has its unique charm when the hilly green surroundings of this place get covered in a white carpet of snow.
Well, this is just the glimpse we've given you about the beauty of this place, there is a lot to know. So before planning a trip to Fagu let's dive into the complete guide to visit Fagu – The untouched beauty of Himachal Pradesh –
Fagu, Himachal Pradesh
Why Fagu?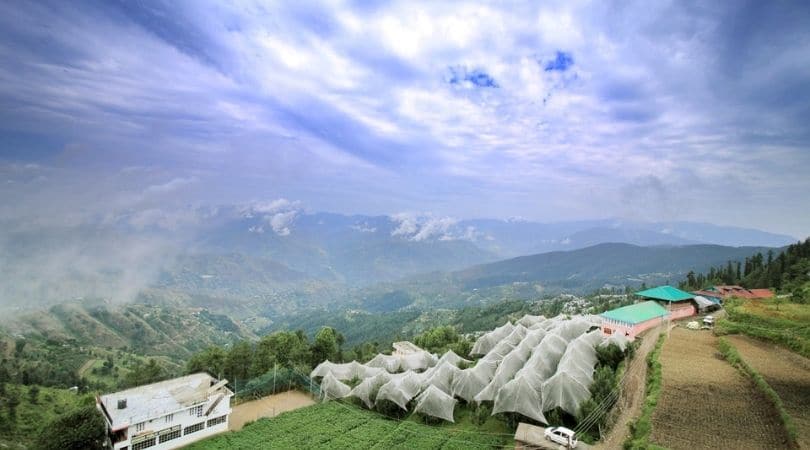 Shimla is a beautiful place but due to the excessive crowd, it has changed a lot. The old charm is still there but the crowd is everywhere. There are issues of heavy traffic and parking spaces even at a mid-day. Due to that people start looking beyond Shimla and that is where Fagu lies.
Well, Fagu is a quiet place and located just 18 KM from Shimla. This small hilly town has a charm like Shimla but the views here are way better than any other popular destination of Himachal.
The temperature here is always 6 to 7 degrees Celsius lower than Shimla. Therefore, the weather here in summer is much more pleasing to get rid of the hot temperature and in winter the snowfall is more frequent as compared to Shimla or Kufri.
If you're looking for a quiet place away from the hustle-bustle of daily life with splendid views and refreshing breeze then Fagu is the place you should go.
Best Time To Visit Fagu
Being a hill resort Fagu enjoys pleasant weather conditions throughout the year. Therefore, the best time to visit highly depends on the agenda to visit Fagu. However, the best time to visit Fagu is from May to October when the temperature hovers between 15 to 30 deg Celsius and the weather becomes amazing to enjoy the natural beauty of this town. Also, during these months you'll see the blooming apple orchards.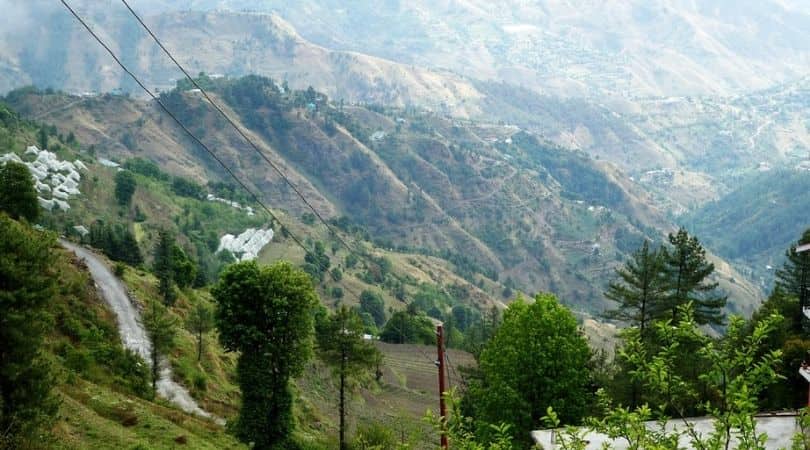 If you love snow then November to February is the ideal time to visit Fagu when a thick layer of snow covers the green landscape of this town. Most of the tourists who come to Shimla and Kufri in winter definitely visit Fagu to enjoy the snowfall. So if you're planning to visit Shimla during winter then don't forget to add Fagu to your bucket list.
The highway passing through the Fagu is the main road that connects the China border so the government takes special care of this road even if there is heavy snowfall then the road gets cleared in a single day. This makes the Fagu is very accessible throughout the year.
Top Places To Visit In Fagu
1. Fagu Maa Durga Temple
Fagu Maa Durga temple is a must visit place in Fagu. The serenity of this place will calm your soul. And the views from here are spectacular.
During winter the temple gets covered in a white blanket of snow. And people from all around come here to enjoy snowfall.
2. Bhantia Devta Temple
Bhantia Devta temple is one of the most famous temples in Fagu. This temple is famous for its architectural design that reflects the amazing wood carvings by local craftsmen. It is a perfect place to get to know about the local culture and tradition.
The scenic view of the valley from the temple is marvelous.
3. Deshu Kali Temple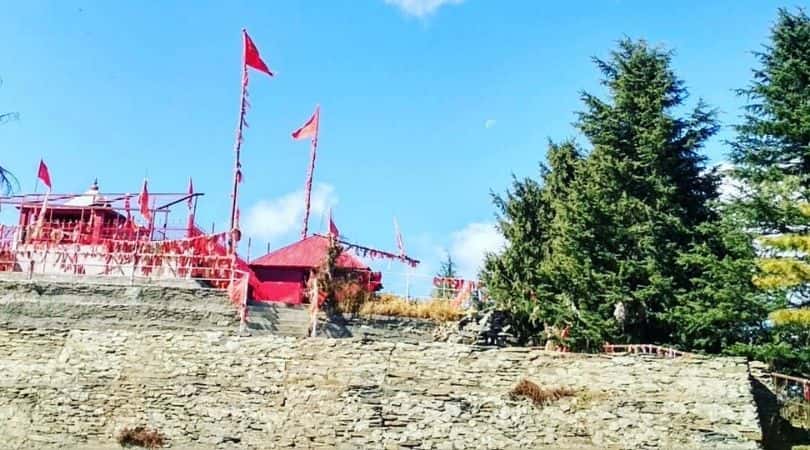 Deshu Mata temple is dedicated to Goddess Maha Kali or Durga. This hilltop temple is situated amidst deodar and spruce trees. The temple gives you 360-degree views of Fagu.
To reach up there you need to cover 400 stairs by foot. The steep trail starts near the HPTDC apple blossom hotel, on the main road. You can drive up to the kings hotel and from there you need to take around 400 stairs to reach the temple.
4. Cheog
Cheog is a small town that is located 4 KM in the lower region of Fagu. Tucked amidst the high mountain peaks and lush green forest, it is the perfect place for someone who looking for a getaway to relax.
Away from the hustle of city life, this village gives you the feeling that you're transported a few decades back. This village gives you the space where you can celebrate peace, solitude and belongingness.
Apart from trekking and hiking, there is nothing much to do. But it does have a small market with some sweet shops and local Himachali food.
From Fagu there is a signboard on the right-hand side of the road saying Cheog. From there drive till 3 km and you'll see another signboard saying Gadharav. Take that road for 2 km or all the way to the dead-end and you'll reach the Cheog. And if you don't have a vehicle then you can take a taxi to Cheog.
"Ask Locals for the best route as it is a off-beat destination".
5. Chharabra Sunset and Sunrise Point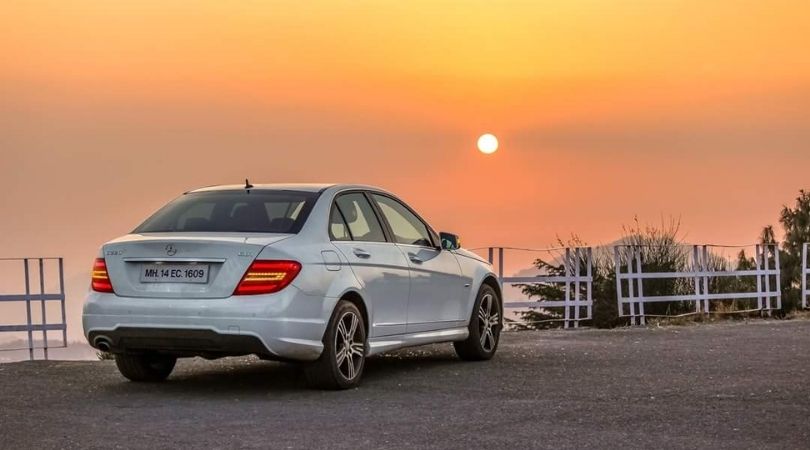 Chharabra is a small village that is 8 Km from Fagu. The Kalyani helipad in Chharabra is famous for its spectacular sunset and sunrise. Either you can go there by taxi or you can also trek from Fagu to Chharabra via Tattapani stream.
Tourists who come to Kufri or Shimla often visit this place to enjoy splendid sunrise and sunset. So, don't forget to add this place to your itinerary whenever you're in Fagu.
Best Things To Do In Fagu
1. Trekking or Hiking
Being a hilly town, Fagu has ample trails for trekkers and hikers. The whole town is filled with scenic natural beauty which you can explore by taking a stroll. Dotted with pine and deodar forest, Fagu serves as a basecamp for trekkers.
2. Camping
For nature lovers camping is the best thing to do in Fagu. It is the best way to enjoy the raw beauty of nature. Setting a camp on the hilltop and watching the sparkling stars is the experience you don't want to miss.
Tip – The weather in Fagu is unpredictable so before setting a camp do check the weather forecast.
3. Explore Apple Orchards
Fagu is famous for the cultivation of apples and potatoes. The abundance of apple orchards and potato farms attracts people from all around and this is the main source of the economy of this town.
A trip to these vast fields will give you the opportunity to explore and learn about the farming of potatoes and apples.
How To Reach Fagu?
By Road
Fagu is located 360 KM from New Delhi via NH-44 and NH-5 which takes around 8 to 9 hours to reach the place. Either you can drive your own vehicle straight to Fagu or take a bus from Delhi to Shimla. From Shimla, Fagu is located just 18 KM which can be covered by a taxi or cab.
By Train
Shimla Railway Station is located just 20 KM from Fagu. From there you can easily take a taxi or cab to Fagu.
By Flight
Jubbar-Hatti airport of Shimla is located just 35 KM from Fagu. From there you can easily take a rental or taxi to reach Fagu.
Food in Fagu
Don't forget to try the local Himachali traditional dish Siddu with lots of Ghee.
Stay in homestays to enjoy delicious local food.
Maggi, Besan Barfi, Sweet Siddu, Mash Daal and dhaam are the most famous Himachali food that must try in Fagu.
Where To Stay In Fagu?
From homestays to hotels Fagu has a wide range of accommodations. If you're keen to learn about the local culture and food of Fagu then homestay would be the option for you. Situated amidst apple orchards, homestay is the best way to enjoy the raw beauty of Fagu.
There are some hotels of Himachal Tourism Development Corporation located just next to Hindustan Tibet road. The rooms are well maintained and have all the needed amenities. And the views from here are just amazing.