The Capital of Northern Indian state Sikkim, Gangtok is nestled amid the Himalayas. It is famous for its mighty peak Kanchanganga, awe-inspiring natural wonders, and vivid rich culture. To unwinds its beautiful lakes, monasteries, snowy mountain peaks, river banks and rich vibrant culture check out our travel guide to Gangtok that includes places to visit in Gangtok, things to do in Gangtok and How to reach Gangtok.
How to reach Gangtok:
Gangtok is located 113 KM from Siliguri, 96 KM from Darjeeling and 75 KM from Kalimpong. There are mainly three ways to reach Gangtok – Road, Air and Train:
By Air: Pakyong Airport in Sikkim is the nearest airport that is located just 35 KM from south of Gangtok. It is one of the highest altitude airports in India due to that you may face inconvenience while booking the flight ticket. But there is another Aiport in Bagdogra that is just 123 KM away from Gangtok. From there you can take a shared or private taxi to Gangtok that can take around 5 hour to reach Gangtok.
By Train: New Jalpaiguri in Siliguri is the nearest railway station that is situated just 117 KM away from Gangtok. From there you can take shared taxi (4 to 5 hours) that charges around 250 to 300 INR. For cheaper deals you can use government buses as well. New Jalpaiguri is well connected to other major cities including Kolkata and Delhi.
By Road: Road is the most scenic and the best way to reach Gangtok with surrounding mountain peaks and lush greenery. Most of the tourists coming from West Bengal and other nearby states prefer driving to Gangtok. You can also use rented private taxi, shared jeep and Government buses to reach there.
Best Places to Visit and Things to do in Gangtok:
1. Ban Jhakri Waterfalls Park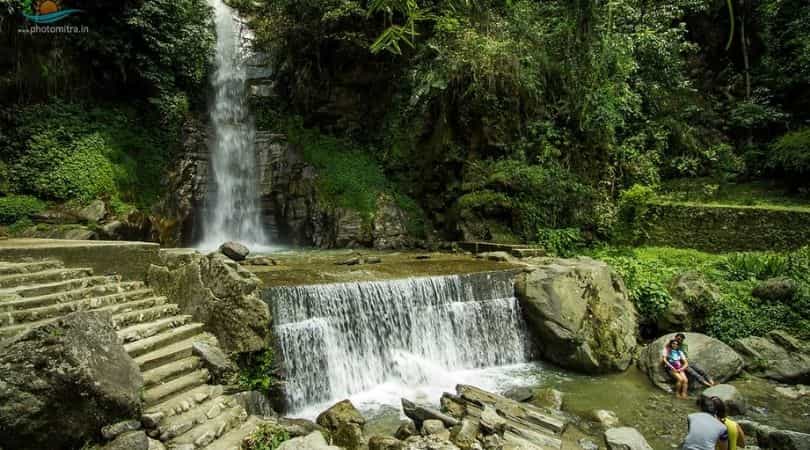 Located around 8 KM from Gangtok via Indira Bypass Road, Ban Jhakri fall is a beautiful picnic spot in Gangtok. This 100 Feet waterfall is situated in a forested area of 2 acres with lots of trees and flowers. There is a man-made lake where you can do boating. Also, there are lots of beautiful statues including Mangpas, Lepcha, Lyam Lymay and another ancestor of Ban Jhakri.
2. Ranka Monastery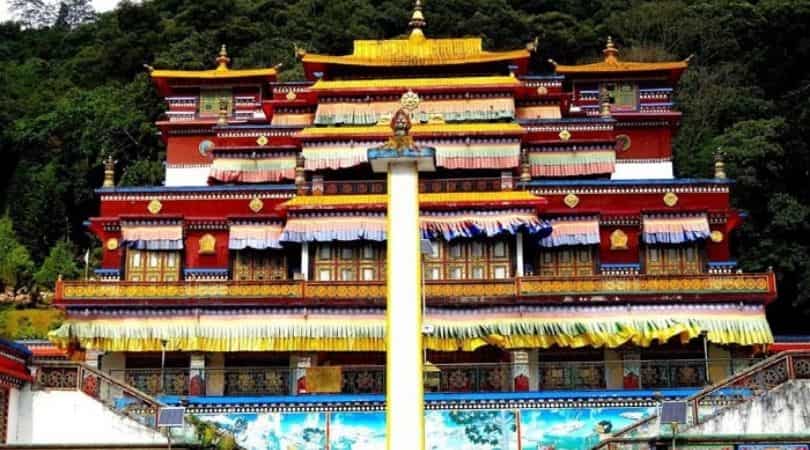 Located just 20 KM from Gangtok and 9 KM from Ban Jhakri falls, Ranka Monastery is a Buddhist monastery that is famous for its amazing paintings and scenic view. It is also known as Lingdum Monastery. As it is quite new so you don't find any historical significance there. However, inside the sanctum, there is a large gold-plated Buddha statue that sits in the lotus position which is one of the best things to see in the Ranka monastery. Ranka is also featured in many Bollywood movies as well.  
The way to reach here is not well maintained so you may face problems while reaching there.
3. Seven Sister Waterfall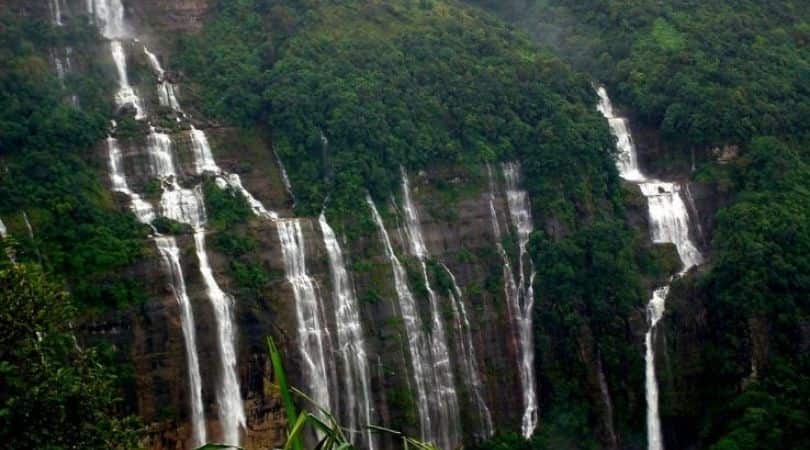 At a distance of 32 KM from Gangtok, Seven Sister Waterfall is located on Gangtok Lachung Highway leading north to Sikkim. It is a combination of 7 cascading waterfalls therefore it is known as Seven Sister Falls. It is one of the best picturesque places to visit in Gangtok as its offers stunning views especially in the monsoon. Every year lots of tourists come here to click some amazing pictures.
4. Rumtek Monastery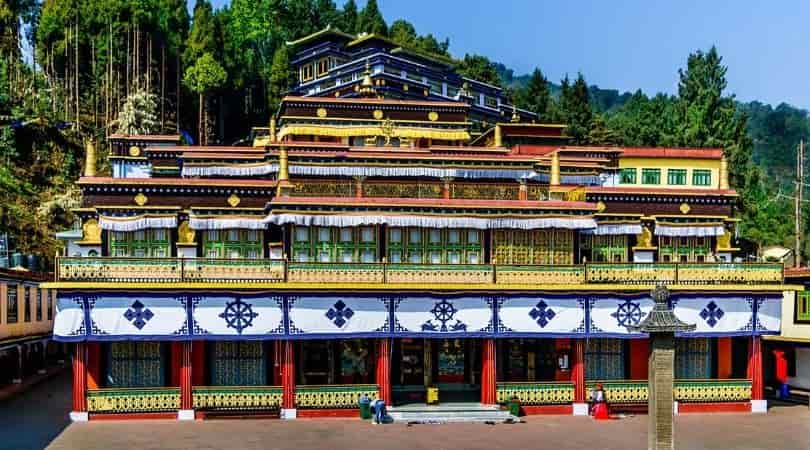 At a distance of 22 KM from Gangtok, Ruktek monastery is situated at the top of fill facing Gangtok city. Therefore, you'll get an amazing view of the entire Gangtok city from this monastery. Rumtek monastery is also known as Dharma Chakra Center. The Golden Stupa is the main attraction of this monastery that is situated in the new room of Karma Shri Nalanda Institute.
Rumtek Monastery has one of the best Tibetan architecture and is almost a replica of the original monastery in Tsupru in Tibet. There is a Buddhist school inside the monastery where students get to know about the culture and religion of Buddhists.
5. Namgyal Institute of Tibetology
Established in 1958, Namgyal Institute of Tibetology is a research institute for Tibet and Buddhist history & Culture. The NIT is situated in between jungle that is a serene and calm place. It has a museum where you can come seven days a week and get to know about the history and culture of Tibetan and Buddhism in the way of painting, coins, statues and artworks. There is a library as well which is the third-largest collection of Buddhist text. To get inside the NIT you need to pay an entry fee of 10 INR.  
6. Trek to Kanchenjunga Mountain
The third highest peak in the world, Kanchenjunga mountain is situated at an elevation of 8585 meters. Gangtok is the best place to get the best view of this mighty peak. If you want a closer view then you do the trek to the base point of Kanchenjunga or visit the Kanchenjunga National Park where you can set the camp in the foothills of Kanchenjunga.
Best time to Visit: March to April is the best time when the sky becomes clear to get the perfect view of Kanchenjunga. On a clear day, there are many spots in Gangtok from there you witness its might peaks.
Best place to see Kanchenjunga in Gangtok: There are mainly three places in Gangtok to get an amazing view of Kanchenjunga mountain: Tosh View Point, Ganesh Tok and Hanuman Tok.
7. Shopping at MG Road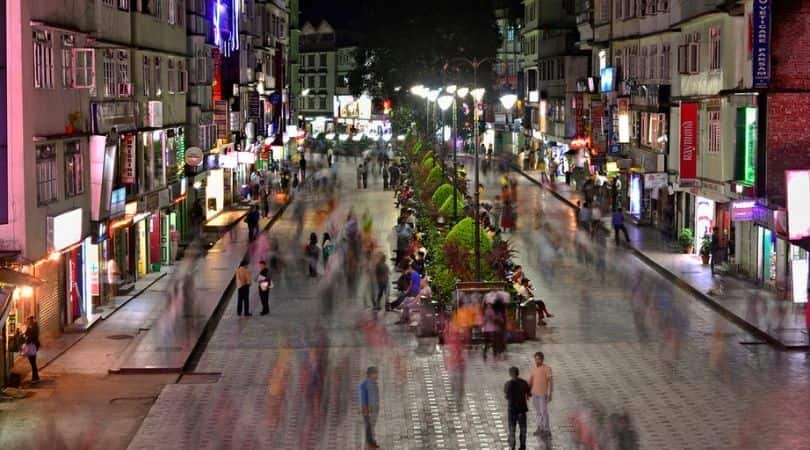 If you want to do shopping in Gangtok then MG road will be the perfect place for you. There you'll get lots of shops in an area of 100 meters. There are number of taxi stands near MG road where you can hire a taxi to roam around Gangtok. Also, this place is full of hotels and restaurants where you can have famous Nepali & Tibetan food and budget to the luxurious hotel everything is available here.
8. Take a Cable Care Ropeway Ride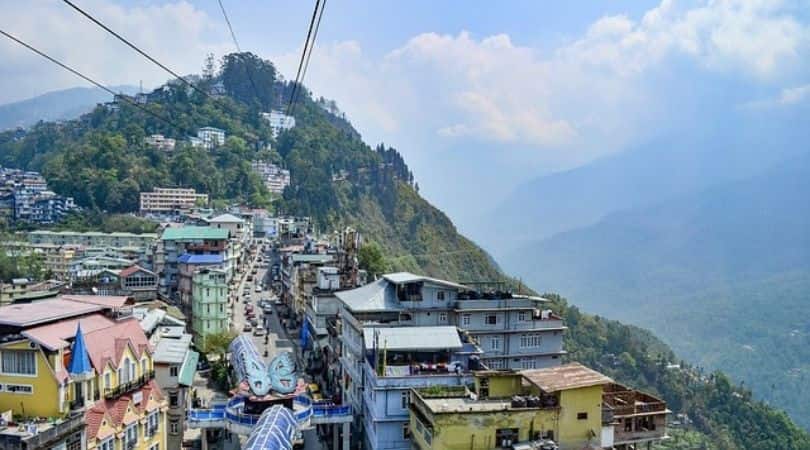 The Cable Car ropeway is one of the best tourist attractions in Gangtok. It allows you to get an amazing view of the entire Gangtok town from a height of 3500 feet including the valley, thundering Teesta river and Kanchenjunga peak. The cable car can carry maximum of 24 people at a time. There is no seat inside the cable car so you need to stand. 
Ticket: 117 INR for two way ride
9. Changgu Lake or Tsomgo Lake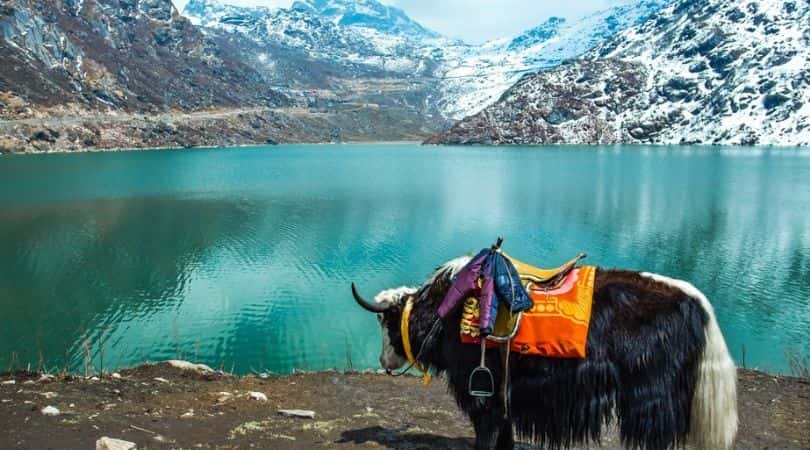 Located just 40 KM away from Gangtok, Tsomgo is a glacial lake situated at the height of 3753 meters. Tsomgo Lake is famous for its mesmerizing beauty and snow therefore it is one of the most popular places to visit in Gangtok. The surface of the lake displays different colors in different season. During winter you can witness heavy snow around the lake that allows you to do ice skating. And in summer the lakes turn into heaven with the amazing beauty of nature including the blossom of Primula Flower and other vegetation.
Apart from natural beauty, Tsomgo lake is a sacred place for Sikhs. The lake is associated with many stories. According to the legends Buddhist Monks used to meditate here and analyze the color of water to forecast the future.
Best time to visit: You can enjoy the beauty of Changgu lake throughout the year. In winter from January to mid May Changgu lake is completely covered in snow while during October to December the lake is partially covered in snow but May to October is the best time to visit Changgu lake when the snow started to melt and wildflowers including rhododendrons, irises, and poppies bloom around the lake making it a perfect natural wonder.
How to Reach: Tsomgo Lake is located 40 KM or 2 to 3 hours away from Gangtok. To reach up there can rent a taxi from Gangtok that charges you around 300 to 500 INR.
Things to do: Trekking, Ice skating, Yak and horse riding, and enjoy the beautiful view of mountains.
Note: There is no accommodation on Tsonmgo lake therefore you need to return to Gangtok for the night stay.
10. Nathula Pass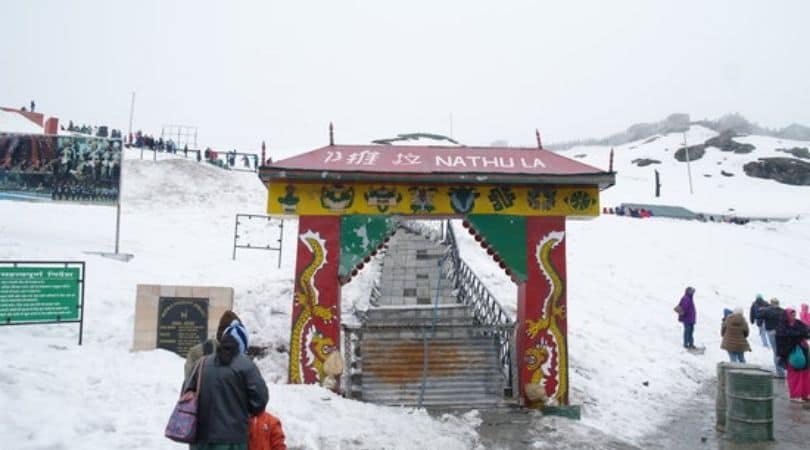 Nathula Pass is one of the highest motorable roads in the world with a height of 4310 meters. It is famous for its picturesque snow-capped mountains along with beautiful Chumbi Valley. It is an Indo-China border that connects Sikkim with Tibet. Nathula pass uses for trading between India and China. It is one of the most beautiful places to visit in Gangtok with breathtaking views of mountains surrounded by clouds and snow.
How to reach: Nathula pass is located around 53 KM or 2-hours drive from Gangtok. To reach up there you need to drive along Jawarharlal Nehru road that takes you to Nathula Pass. You can also book a taxi from Gangtok to Nathula Pass that charges you around 2500 to 3000 INR for a private taxi and 400 to 800 INR for a shared taxi including all the permits that need for Nathula Pass.
Best time to visit: April to October is the best time to visit Nathula pass when the temperature varies around 10 deg C. During winters Nathula Pass receive heavy snowfall and temperature drop up to -30 deg C. So for snow lovers winter is the best time but with proper woolens.
Note: Please check timings before planning.
11. Baba Harbhajan Singh Temple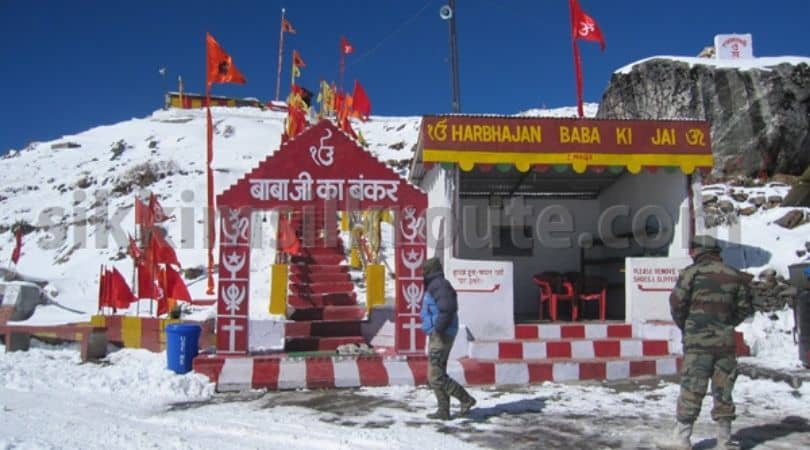 At a distance of 52 KM from Gangtok, Baba Harbhajan Singh temple is Located at an altitude of 13123 feet. It is located between Nathula Pass and Jelepla Pass. This temple was built in the memory of soldier Harbhajan Singh. It is believed that his spirit protects this area and every soldier who are at the border. The tourists visit this place for its spectacular surroundings of mountains.
How to reach: This temple is located on the way of Nethula Pass so don't forget to visit this place while visiting Nethula Pass. 
12. Gurudongmar lake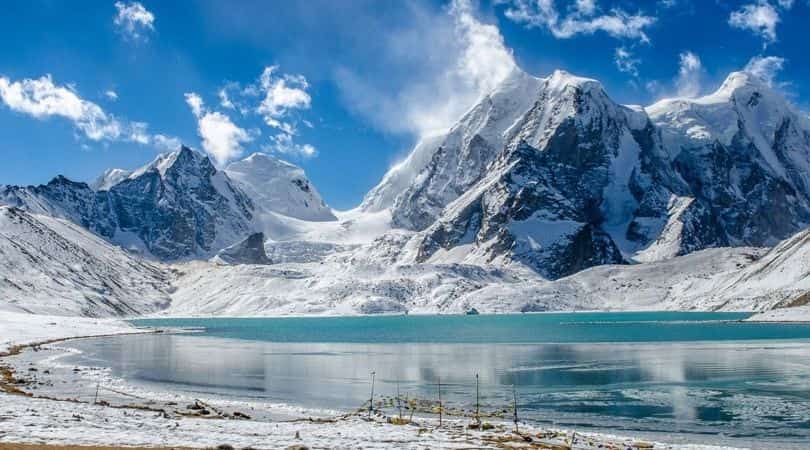 Situated at an elevation of 5183 meters, Gurdongmar lake is one of the highest lakes in this world. The lake is famous for its astonishing beauty surrounded by snow-capped mountains. The lake got its name from Guru Padmasambhava, the founder of Tibetan Buddhists, who visited this lake in the 8th century. It is a sacred lake in Hinduism, Buddhism, and Sikhism. The lake is one of the major sources of the river Teesta.
How to reach: Gurudongmar lake is located 180 KM from Gangtok and 66 KM from Lachen. To reach there first you need to reach Lachen from there it takes around 3 to 4 hours. It is recommended to spend a night in Lachen to acclimatize the altitude.
Best time to visit: March to June is the best time to visit Gurudongmar lake when the weather becomes perfect for sightseeing and you'll get clear skies with lush greenery in the surrounding of the lake. During this time the temperature varies around 5 deg C to -5 Deg C. Therefore, its good to keep you all warm clothes along with you.
13. Lachen & Lachung Village: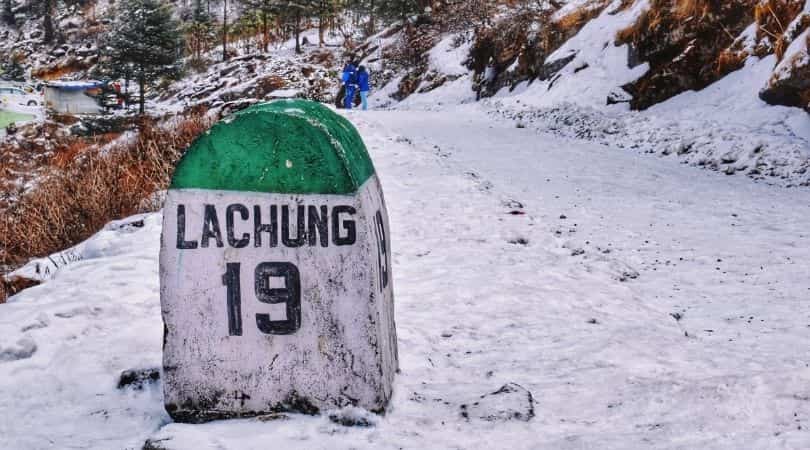 North Sikkim is all about Lachen and Lachung Village. These 2 villages are the base point of Gurudongmar Lake, Zero Point, Chopta Valley and Yumthang Valley. Lachen and Lachung are famous for their natural beauty along with some of the most adventurous treks of North Sikkim. There you'll see vivid color, texture, shades and landscapes to capture in your camera.
As compared to other hill stations of India such as Manali, Shimla, Auli, Nanital, Jammu & Kashmir North Sikkim is much cheaper. You won't get luxurious accommodation and nightlife but that makes this place unique and beautiful. If you choose right time then you'll get snow as well.
How to reach: Lachen is located around 114 KM from Gangtok while Lachung is situated around 110 KM. You need to hire a taxi from Gangtok that takes around 6 to 7 hours to reach Lachen or Lachung. During your journey from Gangtok to Lachen, you'll see lots of waterfalls where you can stop and take amazing pictures.
Notes: To enter Lachen or Lachung you need some permits. Usually, your travel agent or taxi driver arrange for you and include them in your taxi fare, if not then you can ask them and they'll arrange all the permits for you.
14. Himalayan Zoological Park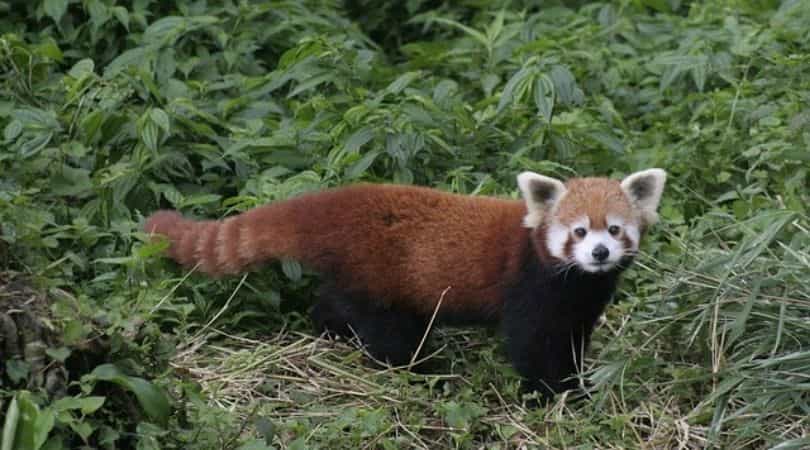 Located just 11 KM away from Gangtok, Himalayan Zoological Park is famous for some exotic species of flora and fauna including goral, Himalayan Monal Pheasant, Himalayan Red Panda, Snow Leopard Cat, Himalayan Palm Civet, Himalayan Black Bear and Crimson Horned Pheasant. Spread in an area of 205 hectares it is a great place to watch the famous Kanchenjunga Peak. It is a great place to visit in Gangtok especially with kids and families.