Kasauli is one of the most beautiful offbeat destinations in Himachal that is famous for its scenic viewpoints, peaceful surroundings, historical buildings and delicious Tibetan cuisines. During peak summer and peak winter when most of the popular hill stations near Delhi are filled with lots of tourists than being an off-beat destination Kasauli stays peaceful, serene and you'll not find a lot of people here. So, Kasauli is the perfect place to enjoy your time while seeing the all major attractions away from the hustle of daily metro life. And here we come up with a guide to plan a perfect weekend trip to Kasauli from Delhi with the easiest route from Delhi to Kasauli, places to eat, places to stay and things to do.
Distance between Delhi to Kasauli – 286 KM
Best time to visit
March to November is considered the perfect time to visit Kasauli when the temperature varies from 14 to 28 Deg Celsius. Therefore, Kasauli is a perfect weekend getaway from Delhi to escape the heat of June and July. From March to July when most of the North Indian cities including Delhi, Gurgaon, Haryana, Punjab and Noida suffer from high temperatures then the pleasant weather condition of the Kasauli would give you the environment that everyone craves for in hot summer.
Note – If you're traveling in monsoon season then it is advisable to check weather condition to avoid the risk of land slides and flood.
How to reach Kasauli From Delhi
By car – Car is the best way to reach Kasauli from Delhi as the road condition is excellent for driving. And the surrounding scenic beauty would give you the amazing experience of a road trip. The road trip from Delhi to Kasauli will take around 6 to 8 hours depending on the weather condition and traffic.
Leave early in the morning to avoid the risk of heavy traffic in the hilly regions. The route for the road trip is pretty easy as you have to take NH44 from Delhi to Ambala then take a right from Zirakpur to reach the Kasauli.
Detailed route – From Delhi to Kasauli road trip, after 1 and half hours (44 KM via NH 44) your first stop would be at Murthal which is famous for its roadside Dhabas and restaurants. Don't forget to try Paratha (Murthal ke Parathe) at Gulshan Dhaba. After having breakfast, restart your journey till Ambala and take a short break. From Ambala, drive till Zirakpur (34 KM) before taking the right turn towards the Kalka. If you go straight then you'll reach Chandigarh. Now, before reaching Pinjore, take a turn on the Shimla Highway. And before 2 KM from Dharampur take a left turn towards Kasauli from the Maxima watch factory chowk. Now drive to the next 13 KM before you reach Kasauli.
Route – Delhi -> Murthal (44 KM) (Stop for food) -> Panipat (85 KM) -> Karnal (117 KM) -> Kurukshetra (153 KM) -> Ambala (200 KM) -> Zirakpur (232 KM) -> Dharampur (279 KM) -> Kasauli (287 KM)
If you don't have a car then the rental car is the best option for road trip to Kasauli from Delhi.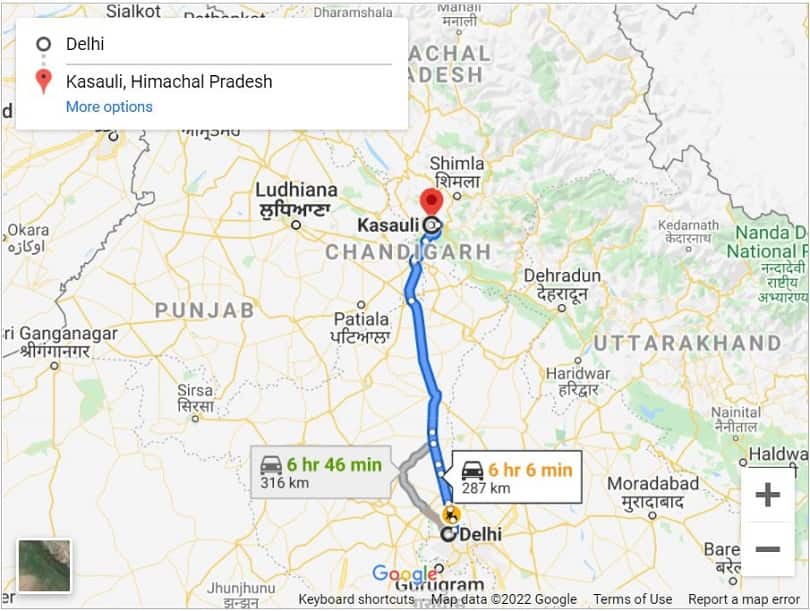 By bus – If you're on budget then bus would be the most affordable way to reach Kasauli from Delhi. Just take bus from Delhi to Chandigarh that will cost you around 270 to 300 INR. Now take a bus from Chandigarh to Shimla or Kalka and ask drive to stop at Dharampur (Kasauli Chowk) that is located around 13 KM from Kasauli. And from Dharampur, you'll easily get a private local bus to Kasauli that charge you around 30 INR.
The whole cost by bus from Delhi to Kasuali would be around 400 INR.
By Train – If you're a train lover and wondering how to travel from Delhi to Kasauli via train then here is the guide. Kalka has the nearest railway station to Kasauli is located around 40 KM away. It has good connectivity to Delhi. Just a take train from Delhi to Kalka that takes around 5 hours. And From Kalka railway station you'll easily get a bus or taxi to Kasauli. There are 6 train run between Delhi to Kalka starting from 5:35 AM in the morning to 09:10 PM at night. The average ticket price of the train from Delhi to Kalka would be from 100 to 800 INR depending on the seating class and train type.
Now its time to explore the Kasauli. So, lets get to know about the best places to visit in Kasauli, best things to do in Kasauli, top food you should eat and places to stay in Kasauli.
Best places to visit in Kasauli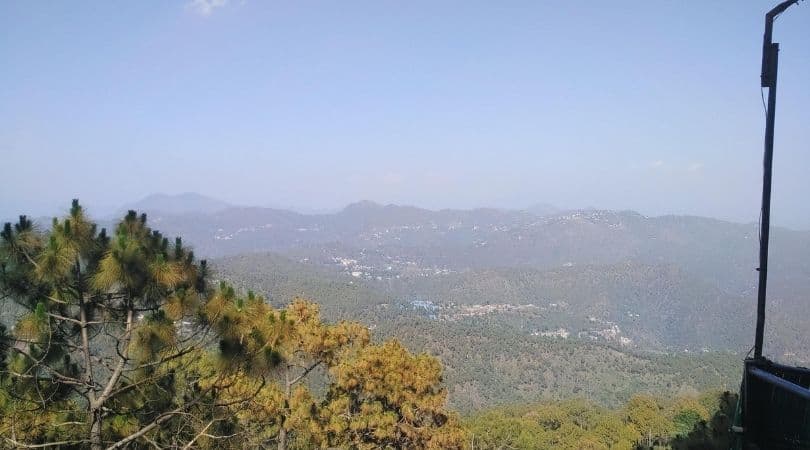 Sunset Point – Located a few meters away from Kasauli club on the Upper mall, Sunset point is a great place to enjoy the sunset. From there you can catch a bird's eye view of the city. Overall, a great place for stunning sunset views and nature photography.
Suicide point – Situated a few meters ahead of the sunset point, Suicide point is a famous spot in Kasauli for amazing views and peaceful surroundings. It is a great place to sit in peace and admire the scenic beauty of this town.
Gilbert trail – Gilbert trail is a 1.5 KM long stretch with lush greenery and steep hills on both sides. This 1.5 KM long journey takes you to the Gilbert point from where you can enjoy the beautiful views of the valley. It is a great place for birdwatching as well.
Monkey Point – The highest point of Kasauli, Monkey point is famous for the breathtaking views and the Hanuman temple. According to the legends, this is the place where Lord Hanuman's foot got touched while he was returning from the Himalayas with Sajinvini booty for Laxman. That's how this place got its name as Monkey point. Also, the air force station of the town is placed here so it is a cantonment region.
Christ Church – Christ Church is a must-visit place when you're in Kasauli. It is one of the oldest churches in Himachal Pradesh. Built-in Gothic architecture, it contains the Spanish and Italian imported stained glass windows depicting Mary, Christ, Saint Barnabas and Saint Francis.
Mall road – Like Manali and Shimla, Mall road is the busiest place in Kasauli. This is the place where you'll get all the important buildings of Kasauli like ATMs, hospitals, hotels, restaurants, medical shops and various other government & private offices. Also, Mall road offers you various shops where you can buy woolens, souvenirs, books, handicrafts, wooden items and Tibetan products.
Kasauli Brewery – The oldest distilleries of Asia, Kasauli brewery is the best place to have a glass of drink. Here you can enjoy one of the finest whisky in the world.
Note – Most of the shops in Kasauli get closed around 8 PM. So plan your day accordingly.
Foods everyone should eat in Kasauli
Like every other destination, there are some delicious cuisines in Kasauli that every food lover craves. There are various Tibetan eateries offering mount watering food including momos, bun samosa, thupka, jalebi and Tibetan chicken.
The combo of Bun Samosa and Gulba Jamuna at Narinder Sweet house is the must-eat food in Kasauli. It is a very delicious and pocket-friendly dish. Narinder sweet house is located at mall road.
Non-veg lovers should try the Chicken Thupka at Wangyal Tibetan Chicken (shop no.15) which is located at mall road.
Fast food lovers should visit the Rudra cafe for a combo of Cold coffee and cheese sandwich. The ambience and music of this place makes it special.
Place to stay in Kasauli for a night
Kasauli has wide range of staying options and booking(dot)com is the perfect platform to book hotel in Kasauli at best price. It is one of the most trusted online hotel booking platform in the world. So check out the 10 best homestays in Kasauli.
Delhi to Kasauli trip cost
| | |
| --- | --- |
| Transport by bus | 400 INR Per person |
| Transport by car | 500 to 700 INR per person |
| Transport by train | 200 to 400 INR per person |
| Food | 500 For a Day |
| Hotels | 400 to 800 For a night |
| Total cost by bus or train | 2000 per person for 1 night and 2 days |
| Total cost by car | 2500 per person 1 night and 2 days |