Jaipur – The Pink City of India is known for its rich heritage, historical forts and amazing wildlife but the nightlife in Jaipur is equally exciting. The sunset at Nahargarh Fort, the light and sound show at Amer Fort, full night party in nightclubs, and late-night walk in the gardens is the experience that remains with you forever. So when you're in this city check out our handpicked list of best places to visit in Jaipur at night that make sure you'll have the best time of your life:
Nightlife In Jaipur
| | |
| --- | --- |
| Places to visit in Jaipur at night | Location |
| Jawahar Circle Garden | JLL marg, Jaipur |
| Amar Jawan Jyoti | Jan Path, Jaipur Nagar Nigam, Lalkothi, Jaipur |
| Nahargarh Fort | Krishna Nagar, Brahampuri, Jaipur |
| Amer Fort | Devisinghpura, Amer, Jaipur |
| Chokhi Dhani | 12 Mile Tonk Road via Vatika, Sitapura, Jaipur |
| Raj Mandir Cinema | C-16, Bhagwan Das Rd, Panch Batti, C Scheme, Ashok Nagar, Jaipur |
| Hawa Mahal | Hawa Mahal Rd, Badi Choupad, J.D.A. Market, Pink City, Jaipur |
| Jal Mahal | Amer Rd, Jal Mahal, Amer, Jaipur  |
| Peacock Rooftop Restaurant | 51, Hathroi Fort, Hari Kishan Somani Marg, Ajmer Rd, Jaipur, |
| 3Ds Restro Lounge | UDB Corporate Towers, 8th & 9th Floor, A2, Jawahar Circle, Near, Malviya Nagar, Jaipur |
| Aza | Fairmont Jaipur, Kukas |
| House of People | Bais Godam, A1, Sahakar Marg, Lalkothi, Jaipur |
Jaipur Nightlife
1. Jawahar Circle Garden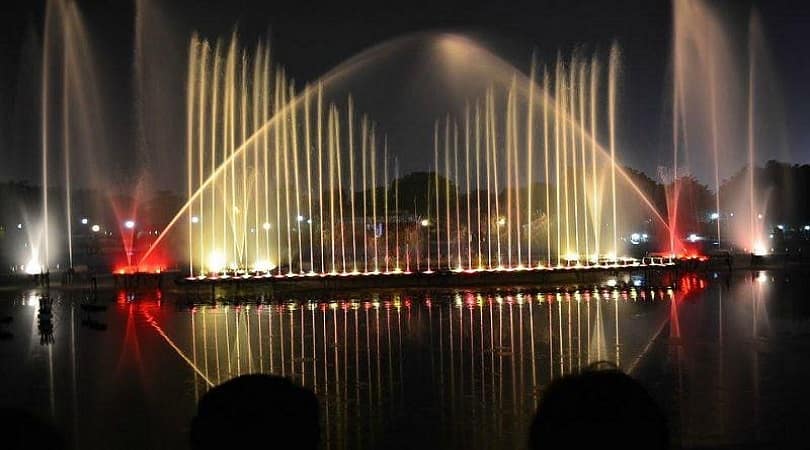 Visiting Asia's Largest Circular Garden, Jawahar Circle Garden at night is truly a delight when the musical fountains create 270 different effects. It features more than 300 colored lights that create a magical environment at night. Along with the musical fountain, there are various other things to enjoy like fragrant rose garden, jogging track, food stalls and play area. One can easily spend a good amount of time without getting bored.
Duration – 2 to 3 Hours
Fountain Timings – 7 PM to 8 PM
Entry Fees – 10 INR for Indian and 20 INR for Foreigners
2. Amar Jawan Jyoti
Watching the eternal flame at Amar Jawan Jyoti would be a surreal experience in Jaipur at night. The eternal flame is kept alive with CNG fire and it looks magical even from distance. The continuous burning flame proves that Heroes don't die, they live in our hearts through their deeds. The torches that illuminate the four corner of the structure is one of the key attraction of this place.
Entry Fees – Free
Timings – Anytime
3. Nahargarh Fort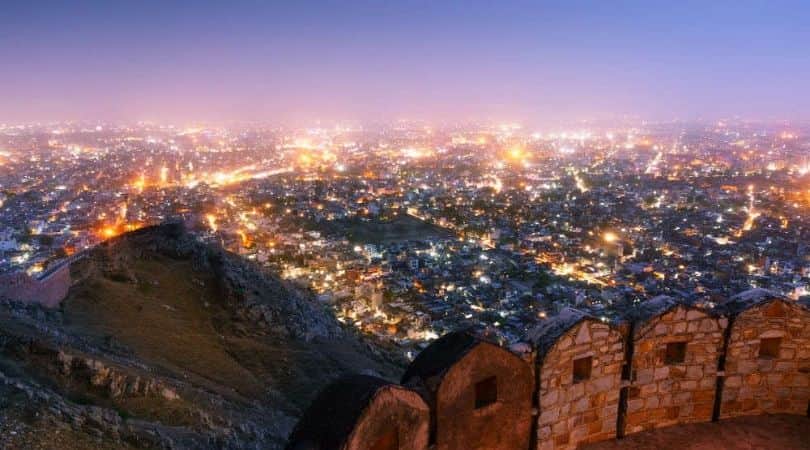 If you're looking for a place where you can watch the stunning sunset while admiring the beauty of Jaipur city then Nahargarh fort is the place where you should go. Standing on the edge of the Aravali hills, Nahargarh fort is one of the prime attractions of Jaipur, especially for night lovers. Go there at end of the day and enjoy the beauty of the sunset. After sunset, you can also dine at the rooftop restaurant, Padao. It would be a splendid experience to eat or drink while watching the sparkling Jaipur city.
Famous For – Beautiful Sunset, Picturesque views and rooftop restaurant
Timings – At the time of sunset
Entry Fees – 50 INR for Indians and 200 INR for Foreigners
4. Amer Fort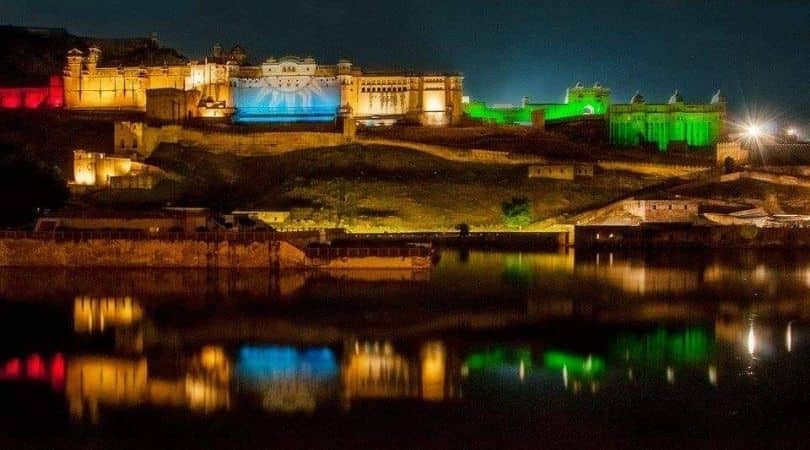 Amer Fort is the best place to visit in Jaipur that remains lively throughout the day but this place gets its charm when the famous light and sound show starts at night. This 1-hour show takes you through the complete journey of Rajputs. The show highlights the local legends, history and pride associated with Amer Fort. Also, on a full moon night, you can enjoy the Kathak performance at Diwan-E-Khas.
1135 AD restaurant is another prime attraction of Amer fort. There you can enjoy the authentic royal dinner with a variety of cuisines. For couples, there is a private dining area, Sheesh Mahal that is decorated with dazzling silver and golden artwork.
If you're not interested in light and sound shows then you can witness the beauty of this place from 7:00 PM to 10:00 PM. Watching the fort in colorful lights under the black sky will be a lifetime experience. Ganesh Pol, Diwan E Khas, and Diwan E Aam are lightened up.
Timings of Light and Sound Show:
March to April – 7 PM (English) and 8 PM (Hindi)
May to September – 7:30 PM (English) and 8:30 PM (Hindi)
October to February – 6:30 PM (English) and 7:30 PM (Hindi)
Entry Ticket – 250 INR Per Person
5. Chokhi Dhani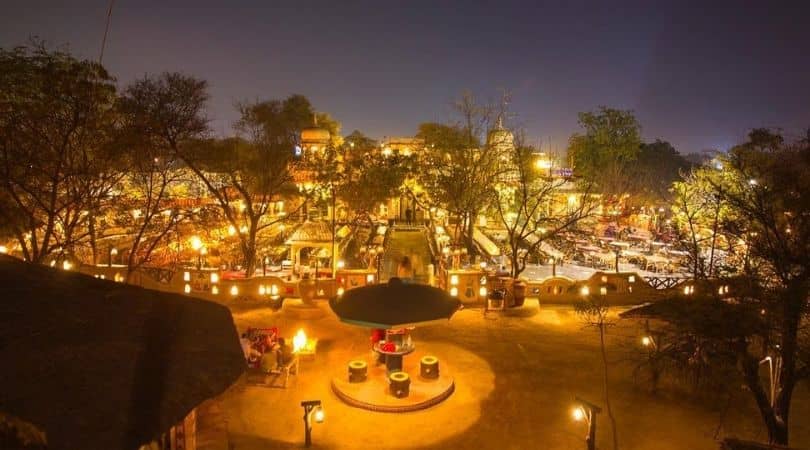 Spread over 10 acres of land, Chokhi Dhani is a perfect place to experience the Rajasthani Culture in Jaipur. This place is known for its famous Rajasthani cuisines, beautiful Indo-Saracenic architecture design and night ambiance. Come here in the evening and spend a night while enjoying the Rajasthani thali along with folk dance, puppet show, live music performance and various animal rides. You'll enjoy the night ambiance here when the entire village is lit up with lamps and lights. It is a perfect family getaway near Jaipur to spend a wonderful night.
Distance from Jaipur – 20 KM
Average Price – 1000 INR Per Adult
6. Raj Mandir Cinema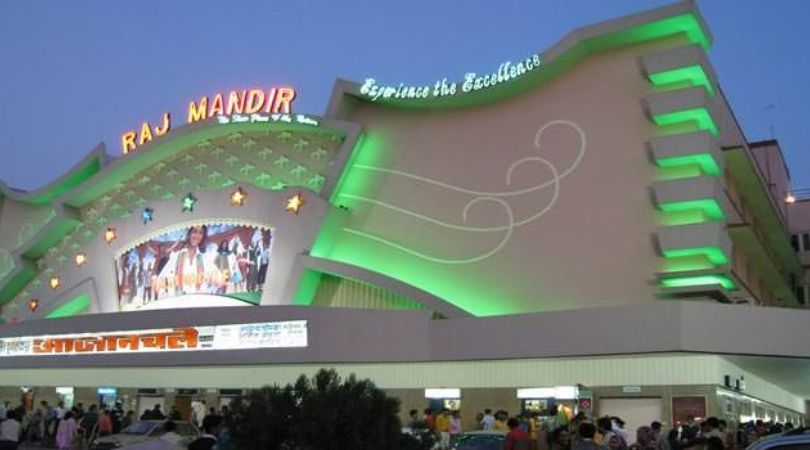 Raj Mandir is one of the biggest cinemas in Asia that has been screening movies for the last four decades. If you want to experience royalty while watching movies then Raj Mandir is the place you should go. The architecture design with intricate carving of this theater would give you the royal feel.  
7. Hawa Mahal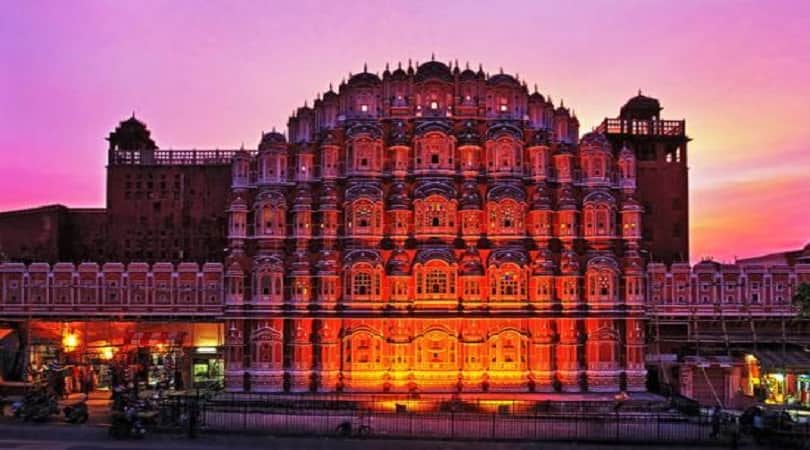 Although Hawa Mahal is closed at night but this is the time when you can click beautiful pictures of the most famous structure of Jaipur. After sunset when all lights are focused on it then this place looks mesmerizing. Hawa Mahal is the most photographed building of Jaipur and after visiting it you'll know the reason behind it.
8. Jal Mahal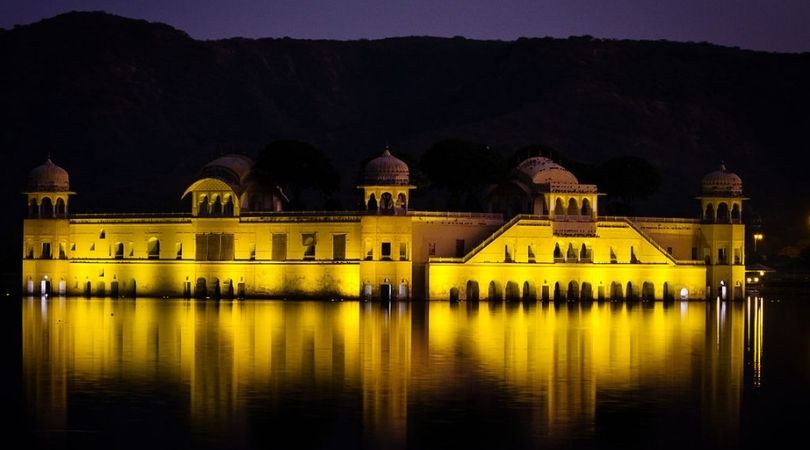 After Nahargarh and Amer Fort, Jal Mahal is the best spot to enjoy the beautiful sunset in Jaipur. Watching the sunset here is one of the beautiful sights in Jaipur when the light sand-colored stone appears in the center of ManSagar Lake, giving a stark contrast to the blue water of the lake. At night, this place looks stunning when the main palace gets lit up and the reflection of the palace appears in the lake. Therefore, it is a great place to take a long night walk in Jaipur.
Famous For – Beautiful sunset and late night walk.
Famous Night Clubs, Cafes and Bars in Jaipur
9. Peacock Rooftop Restaurant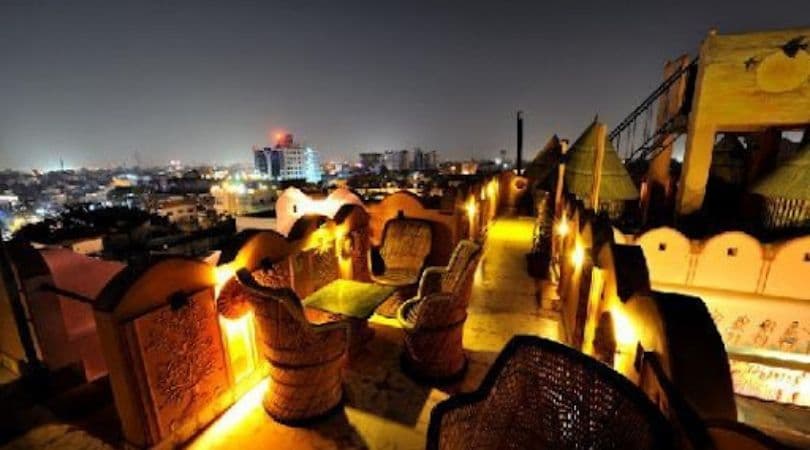 Peacock rooftop restaurant is a great place to enjoy delicious food and drink while watching the beautiful sunset. They serve wide varieties of cuisine including Indian, Chinese, Italian, Asian and Healthy. If you're vegan that this is the ideal place to dine in Jaipur at night as it is a vegan-friendly restaurant.
10. 3Ds Restro Lounge
3Ds Restro Lounge is a perfect place to enjoy the nightlife in Jaipur as it is 3 in 1 venue including rooftop seating, a restaurant and a disco. They feature Indian and International artists who perform regularly here. The food quality is great with great rooftop seating from where you can enjoy splendid views.
11. Aza
Aza is a great place to have fun with friends at night. There you'll get classy seating of plush leather chairs, great outdoor space, well-stocked bar and a cigar room. The bar has rare liquors that make your night out more happening.
12. House of People Nightclub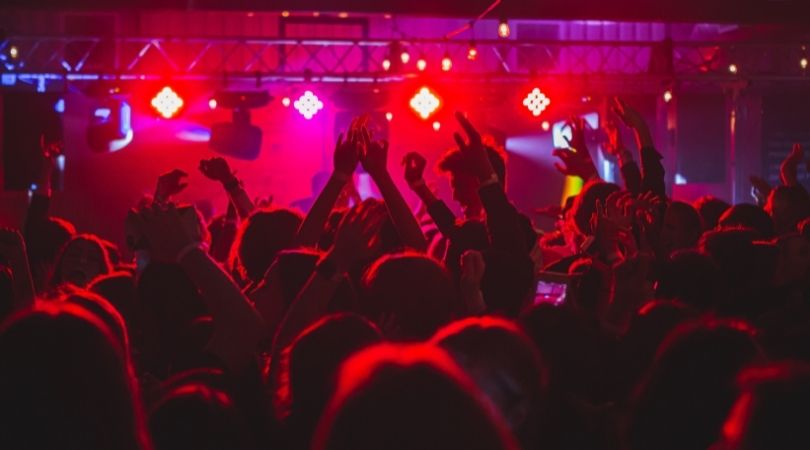 If you're looking for a place to party hard with a good drink and a tasty meal then the house of people is the place you shouldn't miss out. This place is quite famous among young tourists. There is a restaurant, bar and dance floor where you can dance with an open heart. Lively music and a dance floor will set the mood high for the party all night. This place remains open till late at night.
FAQ's
Q1: What are the best places to visit in Jaipur at night for couples?
Nahargarh fort, Amer Fort, Jawahar Circle Garden, Chokhi Dhani, Terrace Grill, Amar Jawan Jyoti, Aza, and house of people are some of the best places for couples at night in Jaipur.
Q2: What are the best places to eat in Jaipur at night?
Peacock Restaurants, Padao Restaurant, 1135 AD, Aza, Terrace Grill, Chokhi Dhani, Kalyan Rooftop restaurant, and Kashmiri Cuisines are some of the best places to eat in Jaipur at night.
Q3: What are the best things to do for free in Jaipur at night?
Take a long late-night walk around Jal Mahal, click beautiful pictures of Hawa Mahal, stroll through the Jawahar Circle Garden, Statue Garden and Amar Jawan Jyoti.