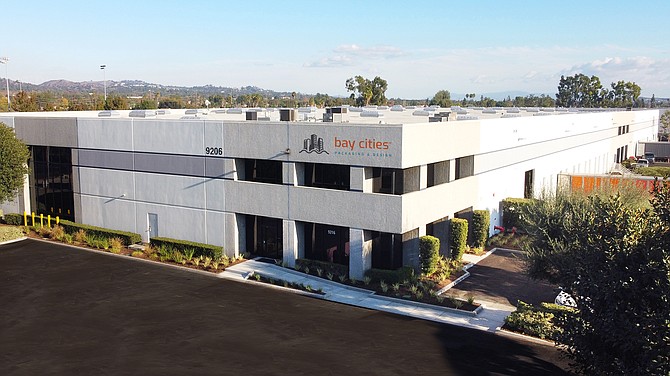 Pico Rivera-based Bay Cities, a packaging and design company, has signed a lease for 150,000 square feet in Santa Fe Springs.
The 10-year lease is for an industrial space at 9206 Santa Fe Springs Road owned by Whittier-based Oltmans Construction Co. Bay Cities now has more than 700,000 square feet of space in its portfolio.
"This new facility in Santa Fe Springs, just minutes away from our Pico Rivera headquarters, will ensure efficiency and add to our outstanding ability to execute and deliver high-volume programs throughout the Southern California region," Greg Tucker, chief executive of Bay Cities, said in a statement. "Technologically advanced capabilities ensure speed and accuracy in our expanding pack out and fulfillment facilities."
The facility has 29 loading positions, 12 assembly lines with heavy power and security.
Savills Inc.'s Bart Pucci represented Bay Cities in the lease. INCO Commercial's Kevin Romano, and Joe Maiolo represented Oltmans Construction.
Pucci said the building's location was "the most important" factor when the company began looking for a spot, even though it was smaller than what Bay Cities was initially looking for.
Bay Cities, Pucci added, also liked the heavy-power capability of the property.
"The most important thing typically comes to location, and the fact that it has heavy power was a huge bonus to us because we are a manufacturer," Pucci said.
The industrial market in L.A. has grown increasingly tight. Pucci said vacancy rates are now less than 2%, and closer to 1% for Class A buildings.
"We are in the hottest industrial real estate market in my career and probably in the history of industrial real estate," Pucci said. "In the past, you might go on a survey of several buildings and have a couple to look at and when you did find the building you wanted, you may be in competition with one other company. Nowadays, the selection is much tighter and the competition for every building is fierce."
The property in Santa Fe Springs, he said, had multiple offers before Bay Cities put in an offer.
The initial offer resulted in a lease within a month, which Pucci said is "about five times faster" than normal.
"The industrial market is clearly very much on fire, and it was strong before the pandemic, and the pandemic has kind of put it on steroids," Pucci said.
For reprint and licensing requests for this article, CLICK HERE.