February – The Month of Love has arrived now and traveling to new places is one of the best gifts of love you can give to yourself or your loved ones. Whether it's exploring the ruins of Hampi or enjoying the party life of Goa, visiting the UNESCO world heritage sites or exploring islands of Andaman, witnessing the wildlife of Kaziranga national park or the marine life of Lakshadweep here we covered some of the best gems of India on the basis of weather, commute and budget. So plan a perfect holiday with our handpicked list of the 20 best places to visit in February in India.
Best Places To Visit In February In India
1. Andaman and Nicobar Island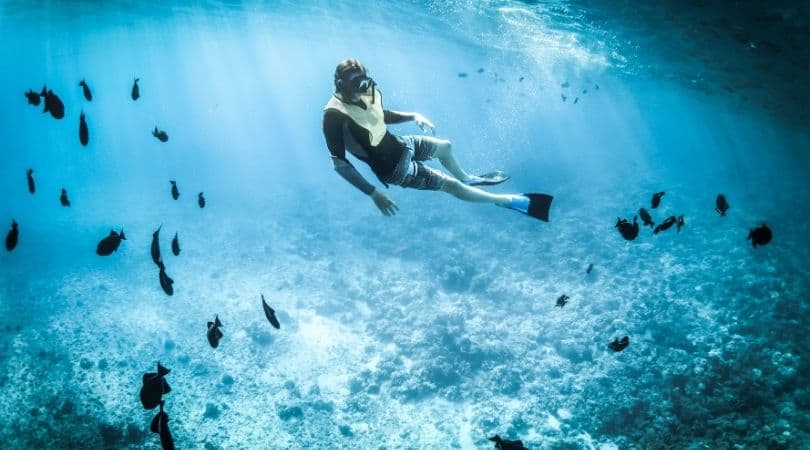 Andaman is a great place to escape from the cold wave in India as Andaman is blessed with pleasant weather throughout the year. The temperature varies from 23 to 30 deg Celsius. With amazing beaches, lively marine life, beautiful surroundings, delicious food and adventurous activities there is a lot to explore in Andaman during the month of Love. After the Christmas and New Year celebration, the hotels and ferry price comes down and that is one more reason to visit Andaman in February.
Andaman is mainly famous for its underwater world and February is the best month to enjoy the best water activities like scuba diving, snorkeling, underwater sea walking, swimming, and surfing. Havelock and Neil Island are the best places to enjoy the underwater world of Andaman.
Things to do and places to visit in Andaman in February:
Enjoy candle night dinner at Havelock beach resort
Visit Radhanagar beach
Enjoy water activities at Elephant beach
Go for a bicycle tour at Neil island
Enjoy snorkeling and scuba diving at Bharatpur beach
Visit the cellular jail at Port Blair
Birds lover must visit the Chidiya tapu
Explore the dense mangrove creek at Baratang island.
2. Goa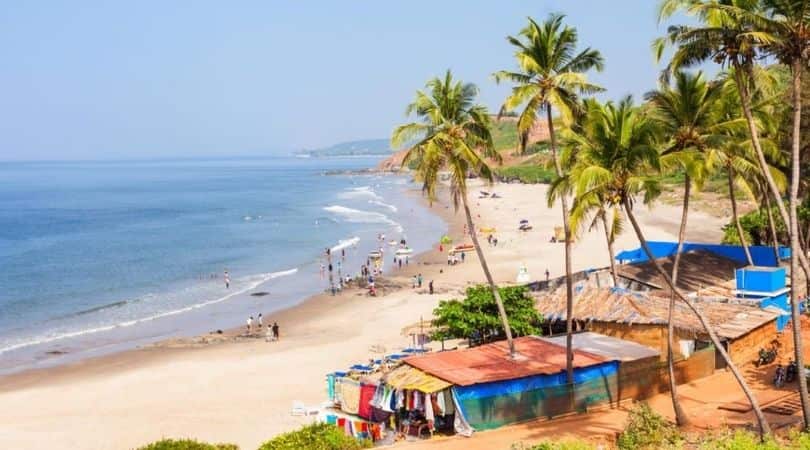 February is the end of the peak season in Goa thus the price starts getting down which means saving for you. This is the month when you can enjoy both the peaceful and party vibes at the beaches of Goa. The temperature varies from 20 to 30 deg Celsius throughout the month. The weather becomes pleasant for all kinds of water activities like swimming, surfing, scuba diving, banana boat rides, parasailing, and kayaking. Since it is the month of love then it will be the perfect time to stay in the luxurious villas and enjoy time with your partner while enjoying the sunrise and sunset over the horizon of sea. All the party lovers can participate in the Goa carnivals that start in the last week of February.
Major highlights of Goa in February
The carnival of Goa
Water activities
Pleasant weather conditions
Explore best beaches of Goa including Anjuna, Vagotar, Candolim, Bagha and Calangute beach.
Parties in the pubs of North Goa
Visit ancient Aguada Fort
Visit the most famous Church of Goa – Basilica of Bom Jesus
Do shopping at Anjuna flea market
Witness the beauty of Goa from Hot air balloon ride
3. Chikmagalur – The Coffee Land of Karnataka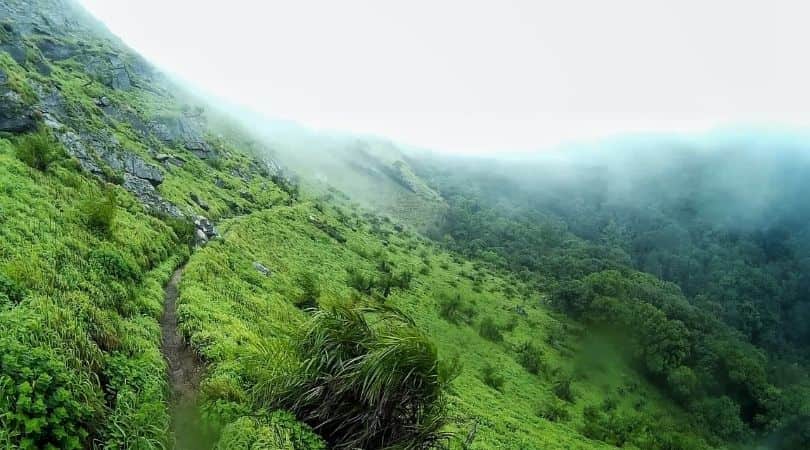 Located 241 KM from Bangalore, Chikmagalur is one of the most picturesque hill stations in India. And February is one of the best months to explore this beautiful town. The weather becomes pleasant to explore the western ghat mountain range, adventurous waterfalls, ancient temples and coffee plantations. During the month of February, lots of adventure seekers come to Chikmagalur to trek the adventurous trails like Mullayanagiri peak, Baba Budangiri peak, Kemmanagundi and Nilgiri mountain range. The waterfalls in Chikmagalur is one of the major reason to visit as this hilly town is blessed with some of the most famous waterfalls in the country.
Top Tourist Attraction in Chikmagalur in February:
Trek to Mullayanagiri peak – The highest peak of Karnataka
Visit Z Point – The best shot trek in Karnataka to get wonderful views of western ghat
Explore Coffee Plantation
Trek to Baba Budan Giri Peak
Do visit amazing waterfalls – Hebbe falls, Jhari falls, Kalhatti falls, and Manikyadhara Falls
Go for river rafting in Bhadra River
Take jungle safari in Bhadra Wildlife Sanctuary
Visit ancient temples – Veera Narayana temple, Kodanda Rama temple
4. Kodaikanal, Tamil Nadu – Princess of Hill Station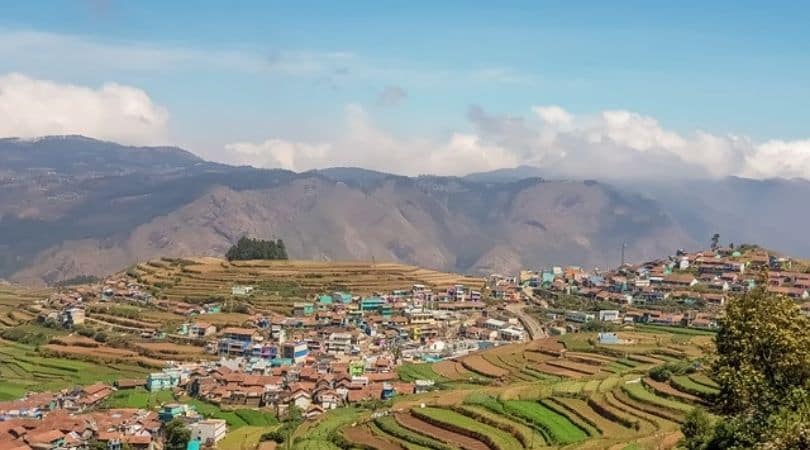 Elevated at an elevation of 7000 feet in the Palani Hills of Western Ghats, Kodaikanal is famous for its breathtaking waterfalls, beautiful lakes, pleasant weather and scenic beauty. Being a hilly town Kodaikanal is blessed with a pleasant climate throughout the year. However, February is the best month to go when the temperature varies from 17 to 30 Deg Celsius. From the 6th highest waterfalls of India, Thalaiyar Falls to Silent valley viewpoint, from ancient temples to Kodaikanal Lake there is a lot to explore in this beautiful town.
Kodaikanal means "The Gift of the Forest"
Top Tourist Attractions in Kodaikanal:
Kodaikanal Lake for boating, cycling and peaceful vibes.
Visit Dolphin Nose for spectacular views of Western Ghats
Don't forget to click pictures at these view points – Coaker walk, Moir point, Silent valley view point, Green valley view and Vembadi peak
Mannavanur lake for a picnic
Explore amazing waterfalls – Bear Shola Falls, Thalaiyar Falls, Pambar Falls, Silver Cascade Falls, Vattakanal Falls, and Fairy Falls
Visit museum – Kodikanal wax museum and Shembaganur museum of natural history.
Don't forget to visit Kurinji Andavar Murugan temple that is famous for the Kurinji flowers which blossom once in every 12 years.
5. Udaipur – The Most Romantic City of India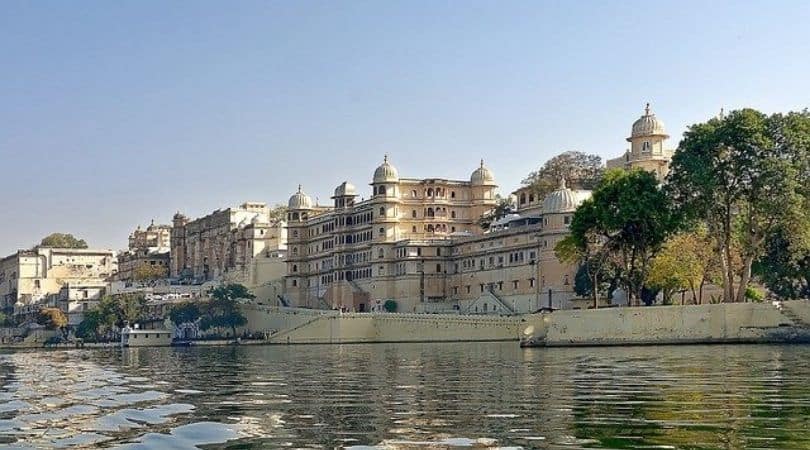 The City of Lakes, Udaipur was founded by the Maharana Udai Singh II in 1559. This city is also known as Venice of the east because of its sophisticated lake system. Located in the foothills of Aravali hills, this beautiful town attracts tourists from all over the world. Udaipur holds a rich history in the forms of palaces, lakes, temples, grand gardens, and museums. And February is an ideal time to explore the top tourist attraction in Udaipur when the temperature varies from 12 to 28 Deg Celsius, the skies are clear and the lakes are full of water. You can even spot the wedding of few celebrities in some of the palaces.
Major Highlights of Udaipur in February:
Explore lakes for peaceful vibes and amazing sunrise & sunset – Lake Pichola, Lake Palace, Fateh Sagar Lake, Jaisamand Lake and Udai Sagar Lake
Pilgrims can visit Jag Mandir, Jagdish temple, Mahakaleshwar temple, and Mahalaxmi temple.
History and architecture lovers can visit – Lake Palace, City Palace, Bagore Ki Haveli, Saheliyon Ki Bari, Monsoon Palace, Gulab Bagh and Ahar Museum.
Night owls can go to the City Palace, Bagore Ki Haveli, Badi Lake, Musical Garden and Fateh Sagar lake for sunset.
6. Hampi, Karnataka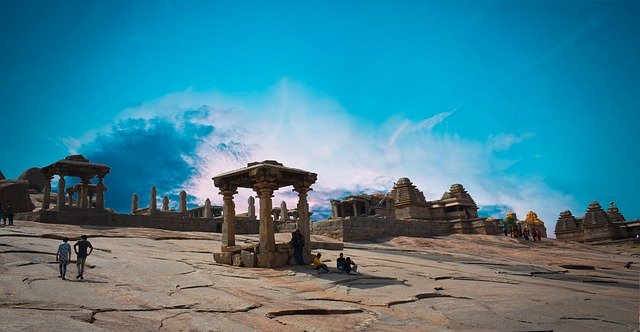 Located on the banks of the Tungabhadra River, Hampi is UNESCO World Heritage Site. Due to the ruins of historical monuments of the Indian Empire Vijayanagara, the City Of Ruins is rated as the world's largest open-air museum that covers an area of around 29 Sq Km. Hampi was the second-largest city in the world. The name of this city is also mentioned in the Indian epics Ramayana as well. The fascinating ruins of this city are enough to absorb the attention of tourists and February is the best time to explore these historic ruins. In the month of February, the temperature varies from 12 to 30 Deg Celsius. Also, this is the month when the famous Purandara festival is celebrated.
Things to explore in Hampi in February:
Explore Royal center in the south west part for ruins of bath, pavilions, monuments, and temples.
Explore Sacred center for Virupaksha temple, Pampa, and Manmatha Tank.
Don't forget to visit Lotus Mahal, Queens Bath, Elephant stables, Badavilinga Temple, Hemakuta Hill, Vijaya Vitthala Gudi, Lakshmi Narasimha temple, and Achyutaraya temple.
Click amazing picture while standing on boulders
Visit Hippie Island
Climb Matanga hill for the best view of Hampi
Visit the birth place of Lord Hanuman, Anjaneya Hill
Do some shopping at Hampi Bazaar
Enjoy the Coracle Ride in the Tungabhadra river region.
7. Thekkady, Kerala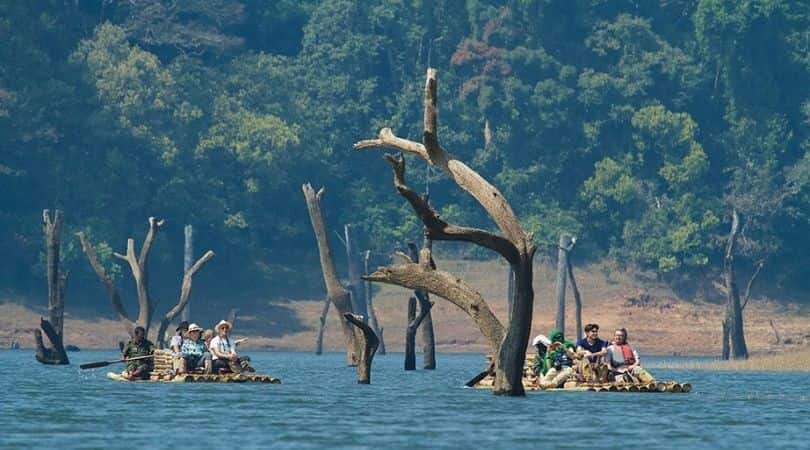 Situated in the Idukki district of Kerala, Thekkady is a picturesque town amidst lush greenery, scenic hills and evergreen meadows. The pictorial beauty of this town will realize you how alluring nature can be. This beautiful town is famous for Periyar National Park and Wildlife sanctuary. Thekkady is the best place to visit for anyone who loves nature, wildlife, fun, and adventure.
Whether you're a backpacker or honeymoon couple, come for a family trip or a solo trip, Thekkady has a number of things to offer. And February is the time when you get out of the best from this fascinating place. February is a dry month when the temperature varies between 17 to 30 deg Celsius that makes it perfect for sightseeing.
Things to do and places to visit in Thekkady in February:
Visit India's one of the largest national park and wildlife sanctuaries, Periyar National Park where you can sight Asian elephants, tigers, leopards, bison, sambhar, deer, boars, wild squirrels, lion-tailed monkeys and many more.
Do boating in Periyar lake
Ride ferry boats to enjoy the wildlife and scenic natural beauty.
Do some shopping
Try Bamboo Rafting
Trekking at Periyar
Camping and hiking in the dense forest with the help of locals
Visit nearby town – Murikkady, Pandikuzhi, Chellarkovil, and Kumily.
8. Jodhpur, Rajasthan – Blue City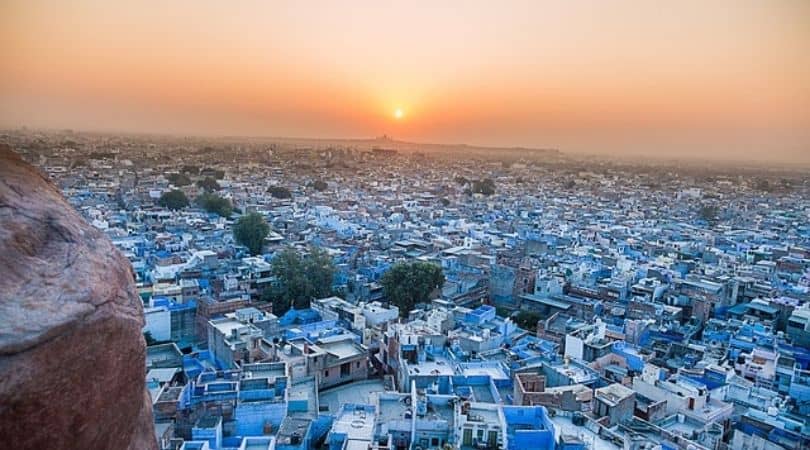 The second-largest city of Rajasthan, Jodhpur is also known as Sun City because of its all-year-round sunny weather. The most of buildings are painted in blue here and due to that, it is known as Blue City as well. Jodhpur features many elegant palaces, forts, temples and Havelis that carry the splendor of this city. The stunning arts, handicrafts, folk dance and music add glamour to this city.
February is the best month to explore this blue city when the temperature varies from 12 to 28 deg Celsius. The nights are cooler while the days are bright and sunny.
Top tourists attractions to visit in Jodhpur in February:
Visit one of the most famous forts in India, Mehrangarh Fort.
History buffs can explore other forts and palace like Khejarla Fort, Umaid Bhawan Palace, Moti Mahal, Sheesh Mahal, Jodhpur Government museum and Phool Mahal.
Chamunda Mataji Temple, Ranisar Padamsar, Jaswant Thada and Sardar Samand Lake and Palace are some of the most popular places to visit.
9. Kaziranga National Park and Tiger Reserve, Assam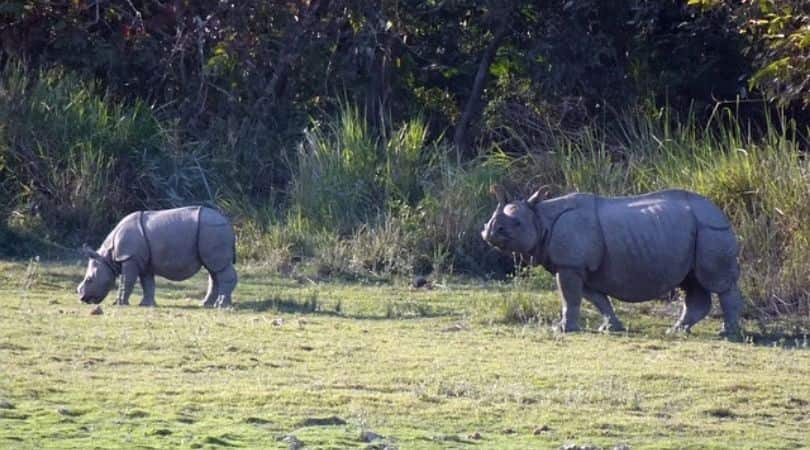 Located in the North-Eastern province of Assam, Kaziranga National Park & Tiger Reserve is a UNESCO World Heritage Site that is spread over an area of 430 sq KM. It is one of the best sanctuaries in the world that is famous for the great Indian one-horned rhinoceros. There you can spot a wide range of wild animals including elephants, wild water buffalo, Royal Bengal Tigers, leopard, hoolock gibbon, sloth bear, swamp deer and many more. Each season has its own charm and shades in this park but February is the perfect time to visit when the temperature ranges between 14 to 25 deg Celsius. Wildlife sightseeing is best in February as the forest department clears the elephant grass.
Things to do in Kaziranga National Park in February:
Don't forget to enjoy the Elephant Safari and Jeep Safari.
Engage in Bird Watching.
Explore Hollongapur Gibbon Sanctuary, Kaziranga National Orchid & Diversity Park, Ethnic Village and Hathikuli Tea Estate.
Stay in wild reserve to enjoy the wildlife.
10. Gulmarg, Kashmir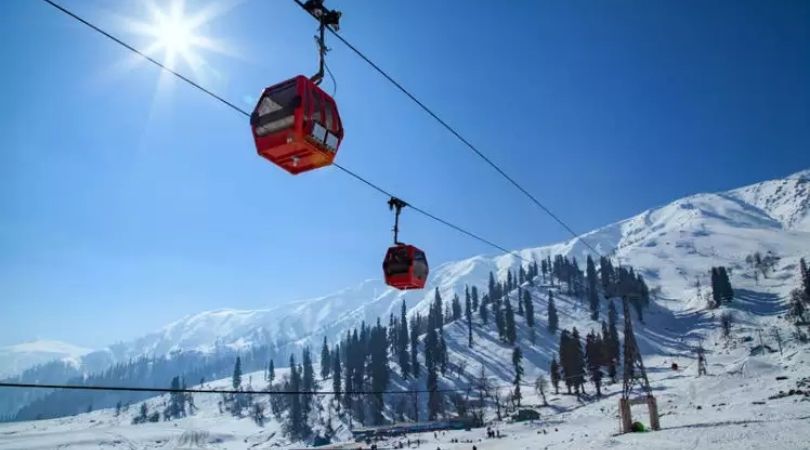 Located 51 Km from Kashmir, Gulmarg is one of the most fascinating places to visit in February in India. This mountain resort boasts amazing natural beauty and is home to the highest golf course in the world. Also, the ski resort of Gulmarg is earned the title of Heartland of the winter sports in India. Surrounded by the might Himalayan peaks, the green meadows of Gulmarg attract visitors from all over the world especially snow lovers. And February is the peak season to enjoy the snowfall in Gulmarg when the white blanket of snow covers the entire landscape.
Major highlights of Gulmarg in February:
Enjoy the Gondola ride, the highest and longest cable care in Asia.
Visit the highest gold course of the world, Gulmarg Golf Course.
Don't forget to visit the Alpather lake, Gulmarg Children Park, Gulmarg Backcountry, Strawberry valley and Gulmarg Biosphere Reserve.
Seek blessings of mighty god at Shiva Temple, Saint Mary's Church, and Shrine of Baba Reshi.
11. Rishikesh, Uttarakhand – The Land of Sagas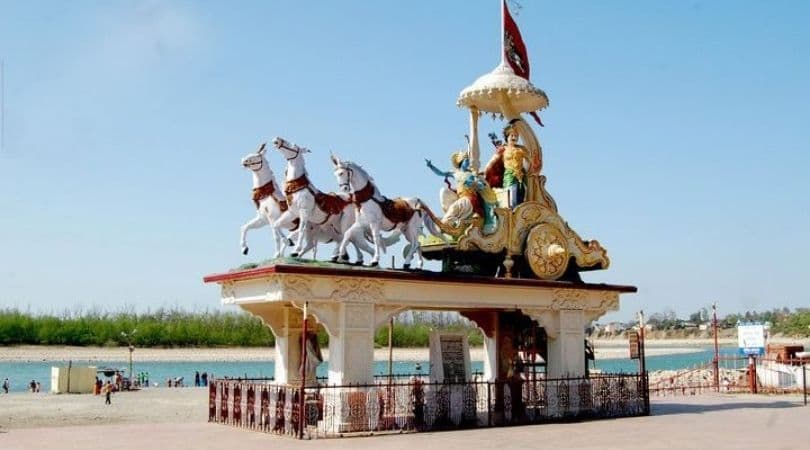 Located on the banks of the Ganges River, Rishikesh is one of the holiest places for Hindus in India. Situated amidst might Himalayan peaks, Rishikesh is also known as the Gateway of Himalayas. Due to a large number of Yoga Ashrams, Rishikesh is considered the Yoga Captial of the world. This place is quite famous among fans of the Beatles and white water rafting. Every year large number of Hindu pilgrims come here to seek blessings of all-mighty. According to the legends, those who take bath in the Holy water of the Ganges River get freedom from all sins and attain salvation.
Avg temperature in February – 8 Deg to 22 Deg Celsius.
Major tourist attractions to visit in Rishikesh in February:
Visit Triveni ghat and Permarth Niketan for Ganga Aarti.
Spend some time on Ganga Ghat.
Enjoy white water rafting the Ganga river.
Do visit iconic Ram Jhula, Laxman Jhula and Swarg Ashram.
Eat in Little Buddha Cafe.
Explore ancient Beatles Ashram.
Adventure lovers can try Camping and Bungee Jumping
12. Varanasi, Uttar Pradesh – One Of the Oldest Living City In The World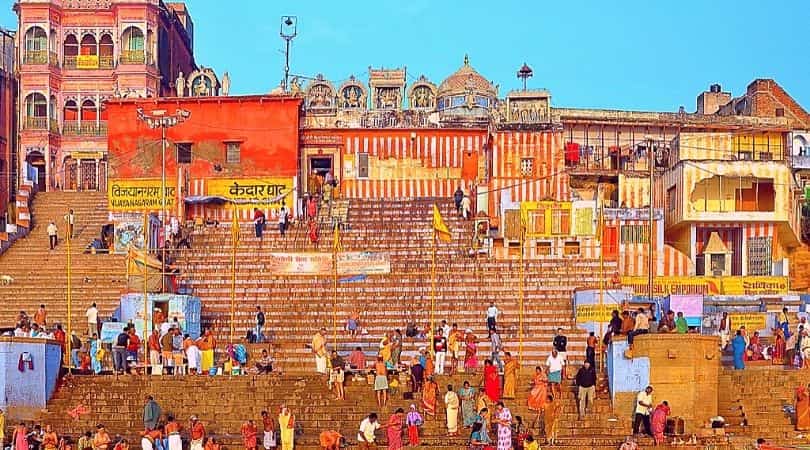 The land of knowledge, spirituality, yoga, mysticism, Sanskrit and Hindi language, Varanasi is the best place to visit this February in India. For ages, Varanasi has been the most sacred pilgrimage spot for Hindus. This city is older than history, older than tradition and even older than legend. For over 3000 years, Varanasi is the center of learning and civilization. This city is the land of many legendary poets, musicians and authors like Prem Chand, Bismillah Khan, Ravi Shankar and Tulsi Das.
The pleasant weather of February is the perfect time to explore the Adobe of Lord Shiva and his wife Goddess Parvati. During February the temperature becomes perfect to enjoy the all cultural activities.
Things you can't miss in Varanasi:
Witness the Ganga Aarti Ceremony in the evening at Dashashwamedh Ghat.
Take a holy bath in the Ganga river.
Spend some time on the banks of Ganga River.
Admire the arts and crafts.
Explore the most ancient seat of education in the world.
Do visit New Vishwanath temple, Kashi Vishwanath temple, Durga temple, Bharat Mata temple, Manikarnika Ghat, Assi Ghat and Ramnagar Fort.
Do boating in Ganga River.
Do some shopping in local markets.
Enjoy delicious lassi at Blue Lassi Cafe.
Take Ramayana lesson at Tulsi Manas temple
13. Khajuraho, MP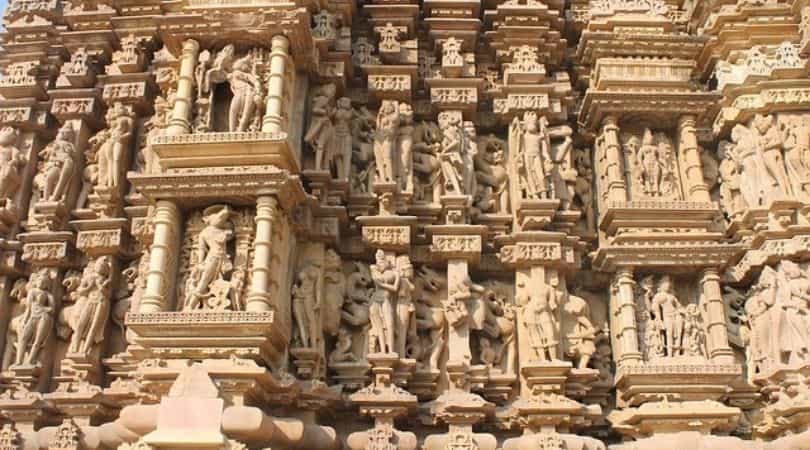 Khajuraho – A Group of Monuments, is a UNESCO world heritage site that is famous for its amazing temples, nagara-style architecture and detailed sculptures. Built-in between 950 to 1050 by the Chandela empire, these temples are divided into three categories – Eastern, Western and Southern. These temples represent the various forms of daily life like meditation, spirituality, and relationship through magnificent sculptures. And the erotic sculptures are one of the finest pieces of art that depict passion in lively form. Therefore, the month of love, February would be the best time to visit these architectural marvels when you can witness the Khajuraho Dance Festival.
Major highlights of Khajuraho:
Explore various temples of Khajuraho – Matangeshwara temple, Ghantai, Vamana, Brahma, Adinath, Lakshmana temple, Devi Jagdamba temple, Kandariya Mahadev temple and many more.
Attend famous light and sound show.
Don't forget to experience the Khajuraho dance festival.
Visit Ajaigarh Fort.
Don't forget to visit Pandav waterfall.
Explore the Panna National Park.
14. Kutch, Gujrat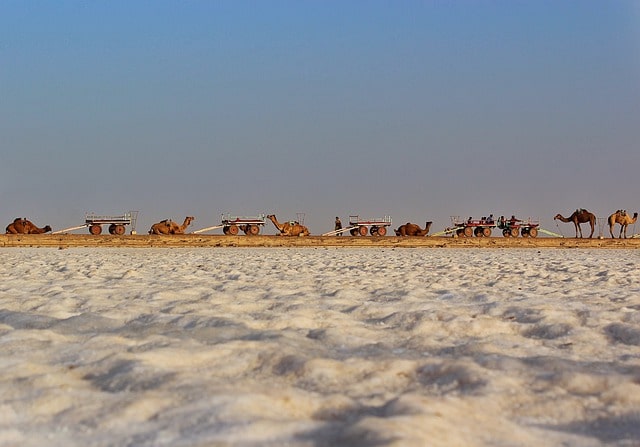 India's Wild West, the largest district of India, Kutch is famous for its white desert, handicrafts, virgin sea beaches, forts, Dholavira and picturesque landscapes. The region of Kutch is divided into 2 parts – Great Rann of Kutch is famous for its seasonal wetlands and desserts of salts while the little Rann of Kutch is famous for its Wild Ass Sanctuary. Rann Utsav is the most popular festival of Kutch that is held between November to February. Therefore, February is the ideal time to visit Kutch when the Rann Utsav is about to complete and the crowd starts getting lower. Due to that price starts getting low that help to save lots of money. Also, the temperature varies from 12 to 30 deg Celsius.
Things to do in Kutch in February:
Witness the magical experience of the white desert of the Great Rann of Kutch during full moon night.
Enjoy amazing Sunrise and Sunset at White Rann.
Explore the historic site of Indus valley at the UNESCO world heritage site of Dholavira.
Enjoy jeep safari in Wild Ass Sanctuary of Little Rann of Kutch.
Take a long walk at Mandvi beach.
Visit places like Bhuj, Anjar, Mandvi and Gandhidham.
Visit Narayan Sarovar at Bhuj – The name of this lake is mentioned in the Indian epic Shrimad Bhagvat Gita.
Do some shopping at Bhujodi.
15. Matheran, Maharashtra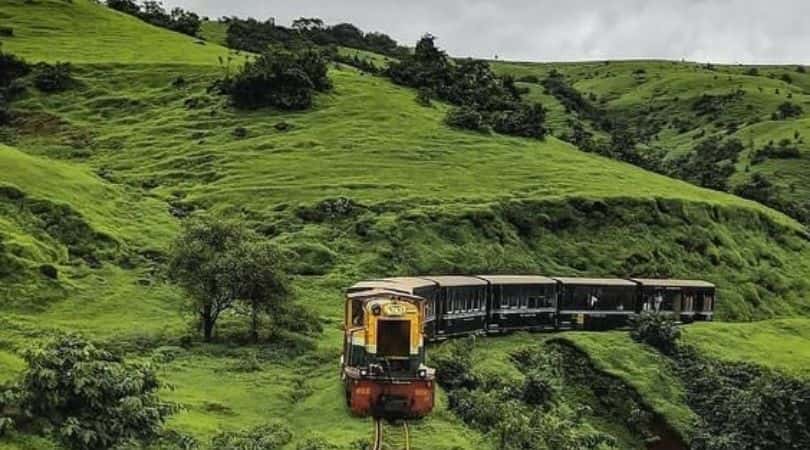 Located 80 KM from Mumbai and 117 KM from Pune, Matheran is a beautiful hill station elevated at the height of 2624 feet in the western ghat range. It is famous for its scenic beauty, pleasant climate and pollution-free air as motor vehicles are not banned in this region. So you have to trek or take a toy train from Neral to Matheran to reach there. Due to its proximity to Mumbai and Pune, it is one of the best weekend gateways.
Matheran in February:
February is the ideal time to visit this beautiful hill station when the temperature varies between 16 to 30 Deg Celsius. The month of love is the perfect time to visit for honeymoon couples. The nights are cooler here while the days are sunny, bright and little misty. Here are the best things you can do in Matheran:
Try waterfall rappelling at Dodhani waterfalls
Visit Alexander point, echo point, Lord's point, Panorama point, Louisa point and One tree hill for amazing views.
Enjoy a toy train ride.
Trek to Chanderi caves.
Visit Charlotte lake for a peaceful outing.
Adventure seekers can go for zip-lining, hiking, rock climbing, camping and trekking.
Visit various forts and temples – Ruins of Prabal fort, Ambarnath temple, and Irshalgad fort.
16. Alwar, Rajasthan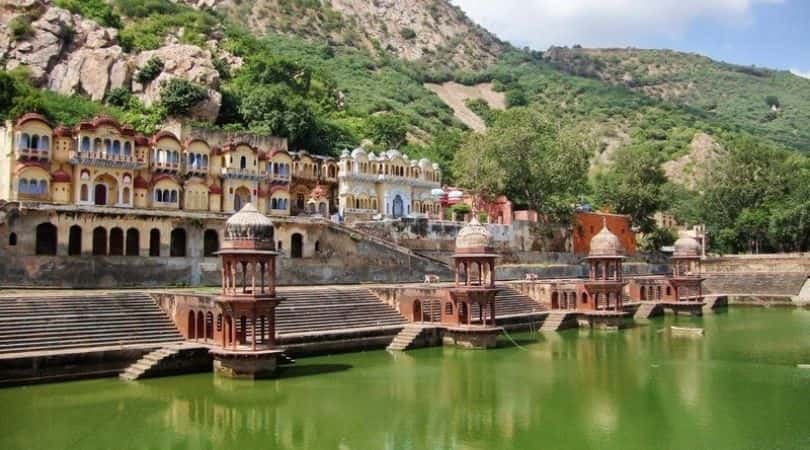 Settle in the foothills of Aravalli hills, Alwar is one of the oldest cities in Rajasthan. It is famous for its palaces, forts, temples, architectural design, colorful shopping markets, thick forest and steep hills. It is a great weekend gateway from Gurgaon, Delhi and Narnaul. Apart from history, this place has great mythological significance – It is also known as Matsya Desh where the Pandavas spent the last year of their 13 years of exile.
The average temperature of Alwar in February – Min 17 Deg Celsius and Maximum 24 Deg Celsius.
Top tourist attraction in Alwar in February:
Do visit the most haunted place of the earth, Bhangarh Fort that is located just 90 KM from Alwar.
History buffs can take a tour of amazing forts and palace like Bala Quila fort, Kersoli fort, Moti Dungri, Sariska Palace, City Palace, Alwar Museum and Moosi Maharani Ki Chhatri.
Visit Siliserh Lake Palace.
Go for a Jungle safari at Sariska Wildlife Sanctuary.
Don't forget to visit Karni Mata temple.
Do some shopping at Malakhera Bazaar and Sarafa Bazaar.
`17. Kovalam, Kerala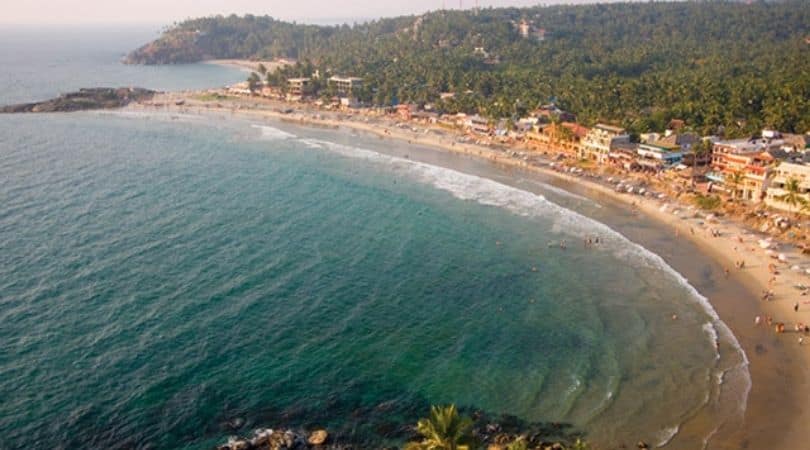 The prime attraction of Kerala, Kovalam has something for everyone. From water activities to Ayurvedic massage and spa, from peaceful beaches to vibrant parties, and from various shopping markets to scenic natural beauty, Kovalam has a lot to offer. Honeymoon couples would love this place with a romantic setting and various options for fun and adventure.
Avg temperature in February – 22 to 32 deg Celsius.
Highlights:
Visit 3 crescent-shaped beaches of Kovalam – Lighthouse beach, Hawa beach, and Samundra beach
Adventure seekers can try various water sports – surfing, swimming, kayaking, parasailing and fishing.
Do shopping at Kovalam beach, and Varkala beach
Enjoy the nightlife at Kovalam beach, Vellayani lake, Jeevan music cafe and Valiyathura pier
Experience the ayurvedic massage and spa.
Visit the Shri Pamanabhaswamy temple.
Enjoy the marine life at Vizhinjam Marine Aquarium.
18. Kufri, Himachal Pradesh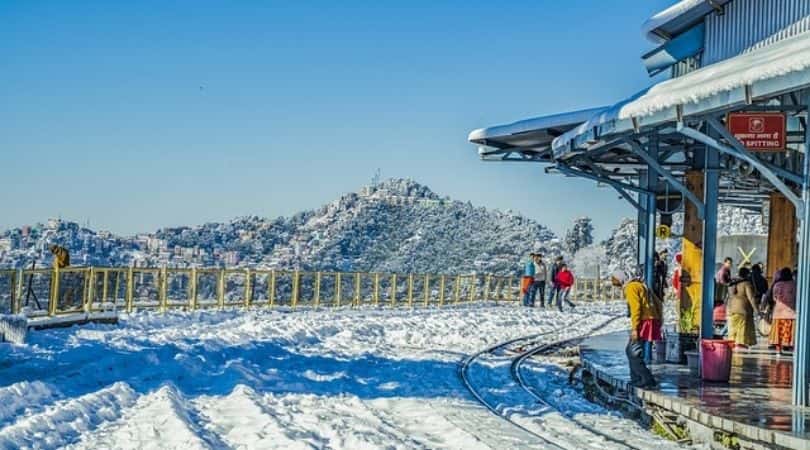 For winter and snow lovers, Kufri is the perfect place to visit in February in India. In the month of February, you can expect a low temperature and cold winds. This place looks amazing when the thick layer of snow covers the entire landscape and colors the surroundings in pure white color like the scene of a fantasy movie. Due to snow, you can enjoy various adventurous activities like skiing, snowboarding, tobogganing and yak riding. If you're looking for a place to experience the live snowfall in February in India then Kufri is the place you need to go.
Distance from Shimla – 20 KM
Avg. Temperature – Minus 2 to 11 deg Celsius.
Places to visit in Kufri in February:
Green valley or white valley, Fagu village, Mahasu peak, Jakhu temple, Kufri Zoo, Hatu peak, and Hip Hip Hurray Amusement park are some of the best places to visit in Kufri.
19. Agra, Utter Pradesh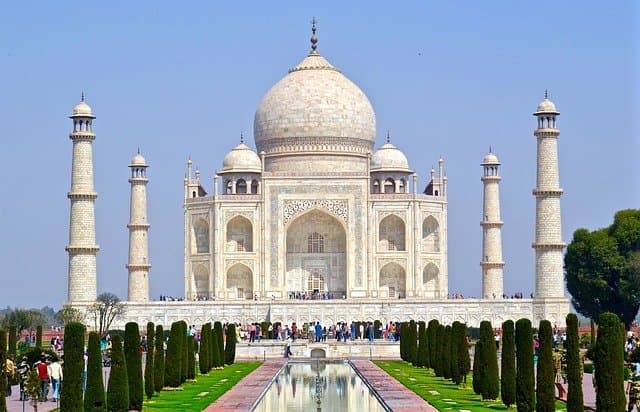 Being home to one of the seven wonders of the world, the Taj Mahal, Agra is one of the most popular tourist attractions of India. Situated on the banks of the Yamuna River, Agra is famous for its UNESCO world heritage sites including Taj Mahal, Agra Fort and Fatehpur Sikri. Agra along with Jaipur and Delhi makes the golden triangle of India. From Taj Mahal to Agra fort and Akbar tomb to Fatehpur Sikri there are lots of monuments in Agra that depict the grand history of India. And apart from the month of Love, what could be the best time to visit the Symbol Of Love, Taj Mahal when the temperature varies between 12 to 26 deg Celsius.
Things to do in Agra in February:
Visit all three UNESCO world heritage sites – Taj Mahal, Agra Fort and Fatehpur Sikri
Don't forget to watch the Light and sound show at Agra Fort.
Mehtab Bagh, Jama Masjid, Mughal Garden, Taj Museum, Akbar's Tomb, and Sikandra fort are some of the most popular places to visit in Agra.
Do some shopping at Sadar Bazaar, Kinari Bazaar, Raja ki Mandi, and TDI mall.
20. Lakshadweep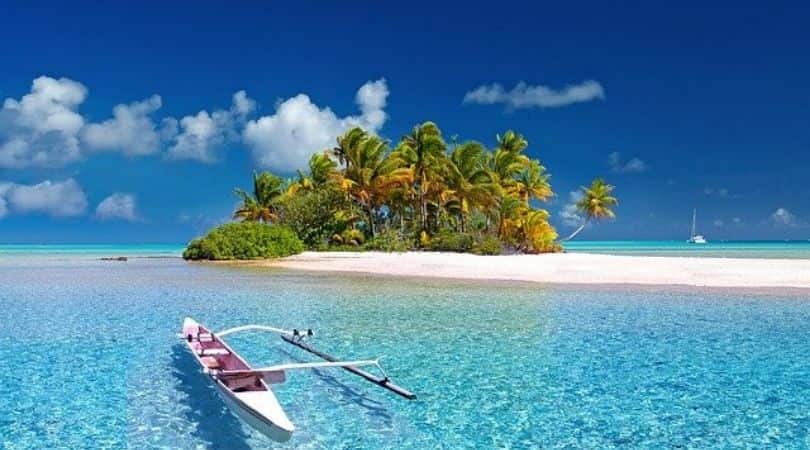 Lakshadweep means – A Hundred Thousands of Islands. It is a group of 36 islands that spread over an area of 36 Sq Km. It is famous for its inhabited islands, pleasant climate, clear crystal blue water, sandy beaches, lively marine life and lush greenery. Due to clear crystal water and stable water temperature, the islands here are perfect for scuba diving, sea walking and other water sports. The sandy beaches here are just perfect for laying down on the bench and enjoying the beauty of the Arabian sea.
Things to do and places to visit in Lakshadweep in February:
Bangaram island, Kavaratti island, Kadmat island, Kalpeni island, Minicoy and Agatti island are some of best places to visit in Lakshadweep.
Snorkeling, Scuba diving, fishing, kite surfing, Kayaking, swimming, and sunbathing are some of the best things to do in Lakshadweep.