Whether you are looking for inner peace from a busy lifestyle or want to spend some time with your friends and family Manali is the best place to go. This beautiful high-altitude Himalayan resort town is located in the Kullu district of Himachal Pradesh. Manali is famous for its natural beauty and adventure sports that attract backpacker and honeymoon couples from all over the world. There are lots of things to admire in Manali including the surrounding greenery of deodar trees, fascinating snow-capped mountains, historic temple, adventurous rohtang pass, tumbling Beas river and jaw-dropping sports. The places to visit in Manali are attractive while the accommodations here are affordable and that makes it a crowd favorite spot.
Are you planning a trip to Manali? And looking for exciting places to visit in Manali that fascinates you. Then here we have discussed the 27 amazing places to visit in Manali. 
Best Places to Visit in Manali
---
---
1. Hidimba Devi Temple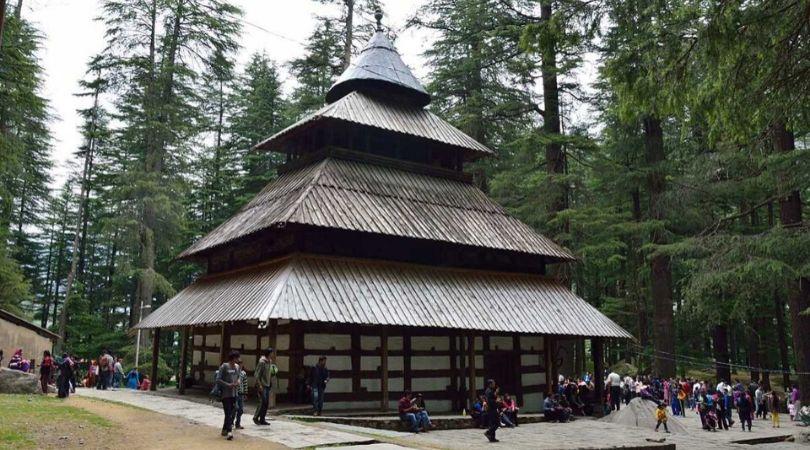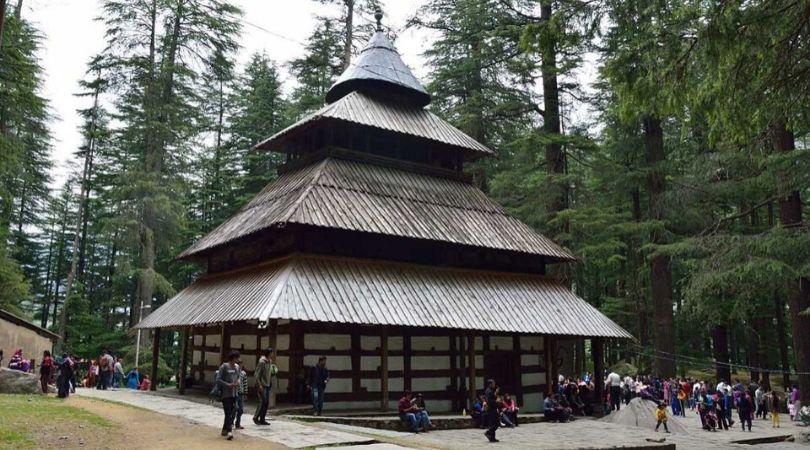 Built-in 1553 by Maharaja Bahadur Singh, Hadimba devi temple is located at Hadimba Temple Road in Old Manali. Locally, this ancient temple is known as the Dhungari temple. The wife of Bheem, the Forest Goddess or Goddess of Nature Hidimba Devi is the main deity of this temple. According to the legends, the temple is located at the place where Goddess Hadimba used to meditate at the time to Mahabharta.
The main attraction of this temple is its wooden architecture and surrounding Van Vihar that attracts thousands of tourists every year. As mentione above the temple is surrounded by the Cedar Forest that makes it more beautiful and a perfect family vacation spot. Therefore. if you're looking for a peaceful place in Manali with religious vibes then don't forget to visit Hidimba or Hadimba Devi Temple.
Location: Situated in Old Manali.
How to Reach: The temple is located just 2 KM away from Manali town and 100 meters away from the famous Mall Road. Either you can take a taxi & cab or trek to the temple. One hour is enough to see the temple.
Timing to visit: 8:00 AM to 6:00 PM (Everyday)
Entry Fees: No charges
Back To Top
2. Solang Valley: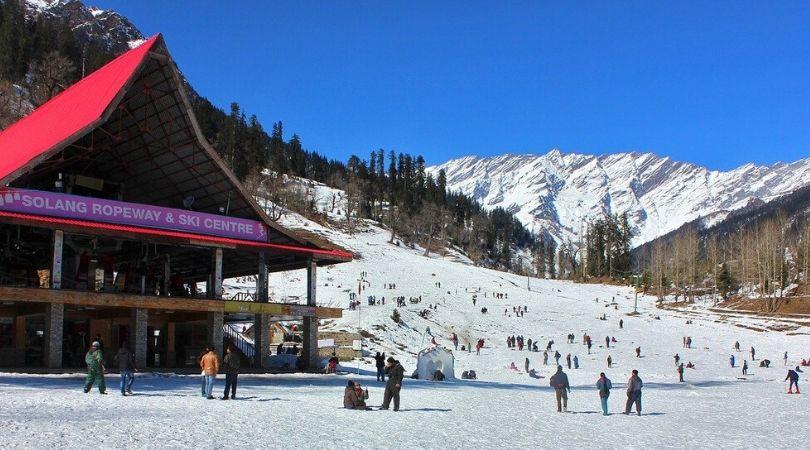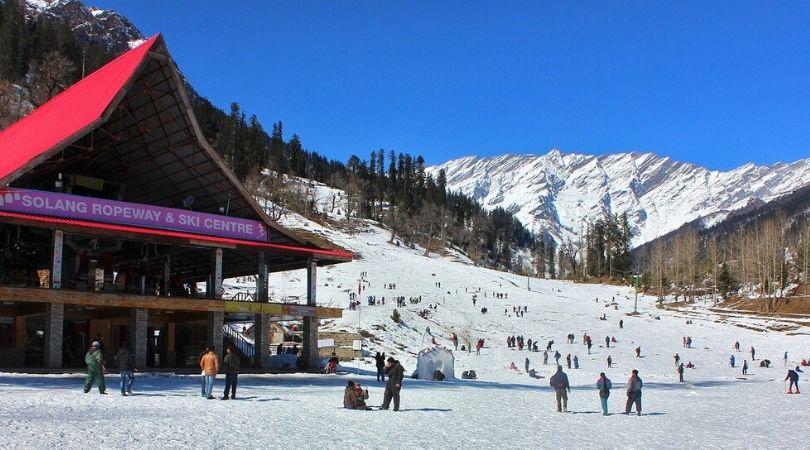 Situated about 8400 feet above sea level, Solang Valley is the most popular place to visit in Manali. There you can try various adventurous things such as snowmobile, paragliding, skiing, zorbing, camping, trekking, horse riding and snow scooter riding. Therefore, it is rated as the the hub for the adventure lover in Manali.
For snow-related activities, winter is the best season when the eniter valley coevered by the white layer of snow and that makes it a haven for snow lovers. And for other adventure activities like paragliding & Camping summer season is perfect.
Location: 14 km from Mall road 
How to Reach: Solang Valley is located at 14 Km distance from the famous mall road. So, you can easily get public transport services like buses, taxi or trains to reach there. The cheapest way to reach there is the Government bus which runs between Manali Bus Stand to Solang Valley.
Best time to Visit: Any season in a year whether you're a winter or summer lover. You can choose your season according to your comfort and purpose. Nov to Feb is perfect for winter sports when the valley is covered by snow and summer for adventurous sport.
Things to do: Paragliding, camping, zorbing, camping, trekking, skiing, yak riding and sightseeing.
Back To Top
3. Jogini Waterfalls, Manali: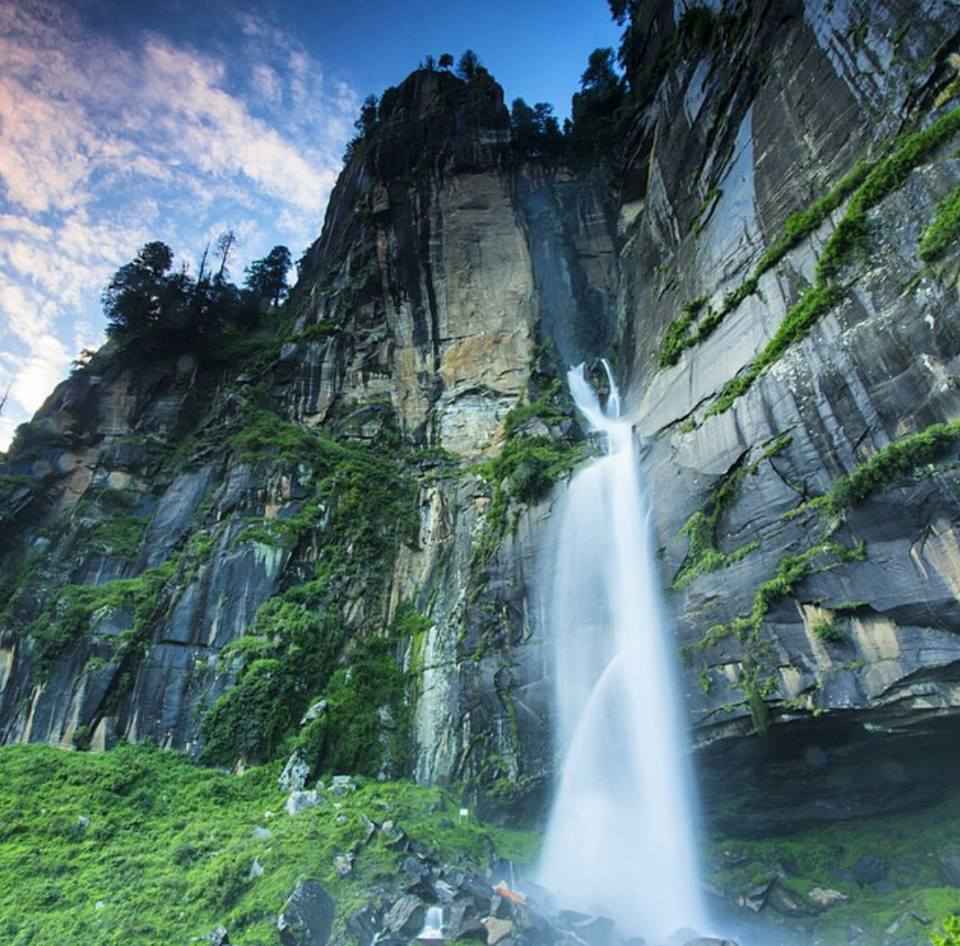 Situated near to Vashisht Village, Jogini Waterfalls is one of the best picturesque natural spots in Manali. The hight of the fall is 150 feet. The waterfall formed by the stream thet merge into beas river while cascading down. There is a small pool at the bottom of the fall where you can swim and spend some quality time.
This waterfall is revitalizing trek away from Manali. The way to reach there itself is very scenic as you can get glimse of famous Rohtang Pass. There is a Jogni Mata temple at the bottom of the fall that is considered very sacred by the locals so don't forget to take belessing. The natural beauty this place is popular among photographers & nature lovers.
Jogini waterfalls also attract tourists as a picnic spot, so you can enjoy this enriching place with your family or friends.
Location: Situated in Vashisht Village, Manali.
How to Reach: Jogini Falls is situated at a distance of 4 Km from Vashisht temple and 7.5 KM from the Manali bus stand. Either you can use public transport or do trek from Vashist temple to reach there. It is one of the best short trek in Manali to enjoy the stunning beauty of the local village & life. It will take around 1 hour to reach the base of the waterfall and 15 minutes more to reach the top of the fall.
Best time to visit: The summer season is the best time to visit from March to May and during winter from October to February. During winter the temperature is low but in summer the weather becomes pleasant and perfect to trek the waterfall.
Back To Top
4. Great Himalayan National Park, Manali: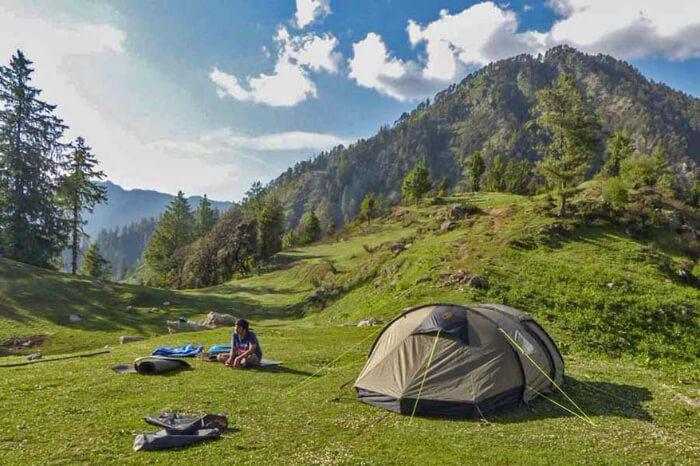 Spread over 755 Sq Km, the Great Himalayan National Park was built in 1984. It is listed as the UNESCO world heritage site. All three sides of park is surrounded by the mighty himalayan mountains. The national park hosts some of the denset population of himalayan wildlife that includes around 1000 plant species, 31 mammal species and 181 species of birds. There are number of birds specices including lammergeyers, raptors, golden eagles, Himalayan griffon vultures etc. Also, you'll get to see some of the most exotice species of animals including snow leopard, blue sheep, himalayan brown bear, musk deer, goral and many more. 
The glacial valleys and wildflowers ignite the craving for capturing these moments via camera. If you love to click pictures, you should plan to visit the Himalayan National park. Fun and adventure lovers can engage in hiking & camping. This park also has decent accommodation options for tourists. 
Location: Forest Office Rd, Shamshi, Himachal Pradesh.
How to Reach: Located in Shamshi, Himachal Pradesh 50 KM away from Manali, it is well connected with roadways. You can easily get the private bus, cab and public transport to reach there. Aut is the nearest town to Manali (Just 2 hour away). So you have to take a bus from Manali to reach Aut and then you can hire a taxi or take the bus to reach Great Himalayan National Park.
Best time to visit: The summer season is considered as the best time when the weather becomes bright and pleasant and the perfect time to trekking in the park.
Entry fee: 50 Rupees/head for Indian and for Foreigners – 200 Rupees/head
5. Manu Temple, Manali: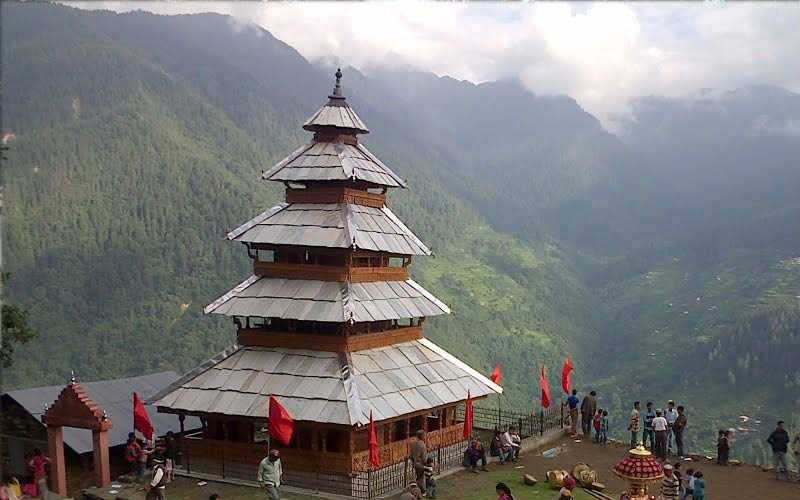 Located just 3 KM away from the main market of Manali, Manu temple is an old beautiful temple dedicated to the Indian Sage Manu. According to the legends, this is the place where Sage Manu used to meditate regularly. Also, the name of Manali was derived from the name of Manu. Therefore, it is a prime attraction for the tourists who visit Manali.
The temple is popular because of its pagoda-style architecture along with the surroundings of the Beas river. The peaceful environment of the temple always attracts people. To reach out to this temple may take some effort but the spiritual vibes will make it worth it. All history buffs can read the temple history which is written on the wall of the temple. 
Location: 3 Km from the Manali main market, Old Manali.
How to reach: It is located approx 3 KM from the Manali market so either you can reach there by foot or use public transport.
6. The Manali Gompa, Manali: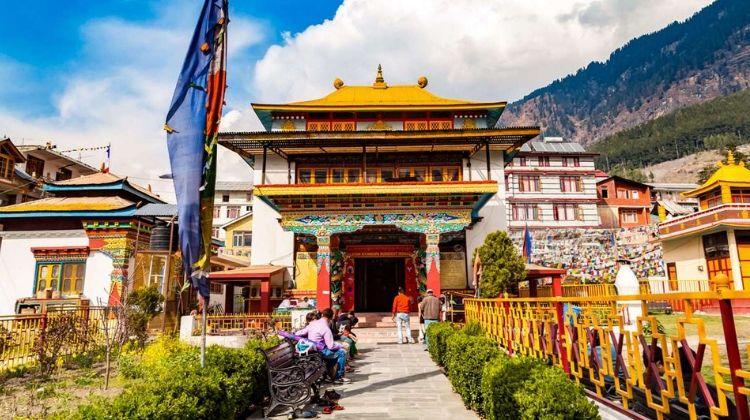 The Manali Gompa, Tibetan architecture was built in the 1960s via Tibetan refugees. It has an ornate design that allows tourists to feel the spiritual vibes. Gordhan Thekchhokling Gompa Monastery is another name of Manali Gompa. This place speaks the morals of Buddhism and its vivid traditions. The roof of Manali Gompa has a built-in Pagoda style that makes it look more attractive.
If you are looking for souvenirs or handicraft Tibetan items then there are small shops inside the complex of temple.
Location: Old Manali Road, Manali.  
How to reach: It is located on the mall road near Manali bus stand. You can either use public transport or rickshaw and taxis are also available here.
Best time to visit: Either morning or evening is the perfect time to observe prayer and Buddhist Monk.
Timing: 6:00 AM to 6:00 PM (Sunday Closed)
Back To Top
7. Anjani Mahadev Temple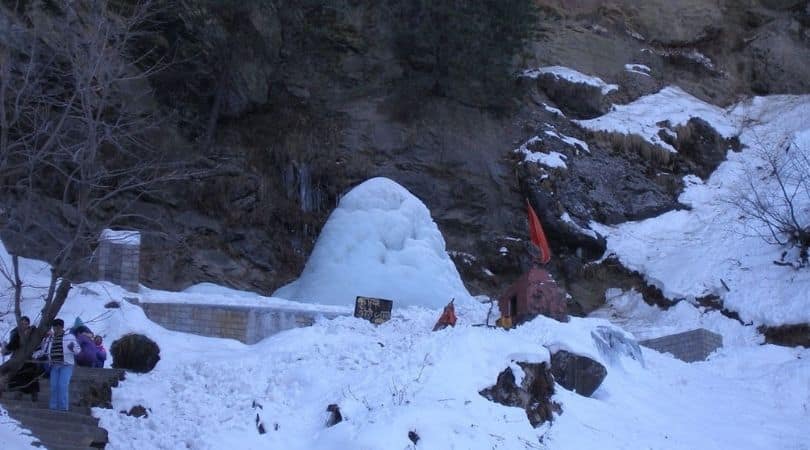 Anjani Mahadev Temple: If you're going to Solang valley then don't forget to visit Anjani Mahadev Temple that is situated just near to Solang Valley. The best thing about the temple is that the Shiva Linga is continuously showered by the natural waterfall. And during winter when the linga is covered by the ice then it becomes a Natural wonder like Amarnath. The journey to the temple itself is amazing with surrounding greenery and waterfalls. According to legends, this is the place where Goddess Anjani prayed for his child Lord Hanuman.
Location: Solang Valley Road, Burwa.
Trek Distance: 2 KM approx.
How to reach: The temple is accessible by both foot and ATV. Either you can take a 2 KM trek to the temple that takes around 40 minutes or take ATV bikes from the bottom.
Best Time to Visit: The temple is accessible throughout the year. In summer time, you can embrace the lush greenery and cascading waterfalls on each side while in winter you can spot the snow and ice linga.
8. Beas River, Manali: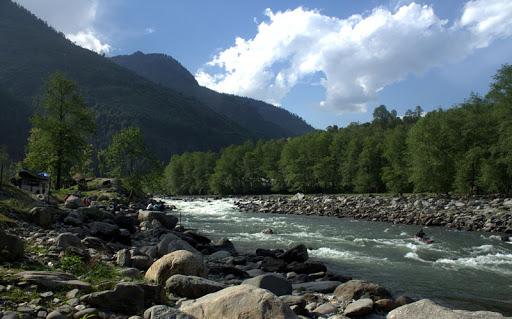 The natural landmark of the Manali region near Vashihst village "Beas river" is the most popular place to visit in Manali. You can enjoy enriching views of the river valley close to its crystal clear blue water. The Beas River is the hub of rafting and kayaking. White river rafting for 7 kilometers on this river will sure increase adrenaline in your body. Whether you are on a solo trip or with family/friends just let your desire experience the thrilling adventure of river rafting.
How to reach: The Beas River is located 5 KM from the bus stand and 3 KM from the old Manali clubhouse. You can easily get there by renting a taxi or rickshaw or taking the public bus.
Best time to visit: June & July are the best month when the water of river becomes perfect for rafting. 
Things to do: River rafting, sightseeing, take photographs of beauty around and take a dip into the water if you know how to swim.
Back To Top
9. Bhrigu Lake, Manali: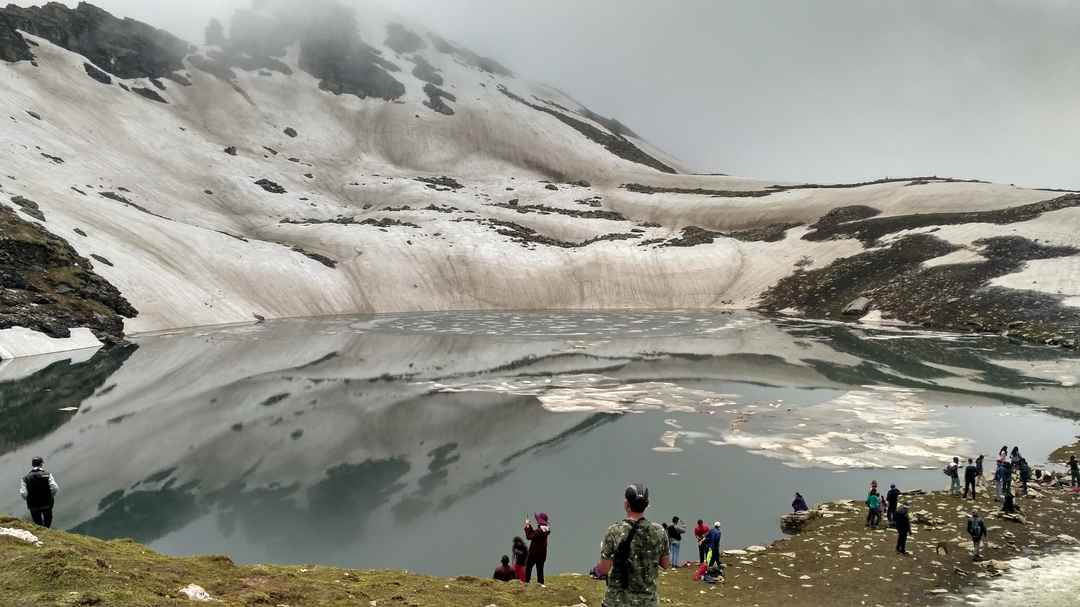 Do you love trekking? Here is the best trekking destination in Manali the "Bhrigu Lake." This top-most picture-perfect serene of Manali has located about 4300 meters above sea level. Therefore trekking on this lake would be such a thrilling experience. It is a 25 KM trek that traverses through the beautiful green valleys, snow-capped mountains, stunning villages, streams and waterfalls. The trek is famous for two things – the first is the frozen lake and the other is the mythological significance of the lake. 
Evergreen tree forest and the beautiful lake will definitely steal your heart. Those who love nature and adventure would feel pleasure to see this wonderful site. 
Location: Kullu, Himachal Pradesh.
How to reach: Located 18 KM away from Manali in Kullu district of Himachal Pradesh. If you have a car then it is well connected through Manali by road. Private and shared taxis are the most affordable mode of public transport.
Best time to visit: Any time in a year is perfect to visit this beautiful site. If you love snow then come in the winter season from October to May, you'll get some portion of the lake frozen and covered by snow. Summer is best for adventure.
Back To Top
10. Hampta Pass Trek, Manali: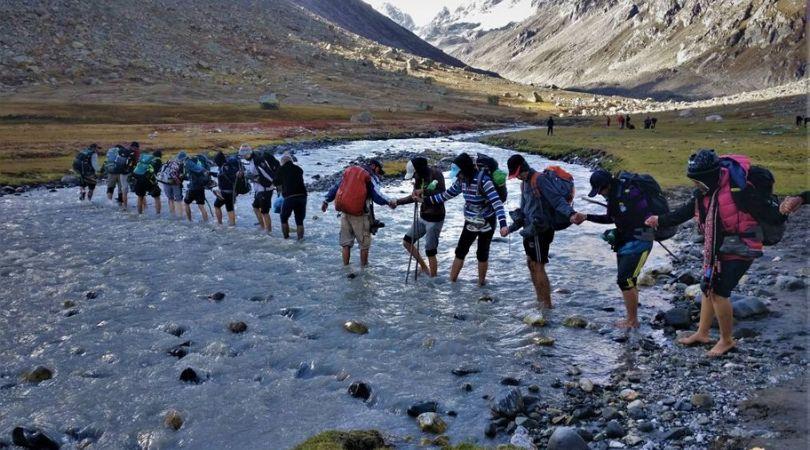 There are many famous trekking spots in Manali but the most popular one is Hampta pass. Located over 4000 meters at Pir Panjal Range, the trek is known for the most dramatic crossing in the Himalayas. On one side there is the lush greenery of Kullu Valley with forest, blooming flowers and green meadows while on the opposite side there is almost a stark landscape of Lahul valley with high mountains and zero vegetation. Therefore, standing on the top of the trek you'll get to see the 2 different sides of nature in just a matter of seconds. On the route of the trek, you'll also get to see the river crossing that makes it more adventurous. The Chandratal located on the route is another prime attraction of this trek.
If you are willing to trek this awesome trek pass then you should contact any group that will guide you. The charges and number of days may vary according to their facilities.
Location: Kullu, Manali
Trekking Level: Easy to Moderate
How to Reach: Located approx 15 KM from Mall Road Manali and it is well connected by road so you can hire a taxi or cab to reach this beautiful destination. It takes around 1 and Half hour to reach there by car.
Back To Top
11. Museum of Himachal Culture and Folk Art, Manali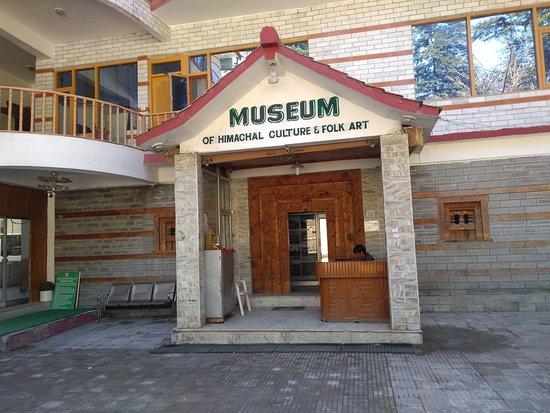 History freaks and researchers must love the Museum of Himachal culture and folk art. Although you are not a history lover if you wish to have some glimpse of Manali tradition and rich local heritage then the Museum of Himachal culture and folk would be a perfect spot. This Museum was established in 1998 which has a collection of masks, musical instruments, traditional dresses and models of houses and temples.
Location: Utopia Comlex, Hadimba Temple Rd, near Hadimba Temple, Siyal, Manali.
How to reach: It is located next to the Hadimba Temple in Utopia complex of Manali. You can take local bus, ride or hire a scooter, bike or cab to reach it there. The cost of anything lies around 1000 to 2000 INR per day. You can drive your own vehicle through NH3 and Hadimba temple road.
Timing: 9:00 AM to 7:00 PM
Entry Fees: 10 Rupees per head.
Back To Top
12. Vashisht Hot Water Springs and Temple, Manali: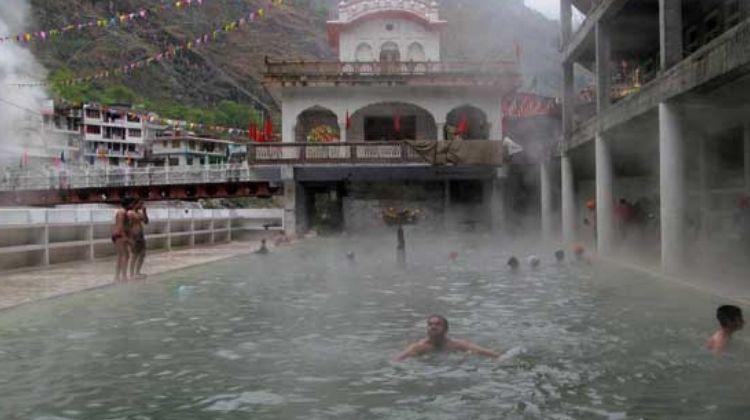 One another spiritual tourist place "Vashisht temple" has its own history of 4000 years. Beautiful wooden carving, antique painting and figures on the wall make this temple unique. Vashisht temple is dedicated to sage Vashisht who was Kul guru of Lord Rama. There is a hot water spring that makes it more alluring. This spring has believed that it has the healing property of disease. Apart from that, you can enjoy shopping over here. Woolen of this place is popular in India.
Location: Near Manali, Vashisht Village (4 KM away from Manali).
How to reach: Vashisht temple is located about 4 KM away from the Manali bus stand. By taking local buses or hiring taxis and scooters you can easily reach this magical destination.
Back To Top
13. Kothi, Manali: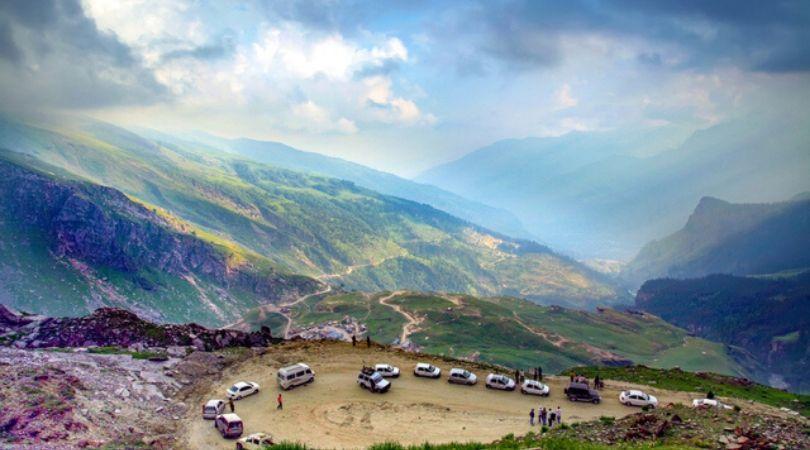 On the Rohtang pass, there is an iconic hamlet named "Kothi" situated at an altitude of 2500 meters. Kothi is a perfect spot for trekking, camping and photography in Manali. Some artists visit here for peace of mind and get some creative ideas. The beauty of this charming village has been written by many poets in their poems. This place is really great combination of nature, beauty, and peace, such extraordinary inspirations for artists, painters, and photographers. If you have a plan to trek Rohtang pass via foot, don't miss this place.
Distacne From Manali: 13 KM via Leh Manali Highwaty.
How to reach: It is located approx 14 Kilometers from Manali on Leh Manali Highway. Rented cabs are the best mode of public transport and two-wheeler motorbikes are also available here for rent.
Best time to visit: For snowfall lover winter is the best season to visit from October to June. During the summer season when the snow melts and the natural beauty is exposed making it easier for treking.
Back To Top
14. Nehru Kund, Manali: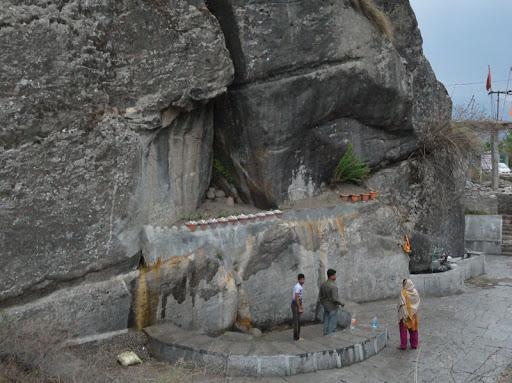 The beautiful spring "Nehru Kund" is located in Manali on the Rohtang pass highway. This exciting place is famous among photographers because this place has natural light for great photo shots. Nehru Kund spring got its name from the first PM of India, Pandit Jawahar Lal Nehru. Actually, during his visit to Manali, he used to spend his time here and drink water from this natural spring.
It has been said that the water in this spring comes from Bhrigu Lake. For nature lovers and photographers, Nehru Kund is an ideal place, crystal clear water and calm climate made it a great tourist spot in Manali.
Location: Vashisht Village, Manali
How to reach: The Nehru Kund is located around 6 KM from Manali on the Manali-Keylong road. Rented jeeps and cabs are the best way to reach there.
Back To Top
15. Dhungri Van Vihar, Manali: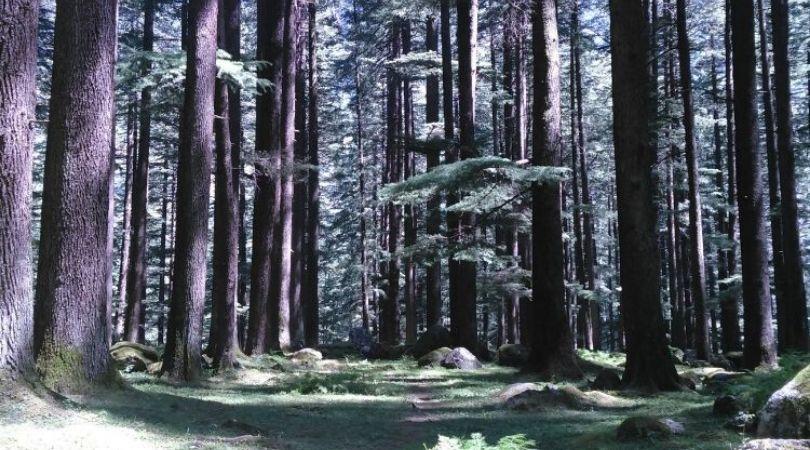 Among the best places to visit in Manali Van Vihar is one of the great tranquil places. Actually, Van Vihar is a public park maintained by the Municipal Corporation of Manali. This park is decorated via sky touching deodar trees and a man made lake. Bird lovers can enjoy local species of birds in this park. Boating and a well-maintained park which has beautiful surroundings can make your day awesome. You must enjoy this place with your family if you are on a trip to Manali.
Location: In front of Tibetan market on Mall Road, Dhungri Village, Manali.

How to reach:

Located opposite Tibbet market and 2.9 KM from famous mall road, Van Vihar is easily accessible by public transport and private cab. The Himachal Pradesh State Bus has arranged the number of buses that frequently run through the city.

Timing:

8:00 AM to 7:00 PM (In Summer) 8:00 AM to 5:00 PM (In Winter)

Entry Fees: 5 Rupees/head. 30 Rupees for 15 minutes of boating in the lake.
Things to do: Picnic, relaxation, and boating.
16. Himalayan Nyingmapa Buddhist Temple, Manali: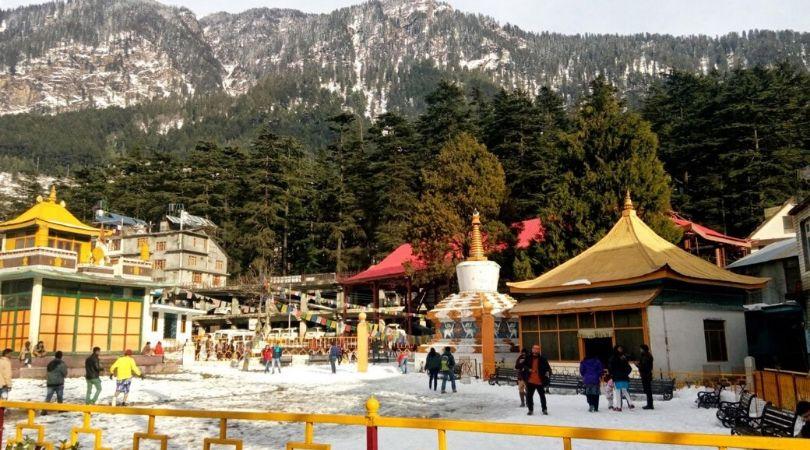 Another spiritual spot of Manali, "Himalayan Nyingmapa, Buddhist temple has soothing silence which will calm your soul. This Buddhist temple is situated in the mid of this busy town. Amazing pagoda-style architecture enriches this temple's mystical allure which frazzled the nerves of tourists. Once you will reach this awesome spot don't miss praying wheels and Sakyamuni idol and watching the wall painting. Himalayan Nyingmapa Buddhist temple will connect you with spirituality and relax your soul.
Location: Pangan Gompa Road, Pangan, Himachal Pradesh.
How to reach: This temple is located near the mall road in Manali. You can take a local bus, auto-rickshaw, and taxis to reach it there.
Timings: 6:00 am to 7:00 pm; every day
Entry Fee: No entry fee, 20 rupees if you want to use camera or mobile inside the monastery.
Back To Top
17. Bijli Mahadev Temple
Located at a height of 2452 meters, Bijli Mahadev Temple is a famous trekking destination in Manali. As the name implies, the temple is dedicated to Lord Shiva. The way to reach there is simply spectacular as the 3 KM trek is covered by Pine trees. The view from the temple is just breathtaking. From there you can have an amazing scene of Bhuntar, Kullu Valley, Parbati and Garsa.
Location: Bijli Mahadev Road, Kashawri
How to reach: Reaching the Bijli Mahadev temple is very easy as it is well connected to other cities of Himachal. Trek is the only way to reach up there therefore first you need to reach Kullu and from there you can start your journey to the Bijli Mahadev Temple. People who trek to the temple usually start their journey from Chansari Village that is 28 KM away from Manali. From there you need to hike the stairs that lead you directly to the door of the temple.
18. Rahala Falls, Manali: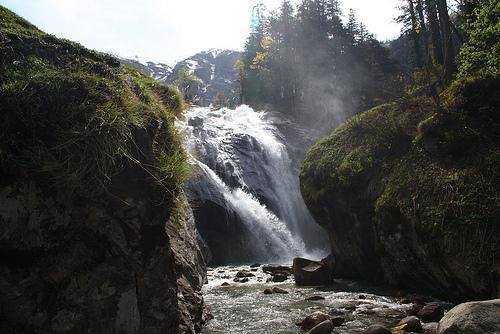 Whether you have visited Manali or not but the name of Rahala falls, must be heard. Actually, Rahala falls counted among incredible beautiful sightseeing in India. Water cascading onto the rocks of falls and spraying on tourists gives just wow feeling. Fresh and cold water spray refresh tourists and let them capture beautiful moments.
This awesome spot also attracts tourists as a picnic spot. All around the waterfall, there are many hiking trails. You can experience attractive deodar and silver birch trees while exploring the region.
Location: Leh Manali Highway, Himachal Pradesh. 
How to reach: Rahala Falls is located on the Leh-Manali highway about 16 KM away from Manali. If you have your own vehicle then you can easily drive through this beautiful destination. And taxis or cabs are the best modes of public transportation.
Best time to visit: From March to October when the water level is high and snow has started melting down. Come early morning or first half of the day to explore the beauty of this stunning place.
Back To Top
19. Rohtang Pass, Manali: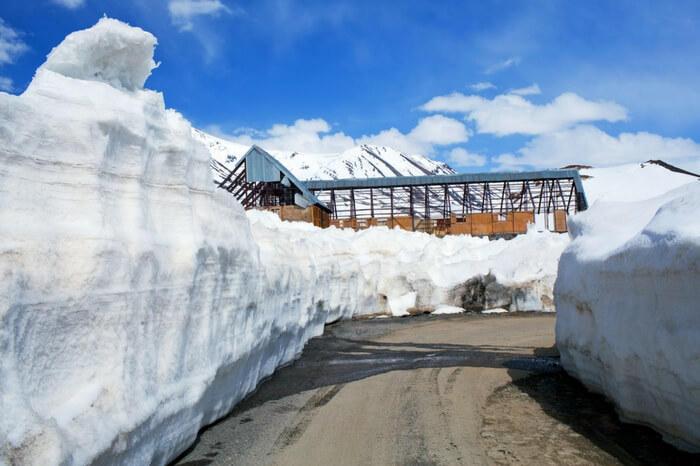 If you are in Manali and haven't planned to tour Rohtang, that may let you regret it. So, after such a lovely experience of Manali, don't miss the adorable place Rohtang pass that is situated at an elevation of 4000 meters above sea level. The journey from Manali to Rohtang Pass itself is amazing with mesmerizing views, waterfalls, mighty Himalayan peaks, snow walls etc. 
For nature lovers, to artists, this tourist spot is known as the heaven of adventure. Tourists enjoy mountain biking, skiing, paragliding, etc, Whether you are with family, friends or on a solo trip, don't miss this trip because it will let you experience more adventure.
Location: 50 KM away from Manali, Kullu district, Himachal Pradesh.
How to reach: This place can be reached only by road and the best mode is renting a bike or car. You can use public transport buses that run through the Manali to Leh via Rohtang pass.
Best time to visit: May is considered the best time to visit Rohtang pass, during this time it becomes a hotspot of adventure lovers. During the winter season, the pass remains closed.
Things to do: Admire the beauty of Rohtang pass, enjoy heliskiing, paragliding and enjoy snow scooter driving.
Back To Top
20. Naggar Castle, Manali: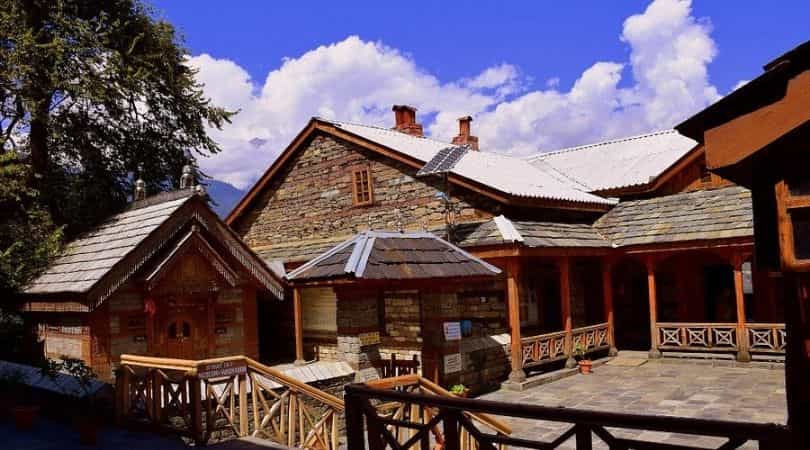 The amidst scenic Beas valley has awesome "Naggar Castle." This castle is a historical place in Kullu, made up in the 15th century by Raja Sidh Singh. Nowadays this castle has taken by the Tourism Development Corporation and run as a heritage hotel. This castle has made up of a very distinct style and wooden structure. Over the year some European elements added to it. From this castle, you can capture fantastic alpine forests and view of the town. If you are a photographer must visit this castle for more inspiration.
Location: Naggar Road, Naggar Town, Manali.
How to reach: Nagar Castle is located around 27 KM away from Kullu. From there you need to take a bus to reach Nagar village. Nagar and Manali are 21 KM away from each other so you can take private buses run by HRTC from Manali.
Timings: 7:00 am to 10:00 pm
Entry Fee: 15 Rupees per person
Back To Top
21. Gauri Shankar Temple, Manali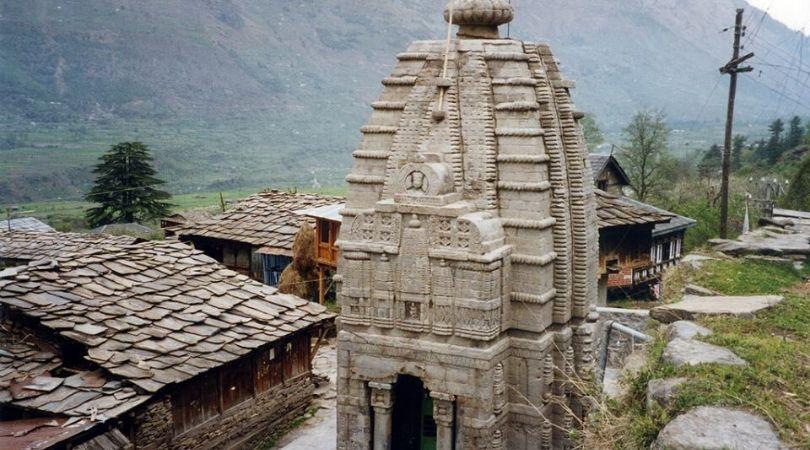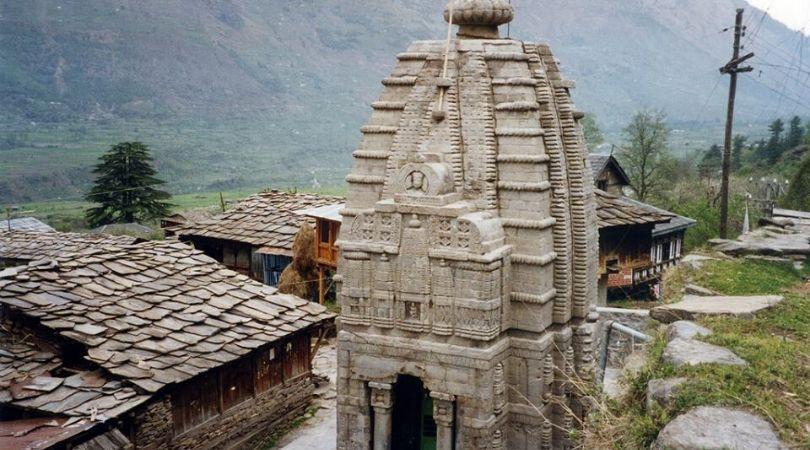 The wonderful historical place of Manali "Gauri Shankar temple" is dedicated to Lord Shiva. This temple has designed in the Shikhara style of architecture along with craving on the stone wall. These cravings depict God & Goddess. Just because of its amazing architecture it becomes the center of attraction among researchers and architecture freaks.
You can feel the spiritual vibes of Goddess Gauri & Lord Shiva in this temple. Gauri Shankar temple is located at Naggar castle hamlet. Once you have visited Naggar Castle must travel this temple for spiritual vibes for purifying your soul.
Location: Naggar Castle Rd, Naggar.
How to reach: Gauri Shakar temple is located near Nagar bus stand so it is easily accessible by bus. Local buses are frequently run from Manali to Nagar. Also, you can hire bikes or cabs on an hourly basis and drive the private vehicle to travel the temple.
Timing: 8:00 AM – 7:00 PM (Everyday)
22. Old Manali, Manali: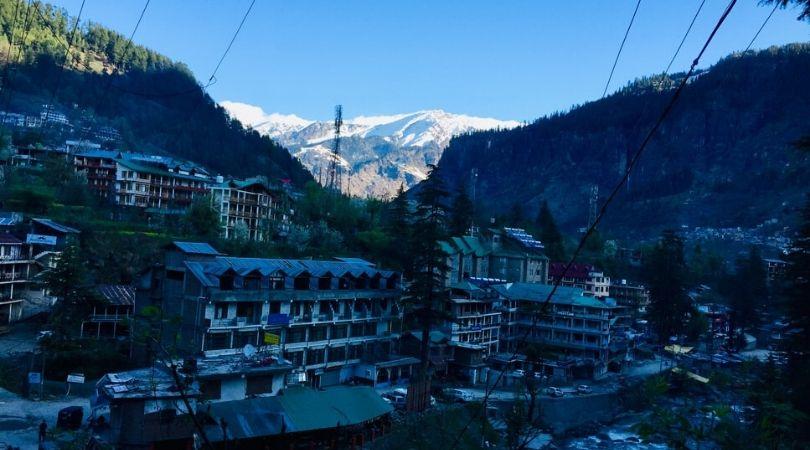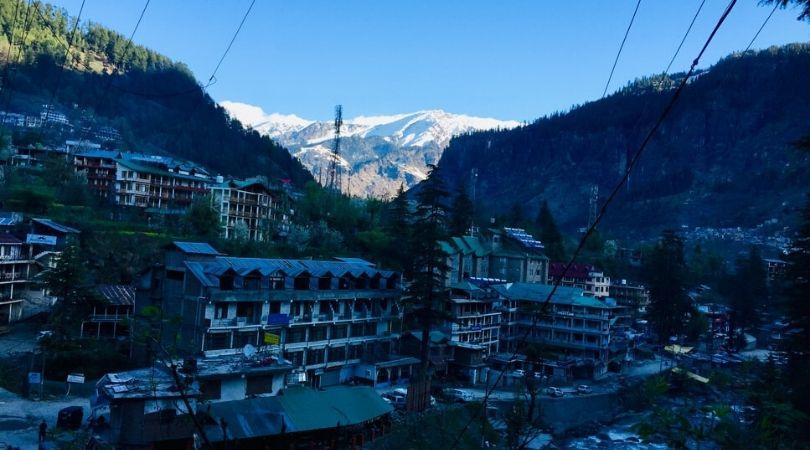 While the tour of Manali if you like to see the culture of Manali just travel Old Manali. This is the most antiquated part of Manali. You can see forests & apple orchards, the bridge over the Manaslu River which always has high current. This river divides Old Manali from the main town that gives it an iconic image. If you are craving for food or food lover, there are lots of cafes are waiting for you. You can visit the most popular cafes like Evergreen, Sunshine, Bone Free and 1947. This would be the perfect place for travel just to energies your body and soul.
How to reach: The best way to reach OId Manali is by foot to trekking uphill from Manali as the distance from Manali is just 3 KM. You can also take auto and taxis as well.
Things to do: Hire a scooter or bike and admire the beauty of this place, taste some delicious food in the Old Manali cafes, take a nature walk and explore the true culture of Manali.
Back To Top
23. Jagatsukh, Manali: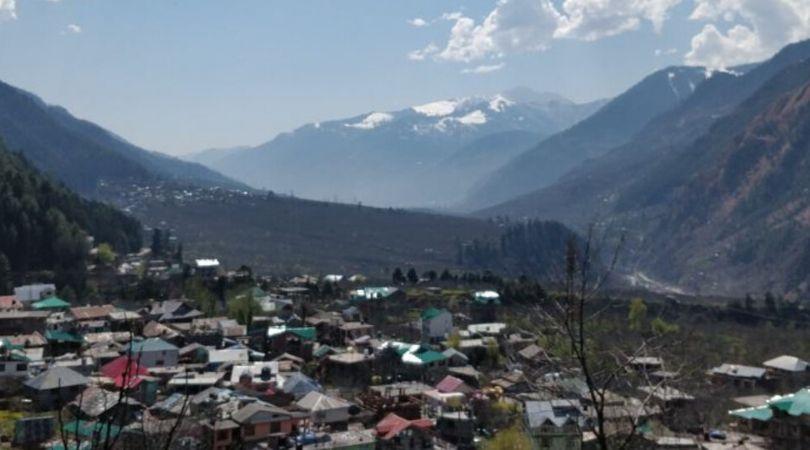 Jagatsukh is one of the most popular villages in Manali which is situated on the left side of the river Beas. This village is home of various temples and mountains. According to the local lore Jagatsukh village was the first capital of Himachal Pradesh. You can enjoy the amazing architecture of temples in this village as well as trekking of mountains. This place is popular for beautiful sites seen along with spiritual vibes of temples.
Distance from Manali: 12 KM
How to reach: Jagatsukh village is located 12 KM away from Manali in the northern end of the valley of Kulu. Taxi is the best and affordable mode of public transportation to reach it there or you can drive private vehicles or motorbikes through Kullu Nagar Manali road.
Back To Top
24. Gulaba, Manali: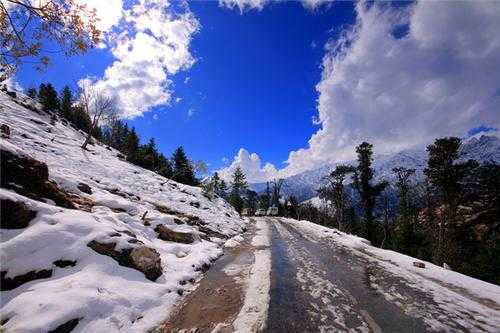 On the way to Rohtang pass, on Leh –Manali highway there is a small village is situated "Gulaba." This place is also known as a snow point among tourists. The name of Gulab village was taken from Raja Gulab Singh, King of Kashmir. Well, Gulaba village will let you experience the distinct culture along with the stunning sight seen. High altitude and low light pollution make it perfect for camping and other adventurous activities. Adventure freaks should include Gulab village in their tour list for Manali.
Distance from Manali: 20 KM
How to get there: Gulaba village is located around 20 KM from Manali in the Pir Panjal Mountain range of the Himalayas. Rented taxis, bikes and a private vehicle is the best mode of public transportation to reach it there.
Things to do: Yak and horse riding, skiing, camping, star gazing, trekking, paragliding, hiking and many more.
Entry Fees: No entry charges, camping or trekking charges may be applied.
Back To Top
25. Manali Sanctuary, Manali: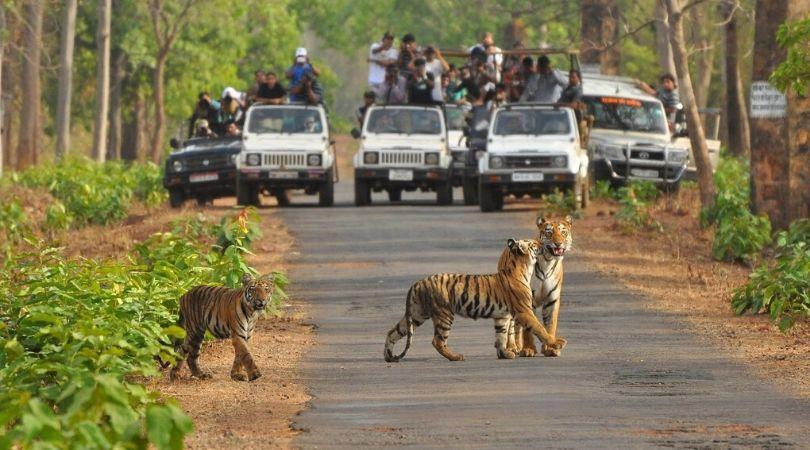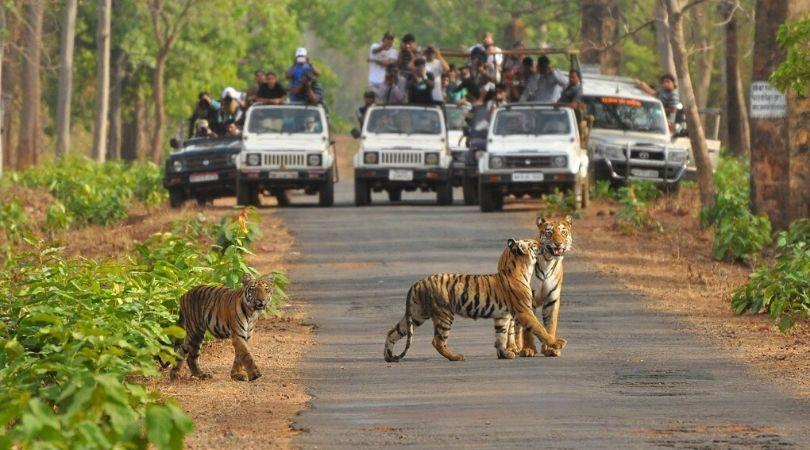 Would you like to experience the wilderness of nature, just have a trip of Manali Sanctuary? Among thrill-seekers, the Manali Sanctuary is a popular one. From 2 KM of the town, this sanctuary is spread over 31.8 square KM. This sanctuary has variously endangered rarely seen species of birds & animals. If you and fond of capturing pictures, this place will surprise you. For adventure freaks, there is trekking and camping facilities are also available. So, get ready to have fun with your friends with full enthusiasm.
Location: Near Mall road, Dhungri Village, Manali.
How to reach: The Manali Sanctuary is located just few kilometers away from Manali. From the center of Manali you can reach it there in just few minutes. The nearest airport is Kullu Manali Airport which is 50 KM away from it and Ahuja Railway Station the nearest railway station.
Timing: 9:00 AM – 6:00 PM (Everyday)
Entry Fees: 10 Rupees per head
Things to do: Admire the beauty of nature, bird watching, trekking, wildlife viewing, camping etc.
Back To Top
26. Chandrakhani Pass, Manali: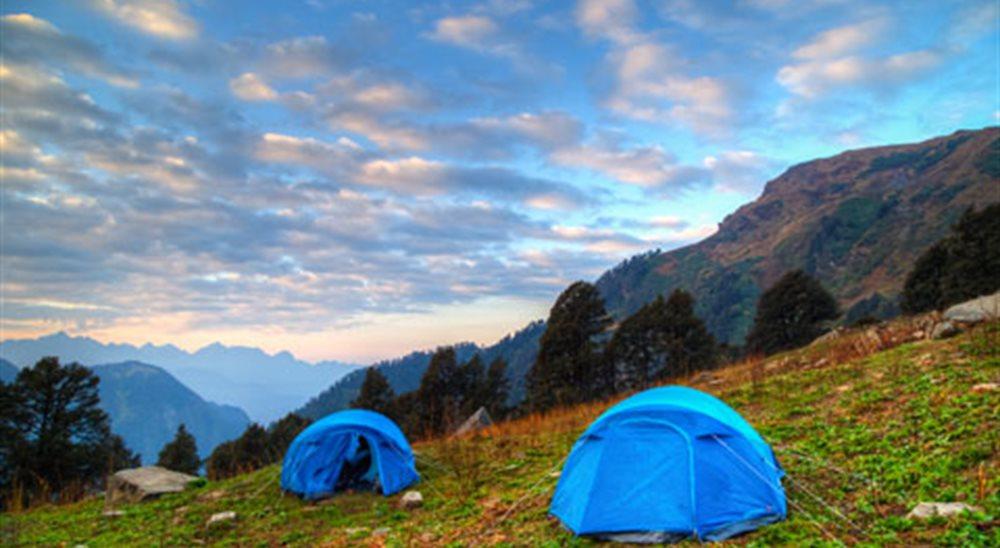 Chandrakhani Pass is located at an altitude of 3660 m of Kullu Valley. This pass is one of the most beautiful & serene ones in the Manali passes. This valley is also known as the Valley of Gods. The fresh wind and calm surroundings of Chandrakhani pass will blow you mind. You can enjoy trekking, camping and other activities on this pass. The best thing about this pass is that beginners or experienced both can do trekking on it. So, if you are a beginner and would like to have trekking then this is the best place. Under the guidance of tour experts, let your desire to fulfill of trekking.
How to reach: Chandrakhani Pass is located 28 KM away from Manali in beautiful Kullu Valley.  The trekking start from Naggar to reach it there. The only way to reach there by trekking through the rocky tracks.
Back To Top
27. Katrain, Manali: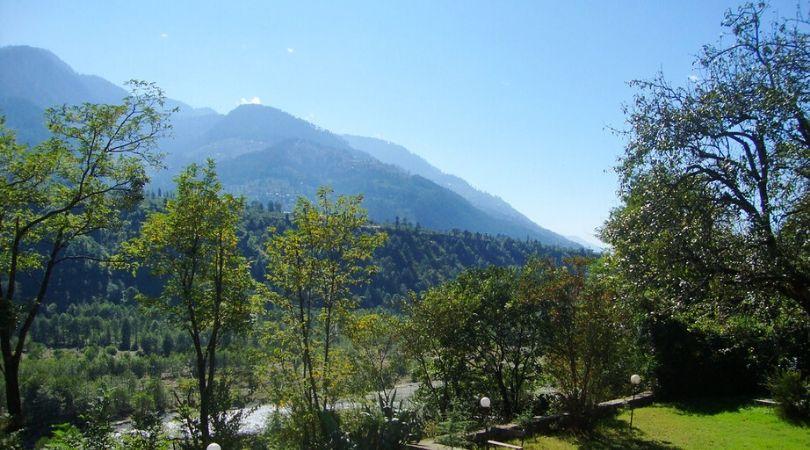 After having lots of fun, adventurous activities and capturing enriching sights seen, you should not miss, "Katrain." This is a fishing paradise of Manali which attracts tourists. Crystal clear water in this area makes fishing more interesting. If you are a fishing lover, you would be grateful after the tour of this spot.  Among the amazing places to visit in Manali Katrain has an important place.
Tourist can enjoy beautiful sight seen Beas River from this paradise. Most of the photographers love this place and visit here for their inspiration. For nature lovers, writers and photographers this place is a paradise in Manali. Well, fishing in this area is subject to take permission from Government of Himachal Pradesh. Tourists only can do fishing via rod and line. Fishing via net is prohibited.
Distance from Manali: 20 KM
How to reach: This place is located in the Kullu district of Himachal Pradesh which is 25 KM away from Kullu, 7 KM from Naggar and 20 KM away from Manali.
What are the best places to visit in Manali for Couples?
Manali is preferred by many couples due to its mystic beauty, adventurous sports, lush green surroundings and cozy atmosphere. So there are many places to visit in Manali for couples:
Hadimba Devi Temple
Jogni Waterfalls
Solang Valley
Anjani Mahadev Temple
Van Vihar
Old Manali
Vashisht temple & hot water spring
Manali wildlife sanctuary
Beas Kund Trek
Rohtang Pass
Top 10 Places to Visit in Manali in October.
Hadmiba Devi Temple
Rohtang Pass
Solang Valley
Vashisht Temple
Anjani Mahadev Temple
Manu Temple
Van Vihar
Bijli Mahadev Temple
Naggar Castle
Old Manali
Top 5 Places to visit in Manali in December.
Mall Road
Solang Valley
Gulaba Village
Anjani Mahadev Temple
Hadimba Devi Temple
Top 5 Places to visit in Manali in January.
Solang Valley
Mall Road
Hadmiba Devi Temple
Van Vihar
Manu Temple
Best Places to Visit in Manali in April.
Old Manali
Vashisht Hot Water Spring and Temple
Himachal Culture and Folk Art
Hadimba Devi Temple
Solang Valley
5 Vibrant Places to enjoy the Night Life in Manali.
Do Camping at Solang Valley under the billions of stars.
Go Khyber for delicious food. It is a famous restaurant and bar on Mall Road.
Dance in Chelsea Club.
Visit Mall road.
Looking for a place where you can dance all night then must visit the buzz. It is a disco and bar in Manali where you can hangout at night.
---
Best time to visit Manali:
The perfect time to enjoy the climate of Manali is from October to February. In winter temperature drops down to zero degrees C, if you are a winter lover you will love this place , especially in December and January because this is the time of snowfall. Chill & fresh snowfall will make your trip to Manali memorable. Let's pack your bag this winter to explore the beauty of Manali.
Best time for Snowfall: During winter from November to February.
Best time for adventure sports: April to June when the water temperature is favorable. This is the best time for hiking, Paragliding, trekking, mountain sports and rafting.
Manali Annual Weather:
Average temperature of Manali throughout the year:
The average temperature in Manali lies between -7 to 30 degree celsius over the year. The hottest day crossing 30 degree celsius while the coldest day going down to -7 degree celsius. During summer the average temperature lies between 10 to 30 degree celsius while in winter the temperature ranges between -3 to 15 degree celsius.
| | |
| --- | --- |
| Months | Average Temperature in Celsius (low to high) |
| January | -1.1 to 10.8 |
| February | 0.2 to 12.1 |
| March | 3 to 16.7 |
| April | 5 to 22 |
| May | 10 to 25 |
| June | 12.8 to 27 |
| July | 15 to 27 |
| August | 16 to 25 |
| September | 12 to 24 |
| October | 6 to 22 |
| November | 2 to 17 |
| December | 0 to 13 |
Hottest Month: June
Coldest Month: January
Wettest Month: August
---
3 Day Itinerary in Manali:
Cost: 5000 to 8000 excluding flights or bus charges to reach Manali.
Day 1 (Local Sightseeing): After reaching Manali and having breakfast in hotels start your trip by exploring local attractions like Hidimba Devi Temple, Old Manali, Manu Temple, Mall Road for shopping, Vashisht temple & Hot water spring, Jogini Falls, Van Vihar and Tibetan Monastery
Day 2(Solang Valley): Spend your full day in Solang Valley with lots of adventure sports like Skiing, paragliding, zorbing, horse riding, trekking, snowboarding, snow scooter and camping during the night (in summer).
Day 3(Beas River and Other Nearby Attraction): Trekking and camping along beas river, river rafting, Naggar Castle and if you get more time then you explore other nearby attractions like Rohtang Pass, Rahala Falls and Gulaba Village.
---
Interesting facts about Manali:
There are various facts that have hidden about Manali. In this blog, we have collected some interesting facts for you. When you have planned for the Manali tour must know these facts.
1. Name Manali has secret:
Actually, the name Manali got on the name of saint Manu. The translation of Manali is home of Manu.
Manali was that holy place where saint came after human wash out in a great flood. He meditated here and re-create human – life.
2. Manali is a collection of three adjacent hills:
Yes, the top tourist destination Manali is a collection of three adjacent hills and each hill has its own temple & village.
These villages are Old Manali, it has Manu temple, Vashisht – it has Vashshit temple, Dhungri – it has Hadimba temple.
3. Each local has at least one apple tress:
In the backyard of every local have apple orchard. Because of climate and temperature of Manali apple trees grows easily. This is the main reason Manali produces one of the world's finest apple of different varieties.
4. Rohtang – Heap of dead bodies:
Well, the truth of Rohtang may be surprising but the translation of Rohtang means heap of dead bodies. This place got its name after the death of number of people due to bad weather and they couldn't survived.
Things to do in Manali:
If you are daring and love adventure, there are many things you can enjoy in Manali. Trekking, skiing, rock climbing, rappelling, paragliding, camping, river rafting, zorbing, horse riding, mountain biking and more adventures things are waiting for you in Manali.
Just pack you back and get ready to feel the adventure of the next level with full enthusiasm for Manali tour.
Back To Top
Where to stay:
Well, when you are on trip to a hill-station like Manali, finding a comfortable hotel where your accommodation would be safe must needed. There are both luxury and affordable hotels available in Manali which are popular for best hospitality. You can book the best hotel according to your preference and budget.
Frequently Asked Questions
November to February is the best time to enjoy the chilly pleasure of fresh snowfall. During this time the temperature drops down below zero degrees celsius.
Solang Valley, Gulaba, Mall Road, Tosh and Kothi.
Skiing, Paragliding, Riverside Camping, Trekking, Zorbing, Rafting and Yak Riding.
2 to 3 days are enough to see Manali completely. If you want to visit other nearby attractions like Kullu, Leh, Rohtang Pass then you have to plan accordingly.
If you're looking for snowfall and adventure then Manali is a perfect place for you where you can visit beas river, Solang valley, Rohtang Pass. And if you're looking for a historical place then Shimla is best. Both places are different but worth to visit.
December and January is the peak season of Manali. During this period you'll get to see fresh snowfall and that creates an opportunity for various snow sports like skiing, horse riding, snow scooters, snow zorbing and many other activities as well.