Situated at an elevation of 2,909 meters, Auli is one of the less explored hill stations in Uttarakhand that is famous for snowfall, trekking, skiing, cable car, Himalayan peaks and nearby places like Badrinath, Hemkund Sahib, Valley of Flower Trek. From here you can enjoy the amazing views of Nanda Devi peak, Man Parvat peak and Kamet parvat peak. So before planning a trip to Auli scroll down to know how to reach, place to visit in Auli, things to do in Auli and places to stay in Auli.
How to reach Auli:
Auli is located in the Chamoli district of Uttarakhand.
By Road: The road is the most affordable and best way to reach Auli. Haridwar and Rishikesh are considered as the base point for the road journey to Auli. There is no direct bus to Auli from Haridwar. Therefore, first, you've to reach Joshimath which is situated at a distance of 276 KM from Haridwar, stay there for the night and leave early morning for Auli.
Try to leave early in the morning to reach Joshimath by evening because most of the road is surrounded by mountains so you can't travel during the night. Therefore, you've to stay one night in Joshimath to reach Auli.
There are three ways to reach Joshimath from Haridwar – Bus, shared taxi or you can travel by your own car or bike. From 5 AM to 9 AM you can easily get buses from Haridwar to Joshimath that takes around 8 to 10 hours to reach Joshimath. By evening you'll reach Joshimath. There are lots of staying options in Joshimath where you can spend a night.
The distance between Joshimath to Auli is around 11 KM that can be cover in two ways – by road or cable car. The cable car is the highly recommended way to reach Auli because it is the second-longest and highest cable car in Asia and affordable as well. It takes around 25 minutes to reach Auli that can cost you around 1000 INR including a return from Auli to Joshimath as well. The first ropeway ride lave around 9 AM from Joshimath while the last ropeway leaves around 4:20 PM. And same timing while returning from Auli to Joshimath. So be aware of timing while returning from Auli to Joshimath, if you miss the last ride then you've to stay in Auli. The ropeway tickets are valid for 3 days.
Important info: During the peak season try to book ropeways tickets well in advance. From midnight around 1, AM tourists stand in queue for the next day's tickets, therefore, most of the tickets are sold out during the morning. So you'll hardly get any tickets if you arrive there in the afternoon.
From the road journey, you can easily get a shared jeep and taxi in Joshimath that takes around 30 to 40 minutes to reach Auli. The taxi or jeep can cost you around 1000 to 2000 INR from Joshimath to Auli so it's good to book a taxi from Haridwar to Auli rather than Haridwar to Joshimath. It can help you save lots of money.
By Flight: Jolly Grant Airport of Dehradun is the nearest airport to Auli that is situated just 278 KM away from Auli. From there you'll easily get a shared taxi or bus to Auli that takes around 7 to 9 hours. Dehradun Airport is well connected to the other major cities of India such as Delhi, Kolkata, Chennai, Banglore and Goa.
By Train: Haridwar has the nearest railway station to Auli at a distance of 290 KM. From there you have to travel by road to reach Auli that takes around 8 to 10 hours. Haridwar is the base point for road journey to Auli so here you can easily get a bus or taxi to Auli.
Best Places to visit and things to do in Auli:
1. Auli Artificial Lake: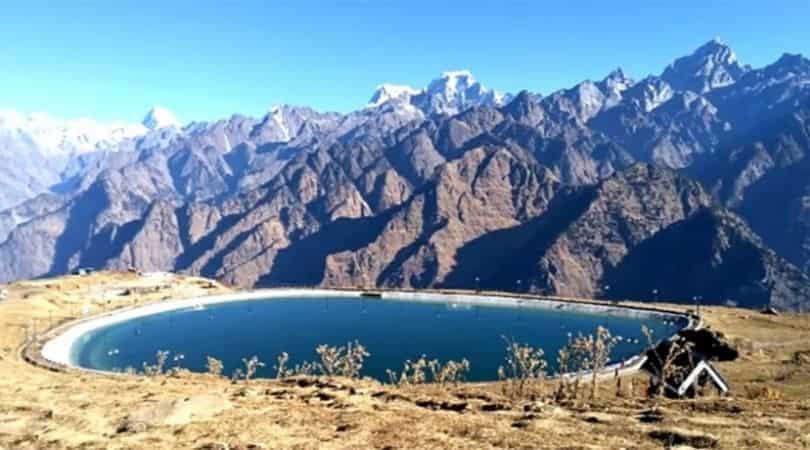 Auli Artificial lake is one of the highest made lakes in the world that is located near clifftop Auli. It offers scenic views of Himalayan peaks that give you inner peace. During summertime, the government creates artificial snow on the ski slopes. After doing skiing you can just sit here and enjoy the beautiful surroundings.
2. Auli Ropeway: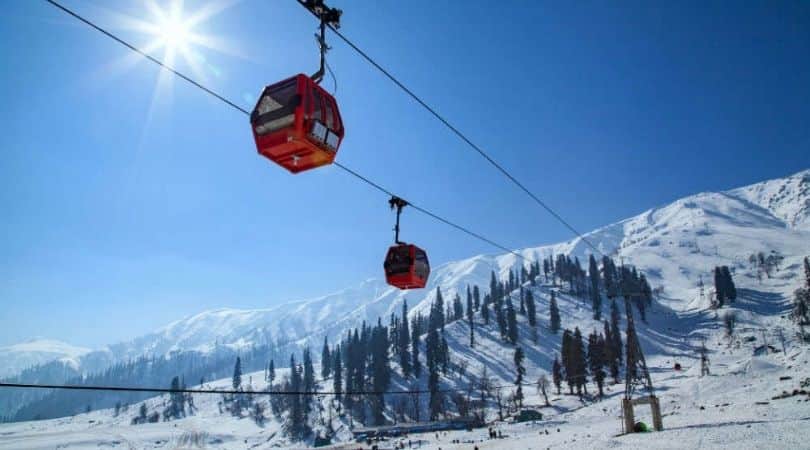 Auli Ropeway is the second longest and highest cable care in Asia. It is the shortest and budget way to reach Auli from Joshimath. This 4.5 KM journey offers you some mesmerizing views of Himalayan peaks.
Fees: 1000 INR for round trip.
3. Trek to Garson Bugyal: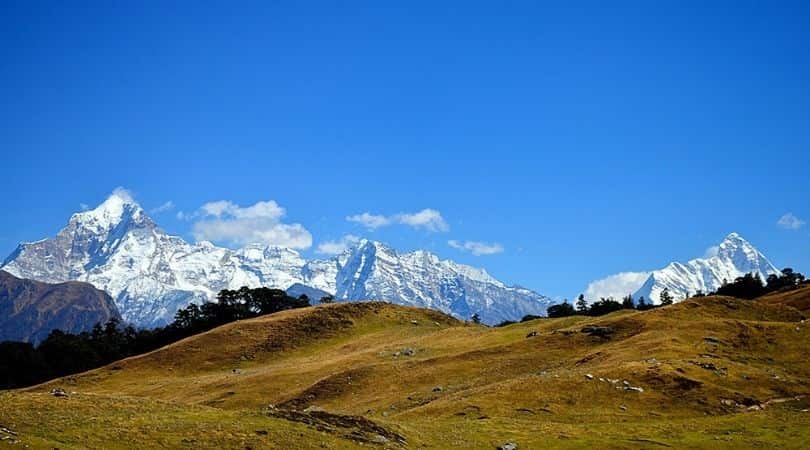 Located 3 KM uphill from Auli, Garson Bugyal is the must-visit place in Auli. It is located just 1.5 KM from the last point of Ropeway. From there you need to do the trek to reach up there. During winter here you'll get lots of snow while in summer this place is filled with green meadows surrounded by oak trees and Himalayan peaks. Summer is the best time for camping and trekking. There is no accommodation in this area so leave on time to return back to Auli or Joshimath.
4. Trek to Chattarkund:
Located just 3 KM away from Garson Bugyal, Chattarkund is a small sweet water lake that is surrounded by the lush greenery of pine & oak trees and Himalaya's mountain range. To reach there you need to do a 4 KM trek from Garson Bugyal. This place is famous among honeymoon couples.
5. Adventurous Activities: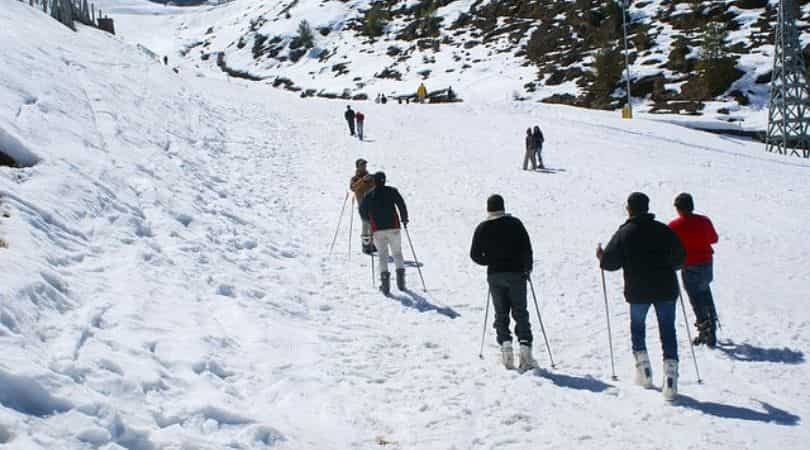 Auli is famous for its range of adventurous activities. If you come here in winter then you can do activities like skiing, snowboarding, balloon ride, and hiking. And in summer you can enjoy here various activities including trekking, camping, a cable car ride and bird watching.
Skiing is one of the most famous activities in Auli. Every year Auli host the National Alpine Skiing contest that starts between Jan to Feb. If you visit Auli during this time then you can participate in this contest. You can also indulge yourself in a 7 to 14 days course of skiing.
6. Joshimath: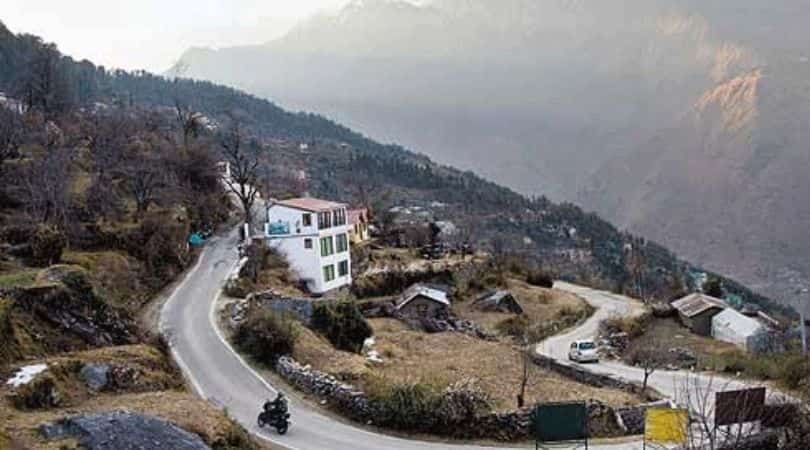 Located in the Chamoli district of Uttarakhand, Joshimath is an important pilgrimage destination in India where religion and Dharam are considered as the 2 main elements of life. This place is famous for its various temples and monasteries such as Narashima temple, Vridh Badri temple, and Joshimath temple.
During winter many tourists visit Joshimath when the idol of Badrinath temple is brought down from Badrinath to Vasudeva temple in Joshimath. Apart from religion, this place is rated as the base point of the Valley of Flower National Park.
In Joshimath, you can see the oldest tree of India, Kalpvriksha which is believed to be 1200 years old. Also here one can see the meet of 2 famous Hindu rivers Alaknanda and Dhanuliganga.
7. Nanda Devi National Park: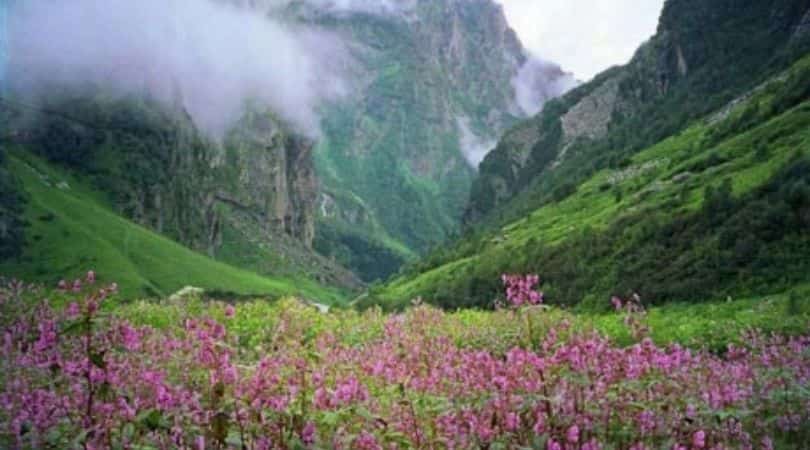 Located just 30 KM from Auli, Nanda Devi National park is the best place to witness the amazing biodiversity of Animals in Himalayan Peak. The park is situated around Nanda Devi's peak at a height of 3500 m from sea level. Therefore, you can witness here a panoramic view of the Himalayas peak with rich flora and fauna. To protect its natural state it is a preserved area therefore it is a perfect place to sit in the lap of nature.
Places to stay in Auli:
There are various places to stay in Auli run by GMVN. But we recommend you to stay in Joshimath white exploring Auli, it can help you to save lots of money. As Auli can be covered in one day so it's good to spend the night in Joshimath where you'll get various range of hotels from budget to luxurious.
One day is enough to enjoy the most of Auli so don't need to stay in Auli. Try to stay in Joshimath for budget hotels.
Itinerary:
Day 1: Haridwar -> Joshimath -> Stay in Joshimath
Day 2: Joshimath -> Auli via cable car -> Visit the artificial lake, do skiing, snowboarding, balloon riding, horse riding -> Return back Joshimath to stay
Day 3: Joshimath -> Auli -> Trek to Garson Bugyal -> Trek to Chatterkund -> Return back Joshimath to stay
Day 4: Joshimath -> Haridwar