Manali is a perfect place to connect with nature but the beauty of this place spread over to its nearby places like Rohtang Pass, Gulaba, Kasol, Patalsu Peak, Arjun Gufa, Kullu Valley, Manikaran and other places as well. These nearby places are full of scenic spots, beautiful landscapes, sun-kissed mountains, adventurous treks, tiny hamlets, serene lakes and green meadows. So the next time when you visit Manali doesn't forget to cover the top 10 places to visit near Manali.
Best Places to Visit near Manali:
1. Arjun Gufa (Cave)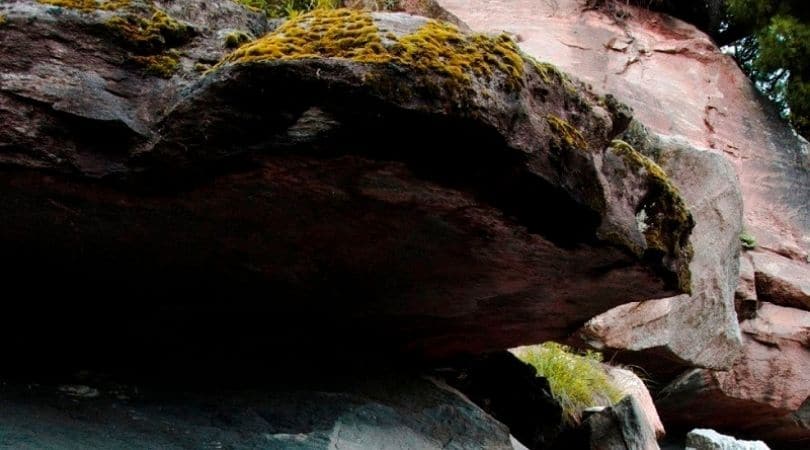 Located 21 KM away from the Manali bus stand, Arjuna Gufa or Arjuna Cave is one of the most beautiful places to visit near Manali. The cave is famous for its natural beauty and the legend associated with it. According to legends, this is the place where Pandava Arjun meditated to impress Lord Indra. Impressed by Arjun's focus and devotion Lord Indra grant him one of the most powerful weapons "Pashupat Astra". The Arjun Cave allows you to have magnificent views of the hills and the valley of Manali.
The trek to the cave itself is very amazing as the trekking path is surrounded by the magical natural beauty that looks like a scene of a fantasy movie. The cave is a narrow path between the hill without any light. So, you've to create your own path through the darkness while using flashlights. One and half hours would be enough to explore the cave.
Location: Situated left to Beas river, near Prini Village.
How to reach:
To reach up there, first you need to reach Prini village that is located 5 KM away from the main town. Motorbikes, buses or local transport are the best options to reach Prini. After reaching Prini, you need to do trekking to reach the Arjun Cave.
Best time to visit:
March to June and September to October is the best time to visit.
2. Patalsu Peak Trek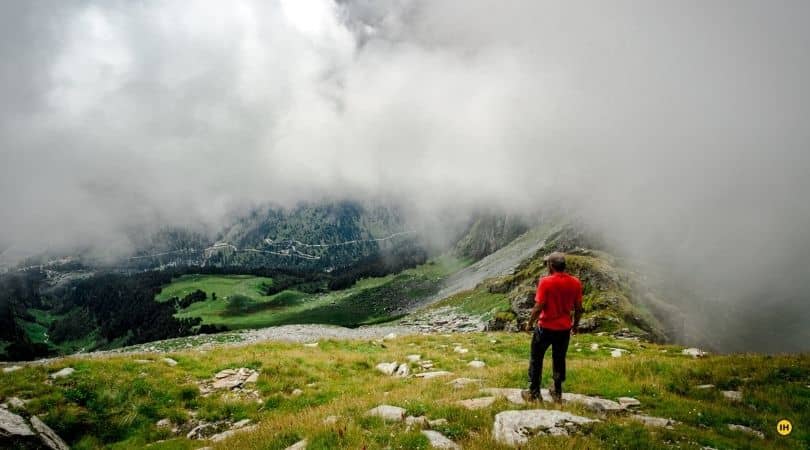 Situated at 4200 M, Patalsu peak is one of the best easy-moderate treks near Manali. The trekking trail starts from Solang traverse through the green meadows, pine, oak and deodar forest inhabitants by Monals and Pheasants with other fauna and ends with summit climb. The summit allows you to have spectacular views of the entire Kullu Valley, Hanuman Tibba, Friendship peak, Lahul, Spiti, and a glimpse of Beas Kund peak.
Trekking Level: Easy to Moderate
3. Sethan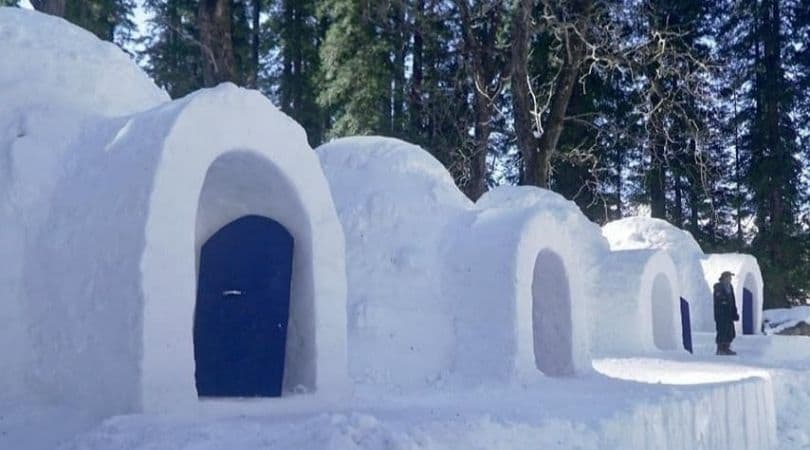 Sethan is a small Buddhist village that is located around 13 KM from Manali. This small village has about 20 houses. And the inhabitants of the village are mostly migrants from different parts of Himachal who essentially were shepherds. Sethan is all about beautiful surroundings and snow in winter. During winter the entire village got covered in snow while in summer you can enjoy the magical views of Dhauldhar and Pir Panjal range along with Beas river flowing in the bottom dividing the Pir Panjal and Dhauldhar range.
Location: At 2700 meter above sea level Sethan is located around 13 KM from Manali.
Best time to Visit:
Sethan can be visited throughout the year. However, the best time to visit depends on you. For snow lover winter is the ideal time to visit while who loves treks and greenery then summer would be the perfect time to visit Sethan.
4. Kullu Valley – Valley of Gods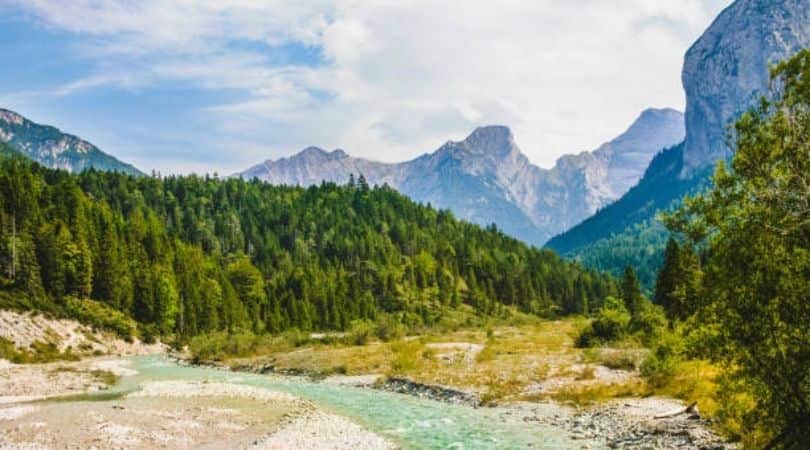 Located on the banks of the Beas river, Kullu is a collection of beautiful valleys in Himachal Pradesh. Kallu along with Manali is a famous spot among tourists, especially for honeymoon couples. This mystic valley is famous for its temples, magical views, snow-capped mountains, towering pine, deodar, & oak forest, apple orchards and Beas river.
Along with natural beauty, Kullu is a hot spot for various adventurous activities including river rafting, camping, trekking, paragliding, mountaineering, and hiking over the Himalayan glaciers. Most of the famous treks are located in Kullu valleys like Bhrigu lake, Hampta Pass, Chandrakhani Pass, Hanuman tibba and Deo tibba. It is also mentioned in some of the Hindu epics such as Ramayana, Mahabharta and Vishnu Purana.
Location: Along with Beas river, Himachal Pradesh – 45 KM away from Manali.
Best time to Visit:
Summer season would be the ideal time to visit for sightseeing and adventurous activities.
**Try to avoid monsoon season due to risk of landslide and flood**
5. Gulaba: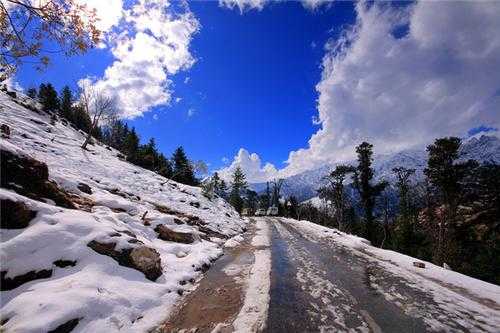 Gulaba is one of the best places to visit near Manali that is located on Leh-Manali highway, on the way to Rohtang pass. This beautiful village is one of the best places to visit for snow lovers as it is also known as Snow Point. You can explore the natural beauty of this region by trekking and setting a camp to experience the tranquillity. You can also try various adventurous activities like hiking, trekking, skiing, skating and camping at Gulaba. The less crowd, high altitude and picturesque scenery make your journey memorable.
Location: 20 KM from Manali on Leh-Manali highway.
Best time to Visit:
In winter November to February and in summer March to April is the best time to visit Gulaba. During winter the entire region is covered with a thick layer of snow that makes it an ideal place for snow activities near Manali.
How to reach:
Rented taxi, bike or car from Manali are the best way to reach Gulaba.
6. Kasol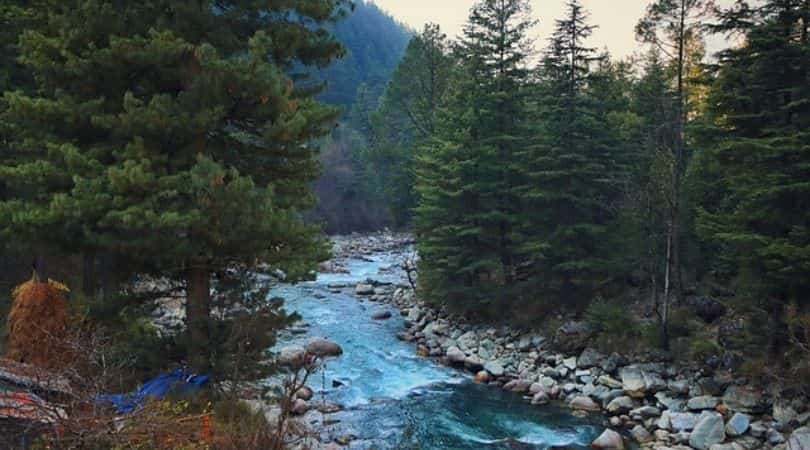 Standing over 1590 meters of altitude, Kasol is a hill hamlet in the Kullu district of Himachal Pradesh. This beautiful hill station is known as Mini Israel of India due to the high percentage of Israelis. Kasol is famous for its thrilling treks, embracing natural beauty, snow-capped mountains and lively Parvati river. Also, Kasol is rated as the base to visit some of the most beautiful offbeat places like Malana, Tosh, Rasol, Kalga, Pulga and Chalal.
There are some famous treks of Himachal located near Kasol like Kheerganag, Pin Parbati Pass, Sar Pass and Yanker Pass. Apart from adventure, it is located 4 KM away from famous sacred place name Manikaran.
Location – Situated on the bank of Parvati River, in Parvati Valley, 76 KM away from Manali.
How to reach:
There are number of direct taxis or buses run through Manali to Kasol. So you can just hire a taxi or take a bus from Manali to reach Kasol that charges around 150 to 200 Rupees.
7. Manikaran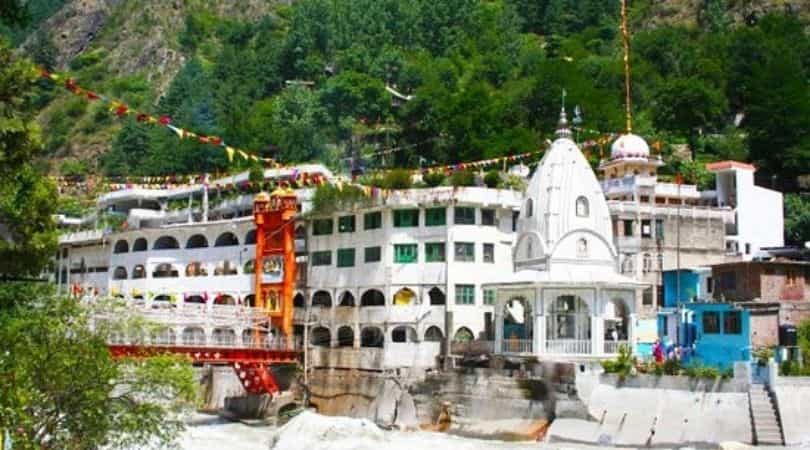 Situated at an altitude of 1829 meters on the bank of Parvati river, Manikaran is a pilgrimage town that is famous for its natural hot water springs. Tourists who visit Manali also visit Manikarna to take the blessing of all-mighty. Also, take bath inside the hot water spring. The spring water is believed to have curative power. Therefore, pilgrims take a dip inside the spring water to wash away their sins.
There is a Gurudwara associated with Guru Nanak where you can have free delicious food in the langar. Apart from Gurudwara, there are many Hindu temples dedicated to Lord Shiva and Lord Rama.
Location: Situated on the bank of Parvati river, in Kullu district of Himachal – 4KM from Kasol, 81 KM from Manali and 35 KM from Bhuntar.
How to reach:
You can find a direct bus from Manali to Manikaran. There is a bus every 30 minutes from Manali to Manikaran that take around 3 hours to reach. You can also hire a direct taxi from Manali as well. The route from Manali to Manikaran could be – Manali -> Naggar -> Kullu -> Bhuntar -> Kasol -> Manikaran.
8. Kheerganga Trek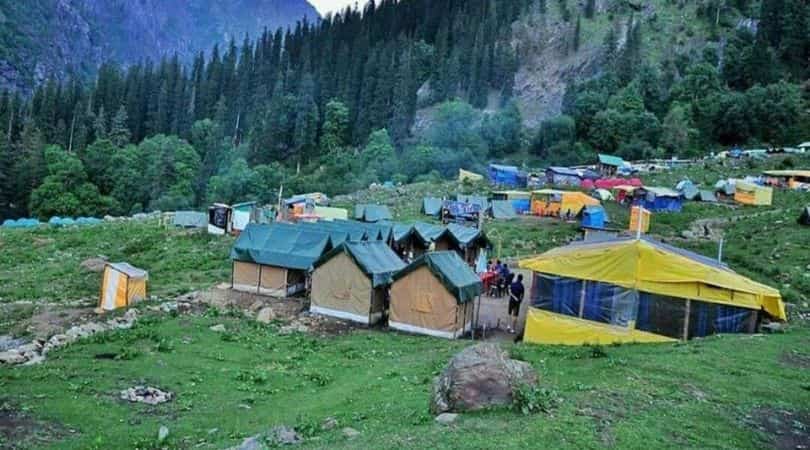 Situated at the height of 2950 meters, Kheerganga is one of the most famous treks near Manali. The trek is famous for its natural hot water spring (Parvati Kund) and magnificent views of Parvati Valley. So, whenever you're in Manali don't forget to explore this natural paradise. It is an easy-moderate trek that can be ideal for beginners as well. The trek is very pocket-friendly as you can cover it in a single day as well. You can also spend a night in camp at Kheerganga. Usually, 3 to 4 hours is enough to trek the Kheerganga ( depending on your physical strength and speed).
Barshaini is the base point to the Kheerganga trek with a few stays, dhabas, wine shop and taxi stand. The trekking distance from Brahshaini to Kheerganga is about 9 to 10 KM. While doing the trek you can explore Nakhtan and Rudra Village.
Location: Kheerganga, Barshaini, Himachal Pradesh
9. Rohtang Pass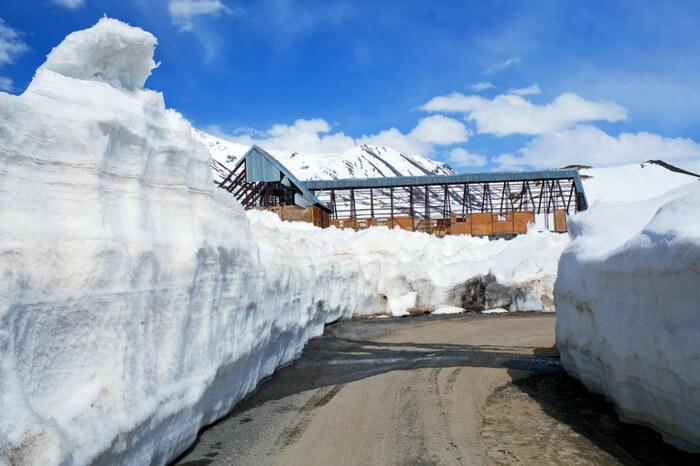 Rohtang pass is a tailored-made destination for those who visit Manali. Located 51 KM from Manali on Leh-Manali highway, Rohtang pass is a paradise for snow lovers. There you can do various adventurous activities like skiing, skating, mountain biking, trekking, snowboarding, and photography. The way from Manali to Rohtang itself is very amazing as the route is full of natural beauty including waterfalls, snow-capped mountains, mighty Himalayan peaks and lush greenery.
Location: 51 KM from Manali, in Kullu district of Himachal.
10. Bhrigu Lake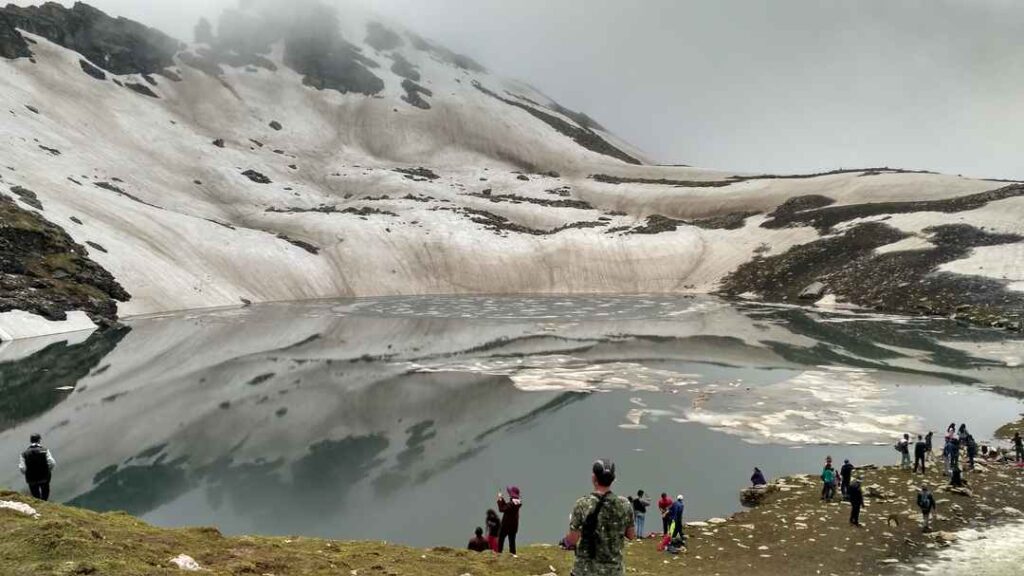 If natural sightseeing and adventure attract you then Brigu Lake is the place near Manali that you should visit. Located at the height of 4300 meters, Bhrigu lake is known for its lake and green meadows. According to the legends, Bhrigu lake is the place where saint Bhrigu sat in deep meditation.
Within the first 10 minutes of your journey, you'll be amazed to see the green meadows like Switzerland. The green meadows spread over wide and long on the route of Bhrigu Lake. During the journey, you'll get to see the wide range of mountains of Pir Panjal and Dhauladhar dominating the surroundings. This complete trek allows you to have the best experience of your life with green meadows, glaciers, glacial lake, and snow-capped mountain.
Location: Kullu, Himachal Pradesh.